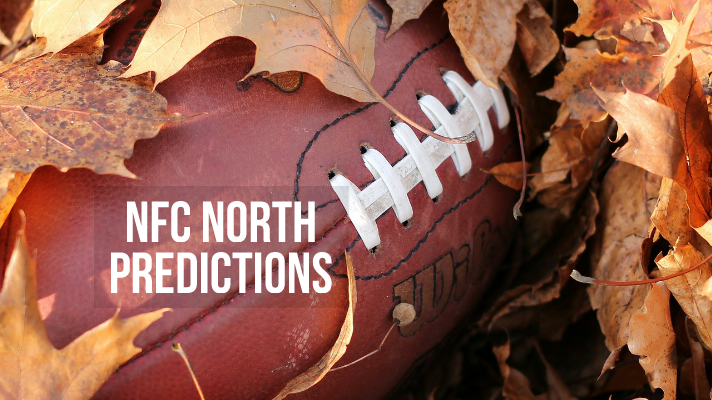 | NFC North Standings | W | L |
| --- | --- | --- |
| Chicago Bears | 12 | 4 |
| Green Bay Packers | 11 | 5 |
| Minnesota Vikings | 5 | 11 |
| Detroit Lions | 4 | 12 |

1. Chicago Bears, 12-4
I wasn't sure about Chicago Bears QB Mitchell Trubisky initially. I had a lot of mixed feelings in regards to his immediate NFL ability.
Those thoughts didn't last long though. When I began watching him I could definitely see the potential. I was super surprised at his athleticism. In my opinion, the media gave off the vibes that he was a pure pocket passer mostly. Some analysts mentioned he could 'move in the pocket well' and comments similar to that, but athleticism wasn't at all one of the first things mentioned when Trubisky was brought up in conversations on TV if I remember correctly. When I observed him play his feet were one of the first things I noticed! This guy is a natural athlete. Really good wheels and super shifty. He's always trying to pass first though, his improv skills are good. Natural thrower. He's about 6'2-6'3 in height which is a perfect height for the way he plays QB. The Bears have a really good QB in my opinion and I feel like the media is not really pro Trubisky. That surprises me.
I suppose the reason Trubisky is under the radar more is because of the dominant Bears defense and Khalil Mack. The Bears defense is so good its hard not to notice it. The Bears were number 3 in overall defense in 2018. Great defense combined with a competent offense will lead to a lot of success. I expect another strong year for the Bears in 2019.
2. Green Bay Packers, 11-5
The Packers do a poor job most of the time at putting talent around Aaron Rodgers. That's why the Packers are somewhat inconsistent. I feel as though this year Aaron Rodgers has a lot to prove. He seems motivated. I will admit from the outside looking in it appears Aaron has a bit of an attitude/ego maybe? Easy for me to say as I just read stories and watch videos and don't personally know the guy. They have a new coach and I think since Aaron is so great that the adjustment won't be too difficult. I still think the Packers need to get an elite running back but I mean Aaron is only getting older so time is pretty much ticking on that front.
As I went through the NFL schedule I liked the matchups for the Packers. A motivated Aaron and a fresh Coach in Matt Lafleur I'm seeing a strong year for the Packers. This is a bit of a bold pick though.
3. Minnesota Vikings, 5-11
I really feel like the Vikings made a silly mistake swapping QBs Keenum for Cousins two years ago. Like why? I thought Keenum played really well and honestly I feel the Vikings kind of did him dirty. I could really make a case that Kennum is at the very least equal to if not better than Cousins. Also the Vikings gave Cousins a bunch of money for a QB that isn't even better than your current guy. I found that whole Keenum-Cousins switcharoo thing super weird.
The Vikings do have a strong defense and Cousins isn't bad but he is more of a game manager. His effort is there though too. The Vikings could perform better than this record but nothing really pops off the screen/paper for me when it comes to the Vikings.
4. Detroit Lions, 4-12
The Lions need to surprise me big time soon for me to ever really predict more than a four win season for them. It sounds like I am roasting them but I struggle to name a single player other than their QB Matthew Stafford. And Matt Stafford isn't even super great, not unless he has some good talent around him. He's a solid starter. They have wide receiver Danny Amendola who is solid enough but isn't near elite.
Their defense is ok but definitely nothing that will guide them to greatness. I like their coach Matt Patricia too.
This team needs to redefine itself a bit for me to really say they will be much of a contender anytime soon.

What do you think of my predictions for the NFC North? How do you see it playing out? Steem and Sport on!