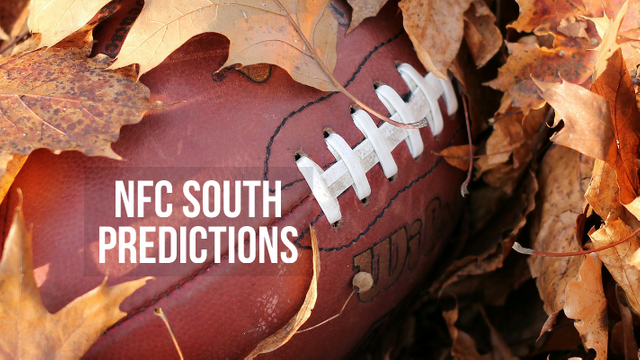 | NFC South Standings | W | L |
| --- | --- | --- |
| (1) New Orleans Saints | 11 | 5 |
| (2) Atlanta Falcons | 11 | 5 |
| (3) Carolina Panthers | 9 | 7 |
| (4) Tampa Bay Buccaneers | 2 | 14 |
*Saints are division champs based on head to head win percentage (2-0) versus the Falcons.

1. New Orleans Saints, 11-5
The Saints are a well built team, they have been a threat for the past several years. While quarterback Drew Brees may be getting older his numbers and production have still been very good. Brees has weapons around him in Alvin Kamara and Michael Thomas that will continue to help extend his career. The Saints defense isn't talked about enough but they have got some playmakers as well. Defensive players like DE Cameron Jordan and CB Marshon Lattimore, make this team a very tough one to beat. I have a lot of confidence that this team will be good as last season.
2. Atlanta Falcons, 11-5
The Falcons had a bunch of injuries last season and still were pretty competitive. I think the Falcons will bounce back strong this season. Injured players will return and they got to have a pretty nice draft position for a team with already a strong roster. Combine that with the fact that the team will be motivated by their health and the memories of the Super Bowl that slipped through their fingers two and a half years ago, and the fact that people and the media have slept on them since then.
Some people don't like quarterback Matt Ryan but I think it's hard to argue that overall, he's a pretty quality quarterback. He's not the greatest of all time but I personally think the guy is very good. They still have got Julio Jones who is the second best receiver in the league in my opinion, the dude is a savage.
I think the Falcons bounce back in 2019.
3. Carolina Panthers, 9-7
I really like quarterback Cam Newton, he can be one of the most exciting players in football but maybe he is getting a little old for his playing style. This season will say a lot in that regard for me. I wish maybe he was a little more traditional and slid more and just played a more conservative scrambling game. I believe Cam will overall put together a better season than last year. RB Christian McCaffrey can hopefully have his best season and help keep pressure off of Cam and keep Cam fresh throughout the entire sixteen game season.
If McCaffrey can have a career season and the Panthers defense can be as good as usual, then there is a chance they can be better than 9-7. The Panthers are a tough team to read for me.
4. Tampa Bay Buccaneers, 2-14
Quarterback Jameis Winston has only had one winning record season in his four year career. This is by far the biggest season of his professional football career. I think maybe if Jameis had the perfect coach he could be a better QB but otherwise I don't think he is very good. This will be an interesting fifth season though, I am curious to see how he plays.
Overall I just don't see much hope for a great season for the Bucs. I like wide receiver Mike Evans. But I don't even know what the Buccaneers identity is.

What do you think of my predictions for the NFC South? How do you see this division playing out? Steem and Sport on!