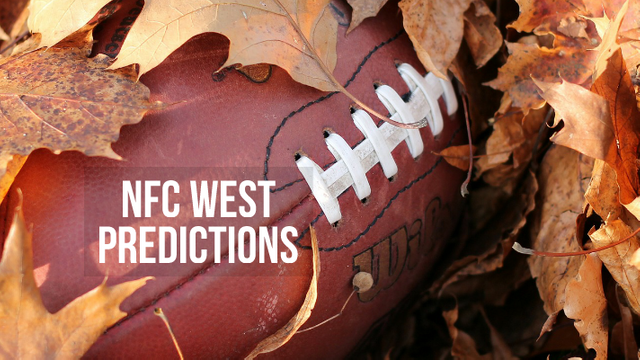 | NFC West Standings | W | L |
| --- | --- | --- |
| (1) Los Angeles Rams | 10 | 6 |
| (2) Seattle Seahawks | 10 | 6 |
| (3) Arizona Cardinals | 9 | 7 |
| (4) San Francisco | 7 | 9 |
*Rams division champs based on head to head record versus Seahawks.

1. Los Angeles Rams, 10-6
QB Jared Goff and the Rams have surprised me for the past two years despite my skepticism towards the team. Despite my instincts that told me Goff was going to be a bust. Now it's hard to say he's elite still in my opinion but I can't deny on the field results anymore. His team has finished with very good records two years straight. One could say Goff's success is a result of having a good coach but nevertheless, Goff needs to go out there and execute the plays. Plus if I wanted to nit pick I could say that Tom Brady's success is a result of legendary coaching, but Tom is the QB that got the job done on the field, not Belichick.
The Rams have good players overall, a great roster. The team has mostly remained intact so I expect another good season for them.
2. Seattle Seahawks, 10-6
As long as the Seahawks have QB Russell Wilson, this team will always be able to compete. I am a fan of Wilson, his mobility and will to win are both admirable traits any franchise would want for their team. I love their old fashioned style of a run heavy offense, although that mentality did come back to bite them after they became a little too predictable with their playcalling.
The defense in Seattle always seems to be solid even despite a lot of roster changes over the years. Pete Carroll is a solid coach as well. There really isn't any glaring weakness in Seattle. I expect a good year once again for this team.
3. Arizona Cardinals, 9-7
Picking the Cardinals to finish 9-7 is perhaps my boldest decision I have made throughout these predictions.
I think rookie QB Kyler Murray will be a very similar QB as Russell Wilson. I think Kyler has a very good work ethic and I actually think his size could end up proving to be beneficial with his mobile style of play. His smaller size could overall help prevent injuries, lower center of gravity and shorter limbs that aren't as easily snapped overall. Anyone can get hurt badly in football, I just think that maybe it will be good for Murray.
I know overall the roster in Arizona might not be the greatest but they have some good pieces in place with legendary wide receiver Larry Fitzgerald and they also have the luxury of having a really good swiss army knife workhorse running back in David Johnson.
I think this team is in better shape then some believe and I think the Cardinals will have a decent year.
4. San Francisco 49ers, 7-9
The 49ers have a chance to surprise people in 2019 but their QB Jimmy Garoppolo is too much of a mystery for me to be confident in him. Honestly this entire roster is a mystery to me. I just recall Jimmy G playing well two years ago and I remember I liked the fight the Niners had last year even though the team had a rough year.
I think the Niners will have a strong 2019 and end the season with some momentum going into 2020.

What do you think of my NFC West preview? How do you believe this division will play out in 2019? Steem and Sport on.