So I randomly realized with horror last night that I have been writing "San Diego Chargers" instead of "Los Angeles Chargers" nearly the entire time I have posted my schedules, so yeah I felt really silly for a minute. My bad Chargers fans I will try my best to remember that in these final weeks of my predictions!
As I have said during one of my earlier posts in my season prediction series, I will post up divisional previews and playoff seeding previews based on these predictions, as soon as possible. With my actual thoughts as to why I feel teams will finish where they did in my predictions.
Be sure to look out for that!
Once again I apologize if I have your team doing poorly or anything, don't hate too much on me! LOL. Any given Sunday folks! I would never have predicted the Eagles would have won the Super Bowl the year they did, so we all just gotta wait and see!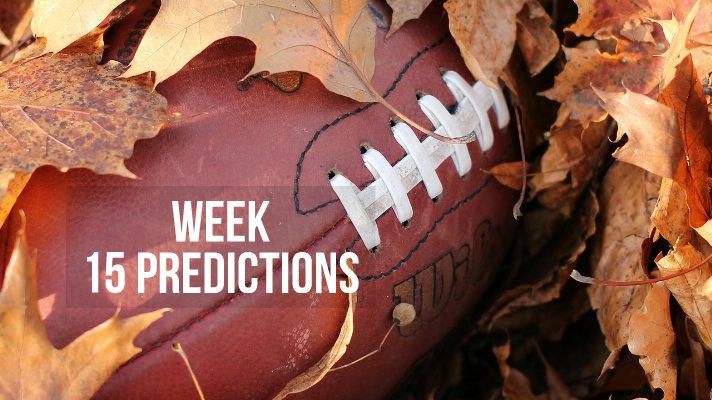 | Away | NFL Week 15 | Home |
| --- | --- | --- |
| _New York Jets, 20 | AT | Baltimore Ravens, 23 (W) |
| Seattle Seahawks, 28 (W) | AT | Carolina Panthers, 21 |
| Philadelphia Eagles, 20 (W) | AT | Washington Redskins, 17 |
| Houston Texans, 30 (W) | AT | Tennessee Titans, 24 |
| Buffalo Bills, 20 | AT | Pittsburgh Steelers, 30 (W) |
| Miami Dolphins, 21 (W) | AT | New York Giants, 17 |
| Denver Broncos, 20 (W) | AT | Kansas City Chiefs, 17 |
| New England Patriots, 31 (W) | AT | Cincinnati Bengals, 17 |
| Tampa Bay Buccaneers, 27 | AT | Detroit Lions, 33 (W) |
| Chicago Bears, 27 | AT | Green Bay Packers, 30 (W) |
| Jacksonville Jaguars, 20 | AT | Oakland Raiders, 30 (W) |
| Cleveland Browns, 24 | AT | Arizona Cardinals, 27 (W) |
| Atlanta Falcons, 20 | AT | San Francisco 49ers, 27 (W) |
| Los Angeles Rams, 23 | AT | Dallas Cowboys, 27 (W) |
| Minnesota Vikings, 17 | AT | Los Angeles Chargers, 28 (W) |
| Indianapolis Colts, 34 | AT | New Orleans Saints, 37 (W) |