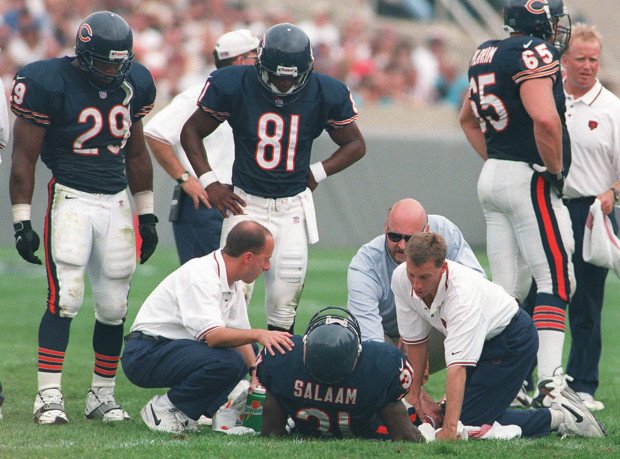 Today I thought I'd share my Rashaan Salaam #3 Chicago Bears 1995 Starter vintage jersey – almost 25-years old. Starter was selling licensed retail jerseys at the time but not the official on field jerseys. Champion was the official supplier kitting out the Bears at the time. That meant creative jerseys like this were made available to fans alongside the on field versions.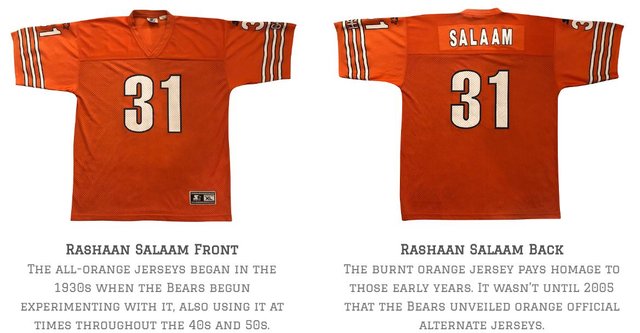 Rashaan Salaam is regarded as one of the biggest draft busts in Chicago Bears history. Salaam was drafted 21st overall in the 1995 NFL draft after winning the Heisman Trophy in 1994. While at the University of Colorado he rushed for a school record 2055 yards in his junior year.
Salaam is the youngest player in NFL history to rush for 1000+ yards, rushing for 1074 in his rookie season for a return of 10 touchdowns. A promising career however was derailed with injuries, fumbles, and cannabis use.
In Salaam's 2nd and 3rd year he ran for only 608 combined yards and fumbled 14 times in 31 games before leaving to the Dolphins where he failed a medical in 1998.
He retired in 2004 having only played another two games with the Cleveland Browns in 1999 and a failed stint in the Canadian Football League in 2004. Salaam died on December 5th 2016.
The Bears have always maintained a classic look of predominantly navy blue with white and burnt orange to their uniforms, giving them the reputation of having one of the best sets in the league.
Originally posted on my Wolf Gang Sports blog, I hustle jerseys and produce content about players and their journeys with a bit of smack talk along the way. Check out the full blog and I appreciate ya for any comments.