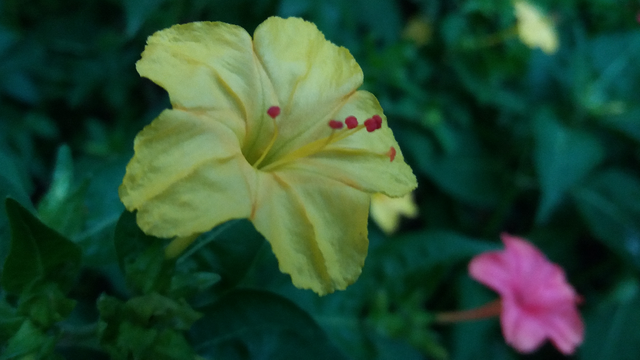 I am not a professional photographer. I never didn't have any DSLR Camera or I will never try to take lesson from any institutes.
I am a passionate photographer who like to take photo for his won thirsty.
Last afternoon while I was moving for my actifit activities, I saw this flower besides the road.
It has a lovely yellow colour with a soft pink point in the middle of it.After training it was looking more beautiful.
I just never thought that the colour will be looking like.
Thanks to Ashik, my best friend, cause he asked me to go out to watch the footbal tournament.
Basically, last afternoon we went to the " Bangobondhu college field" To watch
Bangladesh vs India
football tournament. Here Some Indian students are studying in a private medical college.They sometimes arrange the tournament
Bangladesh vs India.
It was a great day,I would never forget it.
Thanks to @azizbd for his kind deligation.
You can buy vote from @bdvoter & from @socialbot
you can follow us here : https://steemit.com/@rana2423
you can follow us in Twitter :https://mobile.twitter.com/rana24231
join in our discord server https://discord.gg/akpKJm
https://discord.gg/uW2rZQr
https://discord.gg/xAS45sz
https://discord.gg
https://discord.gg/Fu9NH7b
Thanks to @R2cornell, @priyanarc@hossainbd for there kind support.If you want to know about trading feel free to knock @blind-spot .
Also thanks to @hafizullah, I am motivated to make dtube video by watching him.
Always try to be happy.Enjoy your time