Every NFL fan has got their own ideas about what attributes are most important for a good quarterback to have. Do you value football IQ over athleticism? Pocket passing or mobility? Game manager or gunslinger? A great quarterback probably needs to pretty good in all of those areas. I thought it would be fun to share my list of the NFL's top forty-two quarterbacks.
Sports media nowadays is purely out for profit and clicks. It's ridiculous. NFL analysts are so skewed by what gets them the most clicks and the most money that their opinions end up sounding completely absurd.
I'm not about to claim that my rankings are more accurate than other people's. Ranking quarterbacks is not exactly rocket science and there are only so players to pick from anyway. But I will try my best to not be influenced by mainstream media.
I have my complete list already done and I will be spreading out my list throughout a series of posts. I used my own criteria and my own opinions to create my list.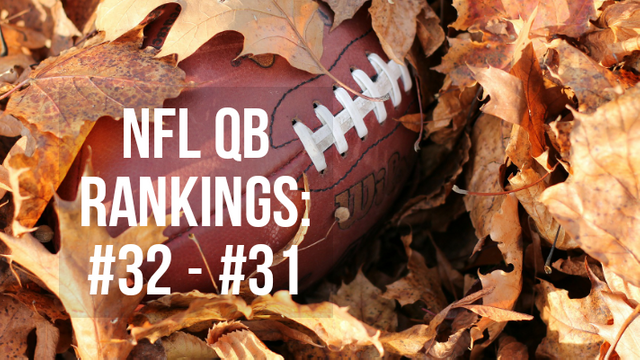 ---
#32 - Ryan Fitzpatrick - Miami Dolphins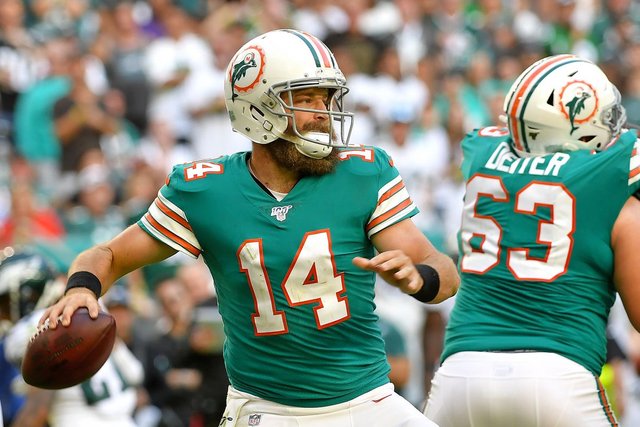 Source
Ryan Fitzpatrick, also known as Fitzmagic, is definitely one of my favorite players ever. He is an enigma because he can play really quality football at times, but then he can also be pretty below average. I know people say all of the time that players are inconsistent but if inconsistency had a name, it's name would be Ryan Fitzpatrick. It's always an entertaining game when Ryan Fitzpatrick plays on Sunday. You never know if he will throw for five hundred yards or throw five interceptions. Combine his style of QB play with a smart and quirky and fun personality, you have the ingredients for a legendary fan favorite NFL player.
Fitzpatrick has been in the league since 2005. He's basically been a starter sparingly, but three of those seasons he did indeed start all sixteen games. Three seasons out of his career teams thought Fitzpatrick could be their guy. How good of a starter could Fitzpatrick be? Well in 2015 Fitzpatrick started all sixteen games for the New York Jets and actually led the team to a nice record of 10-6. Usually that record will put a team in the playoffs, but unfortunately 2015 was a competitive season, and the Jets finished just out out of the playoffs. The Jets finished the 2015 season as the seventh seed in the AFC, but only six teams make it into the playoffs. It was definitely the best season of his career overall, even statistically speaking. In 2015 Fitzpatrick threw for 3,905 yards, scored 33 total touchdowns (31 passing), and threw 15 interceptions. Really a productive season.
Of course if would be just Fitzpatrick's luck to actually play well and lead his team to a good record, to fall just short of a playoff opportunity. Sadly, that's symbolic of his career.
Despite being mostly considered a backup, Fitzpatrick has put together a career a lot of quarterbacks in the NFL would envy. Here are some of Fitzpatrick's stats through fifteen seasons, they might surprise you.
139 games started (equivalent to 8.68 NFL seasons)
Accumulated 32,886 passing yards
210 Passing Toucdowns
19 Rushing Touchdowns
55 wins
Going into 2020 I believe Fitzpatrick should be the starter of the Miami Dolphins. Unfortunately once again Fitzpatrick is in a pretty bad situation considering his future as a starter. The Dolphins drafted rookie quarterback Tua Tagovailoa high in the draft and most people expect the young guy will start. As a franchise I believe the Dolphins should sit Tua his entire rookie season, the apparent old fashioned away(even though Pat Mahomes sat his rookie season, and you can't really say it didn't work out for the Chiefs). Tua was pretty fragile in college and he is coming off a recent bad injury, and of course I personally believe it's valuable for most young players to pretty much walk through a whole NFL season before actually jumping on the field.
I think at the end of 2019 Fitzpatrick showed he's got a decent amount left in his tank. He led a really poor Dolphins team to five wins and finished the season with a thrilling victory against the always dangerous New England Patriots. By the end of the season I believe Fitzmagic earned the players' trust.

#31 - Gardner Minshew - Jacksonville Jaguars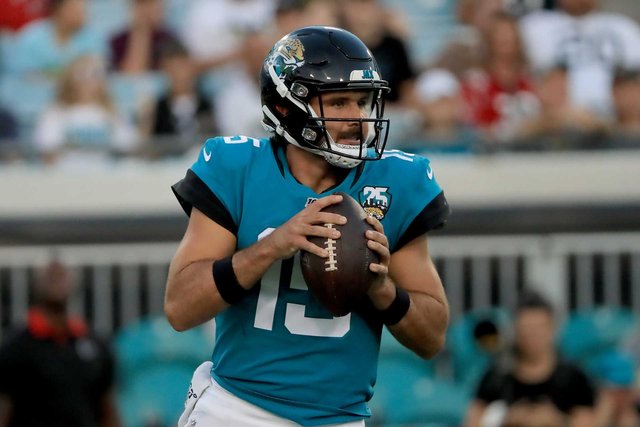 Source
I reluctantly admit Gardner Minshew has solid potential to be a decent QB in the league. He had a good rookie season. As a Titans fan it really does pain me to say that. Luckily the Titans have a good team of their own.
But this is about Gardner the player, not the AFC South division rivalry.
Gardner reminds me of like a slower Russell Wilson and a maybe weaker armed Baker Mayfield. I know that sounds insulting but hear me out. I have those feelings for this guy and he hasn't played a full season and he was definitely not on my radar entering last season, being a sixth round draft pick and all. To be number thirty-one considering those things, is not bad.
I really am intrigued by Gardner a bit. He seems to throw a decently accurate football with average arm strength. He has good athleticism. Not just for a quarterback, he really does seem like a good athlete. He has some Aaron Rodgers/Prime Big Ben scrambling abilities. I feel like he uses his 6'1" frame to his advantage tremendously. He has a pretty low center of gravity at 6'1" so that, combined with his good play strength, makes him hard to bring down. At the same time, his 6'1" size makes him tall enough so that when he does scramble around defenders at a high level, he's able to see the field well enough to make a good throw down the field. He really did have some 'wow' scrambles and throws last year. He also seems like a decent leader and brings high effort to the field, if that makes sense.
I wonder how high his ceiling is, a part of me wonders if it's not very high. That could be my biased-ness though. I feel like in some games he felt overwhelmed. If there is no improvement next season then I could see him being a journeyman backup or something like that. But I don't know, I think this dude has a shot to be pretty good as long as he has some help and works to get better.
Sorry if that was a vague opinion, it's hard to judge some of these young guys.

What do you think of my rankings and reasons behind them?
Hive on!