Every NFL fan has got their own ideas about what attributes are most important for a good quarterback to have. Do you value football IQ over athleticism? Pocket passing or mobility? Game manager or gunslinger? A great quarterback probably needs to pretty good in all of those areas. I thought it would be fun to share my list of the NFL's top forty-two quarterbacks.
Sports media nowadays is purely out for profit and clicks. It's ridiculous. NFL analysts are so skewed by what gets them the most clicks and the most money that their opinions end up sounding completely absurd.
I'm not about to claim that my rankings are more accurate than other people's. Ranking quarterbacks is not exactly rocket science and there are only so players to pick from anyway. But I will try my best to not be influenced by mainstream media.
I have my complete list already done and I will be spreading out my list throughout a series of posts. I used my own criteria and my own opinions to create my list.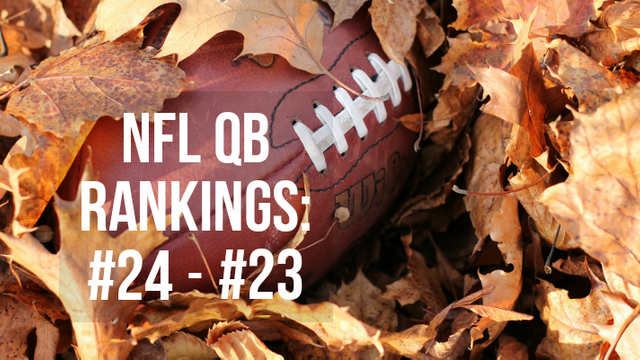 ---
#24 - Marcus Mariota - Las Vegas Raiders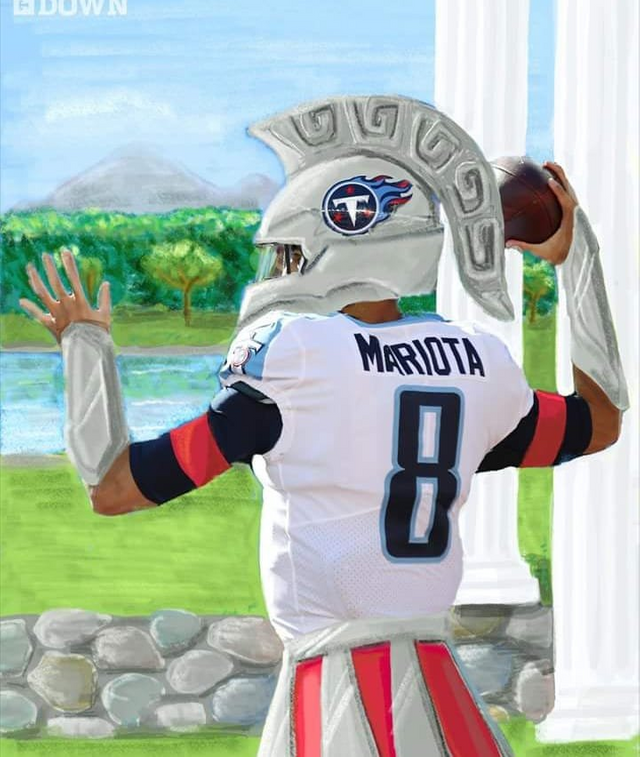 As a huge Titans fan, there will definitely always be a soft spot for me when it comes to Marcus Mariota. I honestly love the guy. Solid player with great character. While he was never the elite championship level talent every fan wants to have, I do have several nice memories that I really appreciate during his era as a Titan. Here's my farewell post for Mariota, if you're interested in reading that.
Mariota helped breathe new life into the Tennessee Titans when he was drafted in 2015. For the most part of the Mariota era, the Titans were a highly competitive team. Especially when he was healthy. I will always remember and thank him for these things.
When Mariota is healthy, he is definitely one of the better quarterbacks in the league. On Sundays when he uses his entire skillset and puts everything together, he's hard to handle. He is a solid scrambler and really good runner. He overall is an average passer. Mariota reminds me of Tyrod Taylor-Russell Wilson.
The negatives for Mariota is that he can be inconsistent and inaccurate at times. Also, his ability to stay healthy isn't really ideal. He has yet to play a full 16 game season.
In Mariota's five seasons as a Titan, Mariota had to deal with three different head coaches and several injuries. Despite those challenges Mariota has made a very respectable career for himself, in my opinion.
I think Mariota has a decent opportunity in Las Vegas. Even if Mariota doesn't take Derek Carr's job, which is possible, Mariota can still be a good teammate and backup and perhaps become a starter elsewhere down the line. Of course if an injury happens Mariota can step in and play well for a few games, like Teddy Bridgewater did last season for the Saints. Those couple of games did a lot for Bridgewater this past off-season and now Bridgewater is the guy for the Carolina Panthers. Of course like I briefly mentioned earlier, Mariota could simply take the starting job through poor performance and do exactly what Ryan Tannehill did to Mariota himself. Ryan took the job in Tennessee and didn't give it back.
I have a feeling Mariota will get at least one more shot to be a starter soon somewhere. I hope he makes the most of his opportunity. As long as it's not against the Titans.
I think as time passes, I believe I will appreciate the five years Mariota gave the Titans more and more. It wasn't always perfect, but it was good a lot and definitely fun.

#23 - Nick Foles - Chicago Bears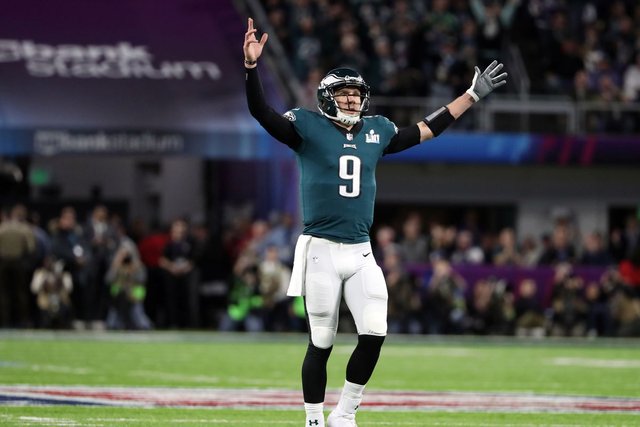 Source
In just 8 seasons in the NFL Nick Foles has had arguably the wildest NFL career that I have ever known of. Crazier than even Ryan Fitzpatrick's.
Foles is a good pocket passer. He's a very tall guy at 6'6" so he can see the entire field with ease. He can really make all the throws, but I always got the impression he is super efficient at throwing between 5-20 yards down the field. When Foles knows the system and players, he can be very very good. He reminds me of Matt Ryan and a little bit of Philip Rivers/Jameis WInston.
Early on in his career, Foles seemed like he might be the Philadelphia Eagles future franchise quarterback. In 2013 as a second year QB, Foles helped lead the Eagles to a Division Championship and into the Playoffs. Foles himself excelled in that season too. Foles threw for a ridiculous 27 TDs and only 2 interceptions in only 10 games started that season.
The following season however, despite leading the team to wins, the Eagles let go of Nick Foles because of not so great performances, and coaching changes.
After that early success Foles was considered a backup QB for the next 2.85 seasons. Foles would play for the Rams and the Chiefs and then he found his way back onto the Eagles once again in 2017. Late in that season, the Eagles' starting quarterback Carson Wentz, who was having an MVP caliber season, suffered a season ending injury. So Nick Foles stepped in as the starter like it was 2013 all over again, and randomly led the Eagles to their first ever Super Bowl win against the mighty New England Patriots. Foles played outstanding and won Super Bowl MVP. After this milestone, the legend of Nick Foles really began.
Interestingly, the following season Foles was still with the Eagles but since Carson Wentz did play really well the previous year, the Eagles continued to have Wentz as their starter. Some fans thought Foles should be the starter after what he accomplished. During this 2018 season, Foles would once again step in for an injured Carson Wentz late in the year. Foles would finish 4-1 as the starter of the last five games that year, and help lead the Eagles into the playoffs once again. The Eagles were an under the radar wild card team but they were defending champions and a lot of people wondered if the Foles magic would continue like the previous year. Foles indeed would lead the Eagles to a plaoff win, but the following playoff game they would suffer a narrow defeat.
Still, the legend continued.
After his awesome success with the Eagles, Foles earned himself a nice contract and starting gig with the Jacksonville Jaguars. Remember how I said Foles' career was wild? Wild doesn't always mean good. After his already rollercoaster of a career, Foles would see more challenges. During literally the first game of a new chapter in Foles' career as a starter, he breaks his collar bone and misses the several months. He came back in Week 13, played a few games but honestly played pretty poorly. Then again, the Jaguars have a pretty poor team.
Eventually Foles was benched and then traded this past off-season to the Chicago Bears, where many believe he could become the starter as soon as Week 1, since their current QB hasn't played all that great.
The mysterious career of Nick Foles continues. So far he has only seen substantial success with the Philadelphia Eagles.
Foles Record as Eagles Starter: 21-11
Foles Record as Rams/Chiefs/Jags Starter: 5-11
There have been some pretty low lows in Foles career, but also he's literally had the highest of high becoming the Super Bowl Champ and MVP.
Can Foles replicate his Philadelphia success in another city? I sure think and hope he can. Maybe Foles can stabilize his next half of his career and have a truly one of a kind inspiring career, more than it already is. But first he has to actually become the starter officially. I don't know if it will be as easy to beat out Mitch Trubisky as everyone thinks.
I hope Foles can have more success though, I am a pretty big fan of his career and story. As long as it's not against the Titans, in that case I hope he takes the fattest L.
LOL.

What do you think of my rankings and reasons behind them?
Hive on!