Every NFL fan has got their own ideas about what attributes are most important for a good quarterback to have. Do you value football IQ over athleticism? Pocket passing or mobility? Game manager or gunslinger? A great quarterback probably needs to pretty good in all of those areas. I thought it would be fun to share my list of the NFL's top forty-two quarterbacks.
Sports media nowadays is purely out for profit and clicks. It's ridiculous. NFL analysts are so skewed by what gets them the most clicks and the most money that their opinions end up sounding completely absurd.
I'm not about to claim that my rankings are more accurate than other people's. Ranking quarterbacks is not exactly rocket science and there are only so players to pick from anyway. But I will try my best to not be influenced by mainstream media.
I have my complete list already done and I will be spreading out my list throughout a series of posts. I used my own criteria and my own opinions to create my list.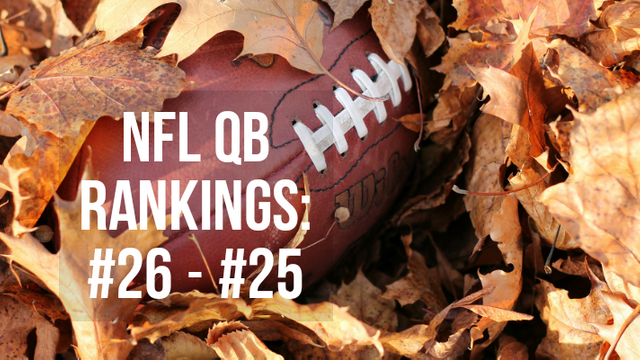 ---
#26 - Andy Dalton - Dallas Cowboys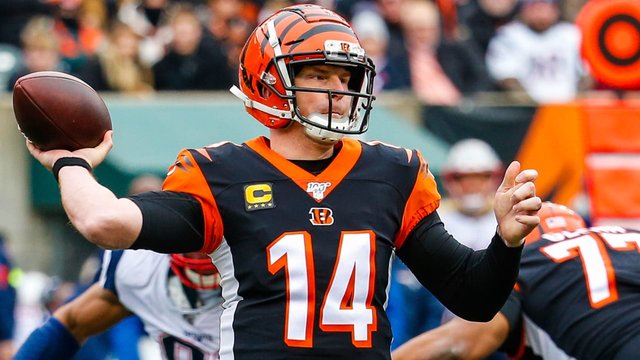 Source
Andy Dalton is a pretty good quarterback, despite his recent struggles. Dalton is a solid pocket passing quarterback with a strong arm. He knows how to run an offense at an efficient level. He is a pro. He moves well in the pocket. Not at all a scrambling quarterback, but is probably a better athlete than you think, and once he has momentum he has a serviceable top speed when the opportunity is right. He reminds me of a Ryan Tannehill-Joe Flacco style of quarterback.
Andy Dalton's career as a whole has been really solid, and I don't think his talent level has really diminished despite the Bengals' (his former team) lack of success. In reality Dalton's decline has been pretty overrated. The Bengals haven't been great for the past four seasons, but by no means have they been complete garbage.
In the past four seasons the Bengals won 21 games, that's 5.25 wins a year over that stretch (plus one tie). Pretty depressing, but I bet several other teams compare or are even worse than that. Then when you consider and combine Andy's first five years as a pro you realize his career has been pretty good. He's got a fair amount of good accomplishments.
Before the recent struggles I mentioned, Dalton and the Bengals had five straight seasons of decent, very respectable success. From Dalton's rookie season in 2011, to the 2015 season, the Bengals made the playoffs each year. Five straight playoff appearances. The Bengals averaged 10.4 wins a season during that five year stretch. A lot of fanbases would be pretty jealous of that type of success.
In nine NFL seasons, Dalton has accomplished the following:
31,594 passing yards
227 total touchdowns (204 passing, 22 rushing, 1 receiving)
70-61-2 record as a starting quarterback
3x Pro Bowls
5x Playoff Appearances
The man is a Bengals legend.
In my opinion Andy Dalton is a solid, serviceable, and competent quarterback. If there are ten quality teammates around Dalton, your offense will run pretty smoothly. He does need help though, he should not be your best player on the team.
I'm not sure what lies ahead in Andy Dalton's career but all I know is Dak Prescott better watch out in Dallas, because now there is a VERY comparable talent behind ya! I could easily see a scenario where Dalton takes Prescott's job.

#25 - Teddy Bridgewater - Carolina Panthers

Source
Teddy Bridgewater has had an intriguing career. He's had good success and some major challenges to get through throughout his 6 year NFL career. Bridgewater is a game-manager type of quarterback. He won't win you or lose you the game usually, but the odds are better that he will help you. He knows how to run an offense and makes good decisions usually. He doesn't have many weaknesses as a QB but he won't often make your jaw drop when you watch him. But I personally like his well roundedness and his good decision making. He is a good athlete with slightly above average mobility. Average arm strength and good accuracy, good IQ. He can win games. He reminds me of Marcus Mariota - Chad Pennington.
After a decent rookie season in 2014 with the Minnesota Vikings, Bridgewater would start all sixteen games in year two and help lead the Vikings to a really good 11-5 record and a playoff appearance. The Vikings were NFC North Champions and on track to have a good playoff run. Bridgewater and the Vikings were seconds away from defeating the Seattle Seahawks in the Wild-Card round of the 2015-16 Playoffs. All the Vikings needed was for their kicker, Blair Walsh, to hit an easy 27- yard field goal and the playoff victory would be theirs. But insanely, the kicker missed the super easy kick and the Vikings lost. It's still one of the most shocking misses I've ever seen.
Sadly, right before the 2016-17 season began, Bridgewater injured his knee very badly and a lot of people wondered if his career was over, since the injury was so bad.
Over the next three seasons Bridgewater would spend his time recovering from his bad injury and then being a backup. He would earn a 5-1 record as a starter during various opportunities he had to play as a backup.
Brigewater's skill, persistence, ability to be a good teammate and him being a person of good character are all attributes that have earned him a very good reputation in the league. The way he bounced back from his injury really inspired people.
So entering year seven, Bridgewater has earned himself a solid second chance to be a starter in the NFL. This off-season the Carolina Panthers signed him to a lucrative three-year deal. It's very very likely Bridgewater will be the starter for the Panthers entering 2020. The guy deserves it, honestly. I hope he takes advantage of this second chapter of his career, after having such a positive start to it.
With Bridgewater getting a proper chance to continue to be a starter, here's some of his accomplishments through 6 up and down seasons:
22-12 record as a starter
7,652 passing yards
42 total touchdowns
1x Pro Bowl
1x playoff appearance (as a starting QB)

What do you think of my rankings and reasons behind them?
Hive on!