Every NFL fan has got their own ideas about what attributes are most important for a good quarterback to have. Do you value football IQ over athleticism? Pocket passing or mobility? Game manager or gunslinger? A great quarterback probably needs to pretty good in all of those areas. I thought it would be fun to share my list of the NFL's top forty-two quarterbacks.
Sports media nowadays is purely out for profit and clicks. It's ridiculous. NFL analysts are so skewed by what gets them the most clicks and the most money that their opinions end up sounding completely absurd.
I'm not about to claim that my rankings are more accurate than other people's. Ranking quarterbacks is not exactly rocket science and there are only so players to pick from anyway. But I will try my best to not be influenced by mainstream media.
I have my complete list already done and I will be spreading out my list throughout a series of posts. I used my own criteria and my own opinions to create my list.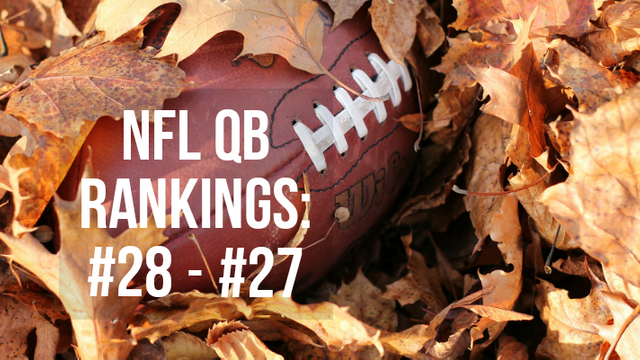 ---
#28 - Sam Darnold - New York Jets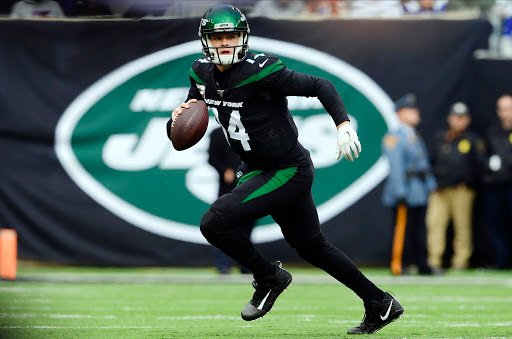 Source
Sam Darnold is another weird one to analyze for me. I figure most of the 30-20 guys will be hard to explain for me.
Sam Darnold can feel like an underwhelming talent sometimes. But also, when I watch him play I really feel like he has the potential to be great. Darnold seems like he could be the next great pure pocket passing quarterback in the NFL, other times he kind of reminds me of Jay Cutler.
Overall though I believe he has better odds to be great, rather than bad. Darnold missed several games at the beginning of the season, and the Jets definitely suffered without him. After the Jets started 0-4 in 2019, many people forgot about the Jets altogether. Quietly though, Darnold helped lead the Jets to a 7-9 finish. Not amazing but not too shabby considering they were 0-4.
Darnold reminds me of Drew Brees meets Derek Carr and a sprinkle of Jay Cutler, but probably not as strong of an arm as Cutler did. I know my player comparisons are weird sometimes, but I just say the players that come to mind for me.
I know people like to say that he maybe doesn't have great mental toughness or football IQ because of his 'seeing ghosts' comment when the Jets played the Patriots last season. I know it wasn't the greatest thing to hear for Jets and/or Darnold fans, but I really appreciated the honesty and ability to admit when something is tough. It means to me that he has respect for pro defenses, and I hope that by saying he's 'seeing ghosts' he understands he needs to improve more and work harder. If anything was negative from that comment, I guess I would say it was more immature than anything else.
Overall I think this guy has a lot of room to grow and I kind of like what I saw from him in his career so far. Darnold has got really good touch when he throws the ball. He just seems like a naturally solid QB to me. I feel like he's really close to figuring out how to play professional football at a high level. When he struggles I feel like he's just a hair off on timing. In each of Darnold's two seasons I saw improvement, and I feel like he will improve once again in year three. He just needs to stay healthy and play a full sixteen games!
People also forget how young Darnold is. Darnold only turned 23 on June 5th, I like that he's already got two pro years under his belt and he's barely 23. I think Darnold is primed to have a big third NFL seaon.

#27 - Jacoby Brissett - Indianapolis Colts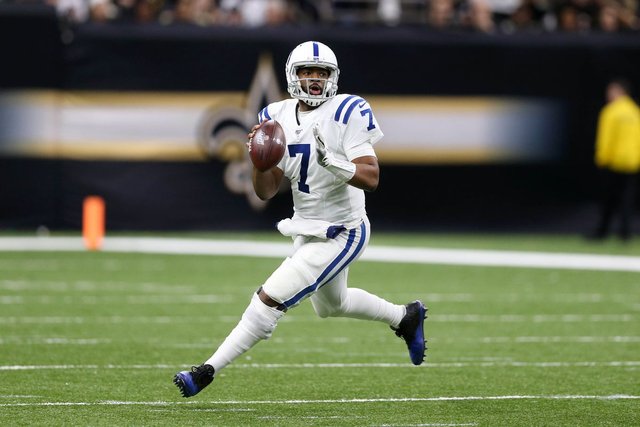 Source
Jacoby Brissett is a quarterback I am reluctant to give any props to since he plays for the Colts, but I will because I want to not be too biased and also because, I actually kind of like Brissett's game. If his career were under circumstances and/or he had just a bit more experience to actually judge, he might be a decent amount higher than #27.
Jacoby Brissett has had an interesting career through his first four seasons as a pro.
People forget that Brissett isn't really all that old at age 27 and he's only started two full seasons as a starter. People just want results out of him quickly because he was initially drafted by, and played for, the Patriots back in 2016.
Quick Timeline
Brissett played a handful of games for the Patriots in his rookie season in 2016 because Tom Brady was suspended. He showed decent potential to a lot of people and like I said before, being liked by Bill Belichick and the Patriots is often times a seal of approval to a lot of people.

After Andrew Luck was injured in 2017 Brissett was signed by the Colts through a trade with the Pats. Brissett was thrust into the starting lineup for the Colts and ended up being their starter essentially the entire season. Brissett was signed super randomly basically right before the season started, and so Brissett had to learn an entire new playbook on the go. The Colts would finish at 4-12. It was a rough season for him and the Colts but he showed enough skill to remain with the team.

Then in 2018 Andrew Luck returns and takes back the starting job. Luck has a very good 2018 season. It appeared at that point in time that Brissett may be sitting behind Luck for awhile or until Brissett signs with another team in a couple years. Essentially his career was in limbo.

But then before the 2019 season began, Andrew Luck shocked the world and abruptly retired in his prime. So once again Brissett was tossed into being the starter for the Colts for an entire season.
So, oddly, Brissett has alternately started every other season in his four year career. He started for the Colts in 2017 and 2019. He was a backup in 2016 and 2018. Since the Colts signed Philip Rivers this off-season, it's likely Brissett will be a backup in 2020. Since it's Brissett's last year of his deal with the Colts, there is a decent chance Brissett could be a starter somewhere in 2021, continuing his every other year starter pattern.
I quickly summarize his career because I believe that nearly everything Brissett has gotten, he has earned. I believe that all his trials and tribulations he has experienced in his first couple years will make him a better quarterback.
Brissett played a lot better as a starter in 2019 than he did with his first chance in 2017. Obviously he didn't have to learn an entire playbook.
Still though it's good he improved. He honestly is a lot better than people think. Brissett is pesky. He does have a surprising knack to make clutch, winning throws. He seems slow, but he's deceptively mobile and strong. His mobility mixed with his really good size of 6'4", 238 pounds makes him pretty annoying to try to sack in the backfield. He is by no means a scrambler, but he will scramble when he feels like it and he is really good at surviving in the pocket. Brissett's game reminds me of a mix between Big Ben Roethlisberger, Matt Stafford, and Matt Ryan.
Brissett had the Colts on a winning track the first half of the season, but the second half of the season was rough. Brissett dealt with injury and just poorer performances in general. Some negatives would be just regular errors like hesitance in the pocket, he sometimes gets panicky. He can be inaccurate sometimes. Nothing crazy I guess, but I have noticed those flaws at times.
The Colts finsished 7-9 in 2019 but I sill think Brissett played decent as a whole and can still get better. If he can actually go into a season knowing he is the guy and continues to improve, I believe Brissett can easily be a top 15 quarterback in the NFL one day.

What do you think of my rankings and reasons behind them?
Hive on!