Every NFL fan has got their own ideas about what attributes are most important for a good quarterback to have. Do you value football IQ over athleticism? Pocket passing or mobility? Game manager or gunslinger? A great quarterback probably needs to pretty good in all of those areas. I thought it would be fun to share my list of the NFL's top forty-two quarterbacks.
Sports media nowadays is purely out for profit and clicks. It's ridiculous. NFL analysts are so skewed by what gets them the most clicks and the most money that their opinions end up sounding completely absurd.
I'm not about to claim that my rankings are more accurate than other people's. Ranking quarterbacks is not exactly rocket science and there are only so players to pick from anyway. But I will try my best to not be influenced by mainstream media.
I have my complete list already done and I will be spreading out my list throughout a series of posts. I used my own criteria and my own opinions to create my list.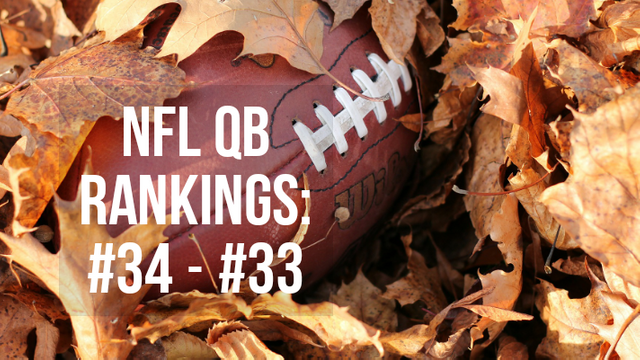 ---
#34 - Tua Tagovailoa - Miami Dolphins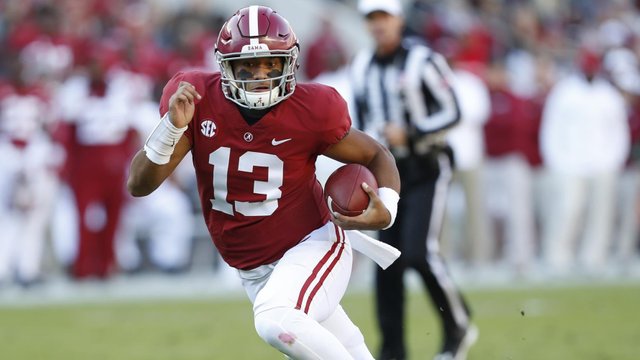 Source
It's pretty hard to judge a rookie quarterback.
Tua has got some very good potential. That potential is the only reason he is this high. But honestly I am pretty 50/50 when it comes to Tua. He reminds me of a Marcus Mariota-Drew Brees type of player.
Tua seems like a very efficient game manager with very good mobility. He does a little bit of everything you want in a modern prototypical quarterback. He's accurate, athletic, can run, and he played a pro-style offense at Alabama and teams value that a lot. Simply playing at Alabama is often a great credential by itself. His arm strength is pretty average but good enough, definitely not a weak arm.
The reason I am 50/50 is mostly because of his poor injury history. He's had several injuries in college. It's not even that he plays very recklessly, he just seems to get hurt. He got his hip absolutely destroyed just this past November. Dislocation and a fracture. The NFL only brings more heavy dudes to deal with. Your best ability is availability. That notion is much much more important for a quarterback.
Also otherwise I find myself underwhelmed by his performances at times. I don't see him being a true perennial MVP type of player. I can see him being consistently good and probably getting a couple pro-bowls. I can see him becoming about as good as Dak Prescott or somewhere around that skill level.
He just needs to stay healthy!! I could easily be wrong, wouldn't be the first time.

#33 - Joe Burrow - Cincinnati Bengals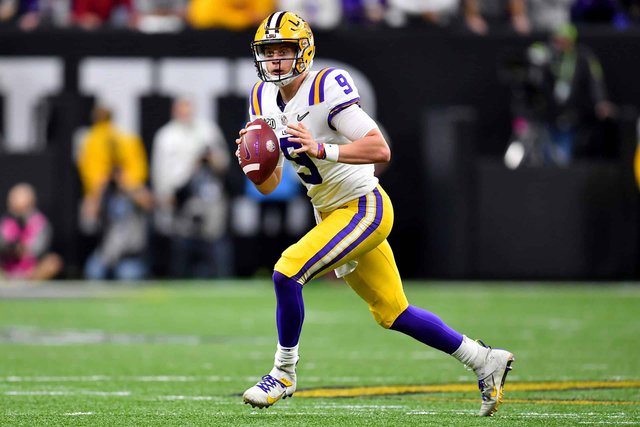 Source
I have rookie Joe Burrow one spot ahead of fellow rookie Tua Tagovailoa entering this season. So obviously I think these two guys are very close together talent wise. These two QBs could turn out to be what Jameis Winston and Marcus Mariota were supposed to be when they were the first two quarterbacks taken in 2015.
Joe is a really good pocket passer and really stands out to me. Makes all the throws with relative ease. At LSU he played in a pro-style offense against the best teams in college football in the SEC (just like Tua). The man just won the 2019 Heisman Trophy and won the 2019 College Football National Championship. The man is really good.
He always seemed to have command of the offense and knew where to go with the football last season. I rarely saw him panicked in the pocket. So when it comes to a player comparison he reminds me of a mix between Matt Ryan and Peyton Manning but he is a better athlete than both of those guys, not by a mile, but better for sure. With that decent athleticism he can really surprise people and sort of catch defenses off guard in my opinion. He goes from purely a pocket passer, to deciding to run with kind of no warning. Once Burrow gets moving he can get to a nice top speed. He doesn't really run too often but when he does it's surprisingly effective.
Burrow has good size at 6 foot 3 inches and weighing about two-hundred twenty pounds so that's good. He stands tall in the pocket and really appears taller than that, so I think that's what gave me the Ryan-Manning comparison.
Joe Burrow appears to me to be the closest thing to a 'lock' to have really good success in the NFL that I have seen in awhile, at least when it comes to quarterbacks. He has a really good demeanor and confidence and energy on the field that makes me feel like he's going to be great. He seems like a good leader. To be blunt, I think there's a strong chance he will be a ten, top five, quarterback for the next fifteen years.
But you never really know with rookies. It will be funny to look back on this post if it turns out I'm dead wrong! Hahaha.

What do you think of my rankings and reasons behind them?
Hive on!