Every NFL fan has got their own ideas about what attributes are most important for a good quarterback to have. Do you value football IQ over athleticism? Pocket passing or mobility? Game manager or gunslinger? A great quarterback probably needs to pretty good in all of those areas. I thought it would be fun to share my list of the NFL's top forty-two quarterbacks.
Sports media nowadays is purely out for profit and clicks. It's ridiculous. NFL analysts are so skewed by what gets them the most clicks and the most money that their opinions end up sounding completely absurd.
I'm not about to claim that my rankings are more accurate than other people's. Ranking quarterbacks is not exactly rocket science and there are only so players to pick from anyway. But I will try my best to not be influenced by mainstream media.
I have my complete list already done and I will be spreading out my list throughout a series of posts. I used my own criteria and my own opinions to create my list.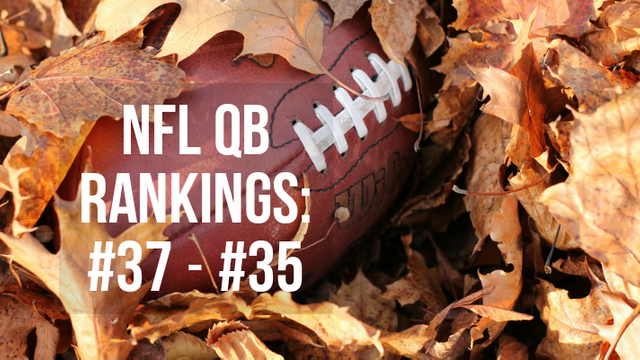 ---
#37 - Robert Griffin III - Baltimore Ravens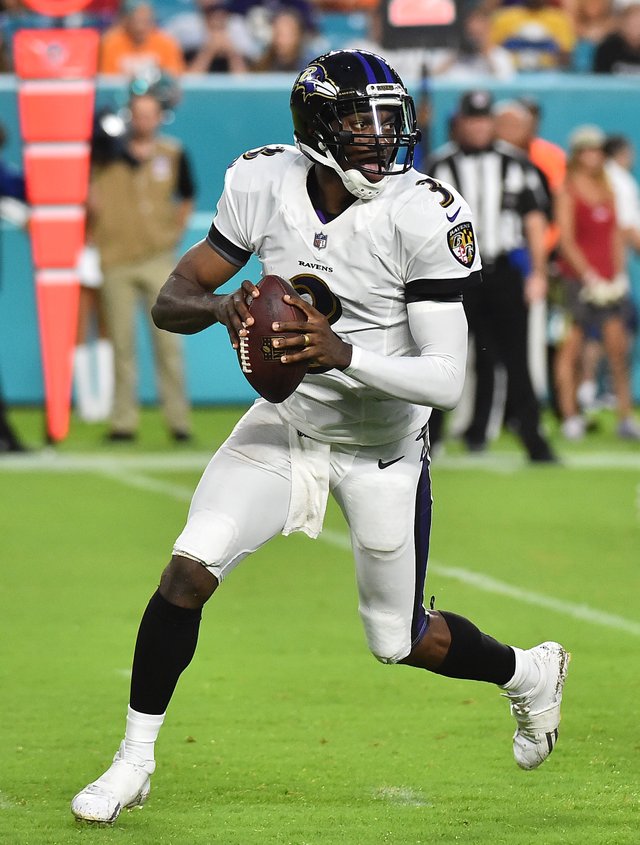 Source
You know the Ravens are in good shape when they already have an MVP QB and then a top forty QB as his back-up!
I have always respected Robert Griffin III's skill. The dude was nasty during his short prime with the Redskins. I was pretty confident he was going to be the next big thing back in 2012. The main thing that sort of ruined his career as a starting quarterback (at this point in time) was injuries.
When this guy is healthy and has some good players around him I believe he can still be a quality starter. But his health and inconsistency is why he is still quite low on this list.
Some might be surprised he made this list at all. But leading a team to the playoffs goes a long way for me. I think if teams want to use him as Lamar Jackson or Taysom Hill is used nowadays, AND he could manage to stay healthy, I definitely can see a scenario where RG3 can succeed on a team somewhere. Also, I believe RG3 is a much better passer than people give him credit for.
It's pretty unlikely RG3 will find a starting gig anytime soon, if at all. But anything is possible. In the meantime he is definitely a quality backup.
Don't be surprised if the Ravens are still competitive even if Lamar Jackson misses a few games next year.

#36 - Case Keenum - Cleveland Browns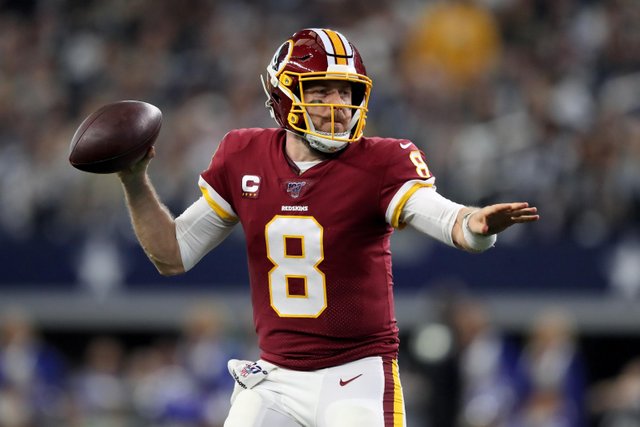 Source
Sometimes I feel pretty bad for Case Keenum. He is a pretty decent QB in my opinion. He's had really good success as a starter in the NFL. Teams just really don't always have faith in him. Nobody wants to build a team nowadays. Everyone wants just instant success.
Well, Keenum has shown what he is capable of when he has a good defense and good receivers. He can lead you to a 13-3 record and into the playoffs and even win a game there even if it was a miracle.
The particular season I am speaking of is 2017-2018. After all of that success he had as the starter in Minnesota, how did the franchise reward him? They simply let him go in free agency just to replace him with a HIGHLY comparable QB in Kirk Cousins. While Cousins has been pretty good for Minnesota he has failed to replicate the win total that the Keenum-led team did in 2017.
The Vikings made a pretty dumb choice in my opinion by leaving Keenum and taking Cousins for a HUGE $84 million fully guaranteed contract. I fail to see a major difference in the two QBs, especially for that high of a price.
Since Keenum's departure from Minnesota, he has failed to replicate the success he had in Minnesota.
While I think Keenum is decent, he really does need talent around him. Keenum is not really dripping with elite talent. For Keenum to succeed he needs help. Keenum's been on the Broncos and the Redskins in the past two seasons and those teams aren't exactly built like Minnesota.
Now entering his third season since his best year of his career, Keenum is set up to backup Cleveland Browns franchise quarterback Baker Mayfield. Mayfield struggled in his sophomore season, if Mayfield doesn't play well Keenum could swoop in and play. Maybe he will do well too, because Cleveland has some solid pieces.

#35 - Mitchell Trubisky - Chicago Bears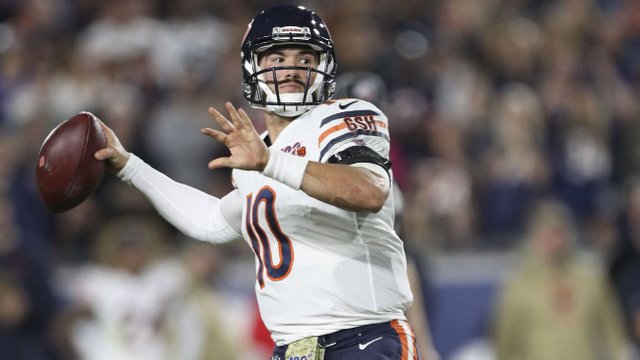 Source
I'm not gonna lie I was dissapointed and pretty surprised by Mitchell Trubisky's decline last season. While I do recognize he regressed a bit I also think it's been a ridiculous over-reaction when it comes to haw bad he has become. People think he sucks now, I don't! When you lead a team to twelve wins like Trubisky did in 2018-2019, you don't suck.
I think the coaching is the problem. Matt Nagy is kind of weird to me.
Trubisky is athletic and plays pretty strong. Good thrower of the ball, maybe slightly inconsistent sometimes. Give Trubisky a legit running back and he would probably be a lot better. I honestly think Trubisky is pretty talented and still pretty young.
A part of me wanted to put him higher on the list but he did indeed regress a bit and I don't think the coaching staff is on his side since they brought in veteran Super Bowl Champion Nick Foles to compete for the job.
I actually like Trubisky, but things are a bit murky surrounding him and his career, so he is at #35.

What do you think of my rankings and reasons behind them?
Hive on!