Every NFL fan has got their own ideas about what attributes are most important for a good quarterback to have. Do you value football IQ over athleticism? Pocket passing or mobility? Game manager or gunslinger? A great quarterback probably needs to pretty good in all of those areas. I thought it would be fun to share my list of the NFL's top forty-two quarterbacks.
Sports media nowadays is purely out for profit and clicks. It's ridiculous. NFL analysts are so skewed by what gets them the most clicks and the most money that their opinions end up sounding completely absurd.
I'm not about to claim that my rankings are more accurate than other people's. Ranking quarterbacks is not exactly rocket science and there are only so players to pick from anyway. But I will try my best to not be influenced by mainstream media.
I have my complete list already done and I will be spreading out my list throughout a series of posts. I used my own criteria and my own opinions to create my list.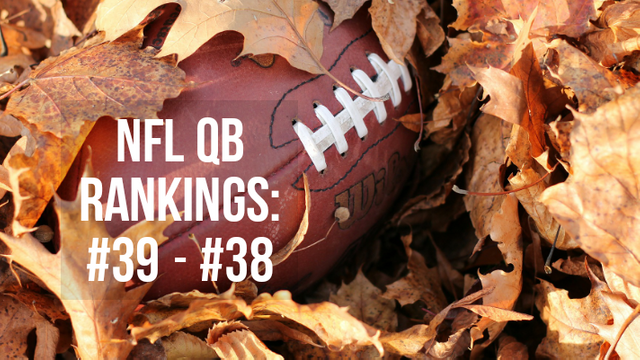 ---
#39 - Daniel Jones - New York Giants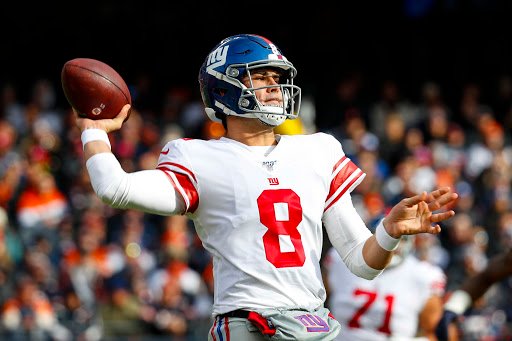 Source
I wasn't too impressed with Daniel Jones honestly. I know he's only been in the league a year, but still. It's not that he's that bad but the media definitely portrays him to be a lot better than he is, I think. Nothing new there. New York market always dominates.
He tries really hard and seems pretty smart for the most part. I can tell he wants to be good. Has solid arm talent. I would simply call him a prototypical pocket passer.
Jones will probably improve. He actually reminds me a lot of Eli Manning, the previous long-time Giants Super Bowl winning quarterback. I feel like he can be a Jared Goff-Eli Manning type of player.
The reason Jones is very low right now is because I was never really wowed by his performances ever. He seems a bit panicked back in the pocket a lot. He can be efficient but that isn't going to make me want to put him up very high on these rankings.
Another reason he is low is because the man had eighteen fumbles in his rookie season. That's a bad stat and it's not as easily fixed as you would think. Marcus Mariota had a pretty bad fumbling issue for awhile too, so I have seen how bad it can be.
I believe Jones can improve next year though. He does have decent potential I think.

#38 - Dwayne Haskins - Washington Redskins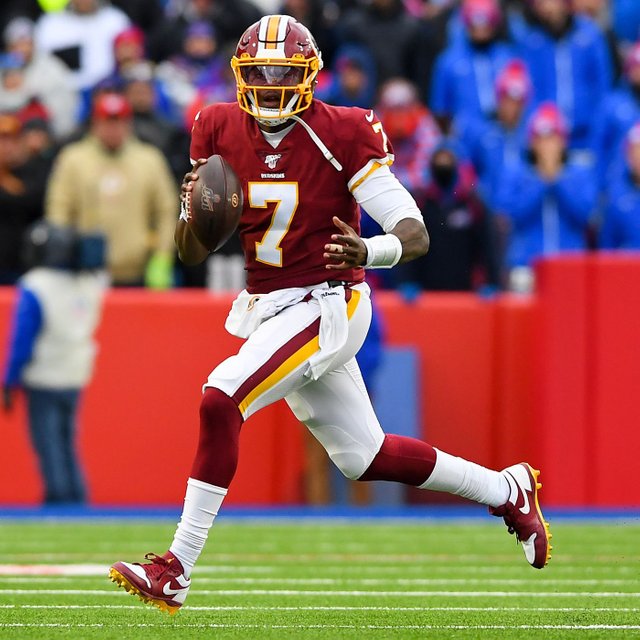 Source
There is not a huge difference in Dwayne Haskins and his NFC East division foe QB, Daniel Jones. Obviously that's what I think since they are only one slot apart from one another. Both guys are second year quarterbacks entering 2020.
Haskins is just a hair better than Jones in many categories.
Haskins seems more confident and sure-footed in the pocket with pressure around him. Overall I like Dwayne's pocket presence and mobility better. I like Dwayne Haskins's arm strength better than Daniel Jones's as well. I would say their accuracy is about even.
One difference I felt was most evident, was just the overall 'it' factor. I really like the energy that Dwayne Haskins brought to the football field. His charisma and play making potential is really why I prefer him before Daniel Jones.
Jones reminds me of a Tom Brady or Josh Allen kind of a player.
He's mostly this low because he didn't play in too many games last season, so it would be nice to see more NFL tape on him.
I'm intrigued to see what the future holds for Dwayne Haskins in the NFL.

What do you think of my rankings and reasons behind them?
Hive on!