Hello guys.
(EN) The man in this photograph is the man who upset Fenerbahçe.
(TR) Bu fotoğraftaki adam Fenerbahçe'yi üzen adam.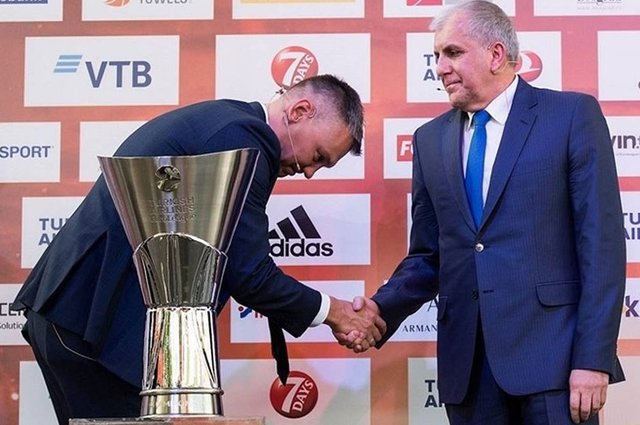 (EN) The guys in this photo are master-apprentices. One is Obra and the other is Jasikevicius, who respects Obra.
(TR) Bu fotoğraftaki adamlar ise usta-çırak. Biri Obra diğeri ise Obra'ya saygısını gösteren Jasikevicius.
(EN) What I want to tell with this photo. Let's start with the opponents are clear in the 2018 Final Four of the year. Zalgiris-Fenerbahçe and CSKA Moscow-Real Madrid. The first match is Zalgiris-Fenerbahçe and the coaches are the two Jasikevicius and Obradovic in the photo. He shows the right to the Master before the Final Four. This duo previously played in the same team. Between the years 2007-2010, Coach Obra is the player in the Koçun team, Jasikevicius. The team is Panathiaikos. He understood that much from me.
(TR) Bu fotoğrafla anlatmak istediğim ne. Şöyle başlayalım yıl 2018 Final Four'da rakipler belli. Zalgiris-Fenerbahçe ve CSKA Moskova-Real Madrid. İlk maç Zalgiris-Fenerbahçe ve koçlar ise fotoğraftaki ikili Jasikevicius ve Obradovic. Final Four'dan önce Ustaya sagıyı gösteriyor. Bu ikili daha önce aynı takımda yer aldı. Yıl 2007-2010 arası Koç Obra, Koçun takımındaki oyuncu ise Jasikevicius. Takım ise Panathiaikos. Benden bu kadar anlayan anladı.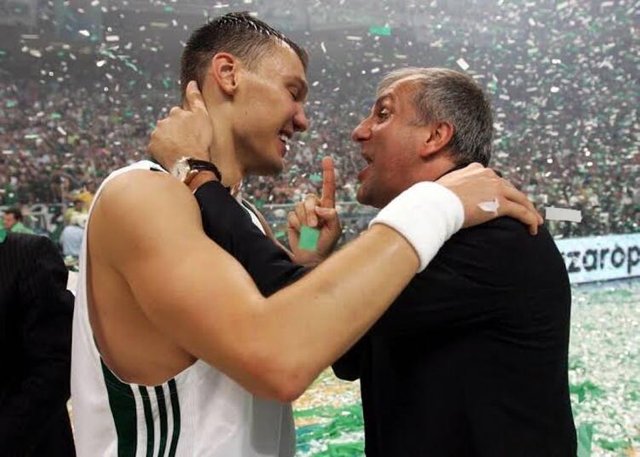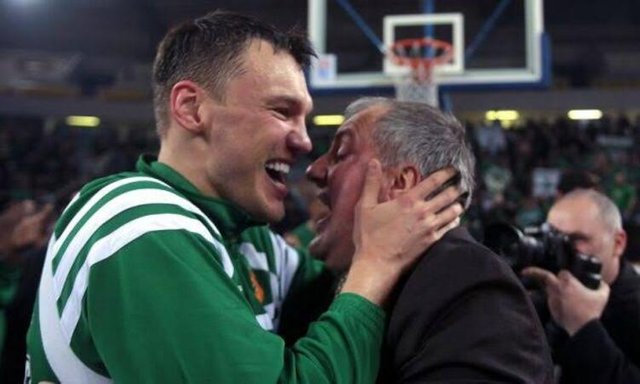 (EN) Championship photos in Obra and Jasikevicius Panathinaikos. By the way, here is a photo in which they compete against each other as Coach at the bottom. Opposite a Jasikevicius Obra who has been trained by Obra.
(TR) Obra ve Jasikevicius Panathinaikos'da şampiyonluk fotoğrafları. He bu arada buyrun bir fotoğrafta altta Coach olarak birbirlerine rakip oldukları fotoğraf. Obra'nın Eğitiminden geçmiş bir Jasikevicius Obra'nın karşısında.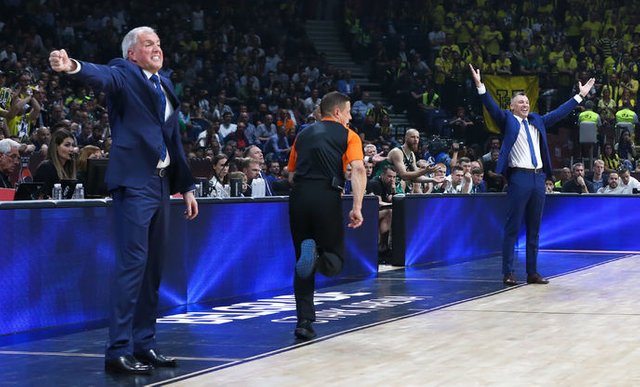 (EN) Of course it will be a cliché, but Master is defeating Apprentice in the final Four. 76-67 eaten apprentice. Wrestling is insatiable. Obra loses his apprentice to Real Madrid in the final. The reason he lost to Real is that he has an excellent Doncic. Doncic, Madrid's young player, made history.
(TR) Tabi klişe olacak ama Usta final Four'da Çırağı yeniyor. 76-67 yenilen çırak. Güreşe doymaz. Obra çırağını yendikten sonra finalde Real Madrid'e kaybediyor. Real'e kaybetmesinin nedeni ise mükemmel bir Doncic'in olması. Madrid'in genç oyuncusu Doncic adeta tarih yazdı.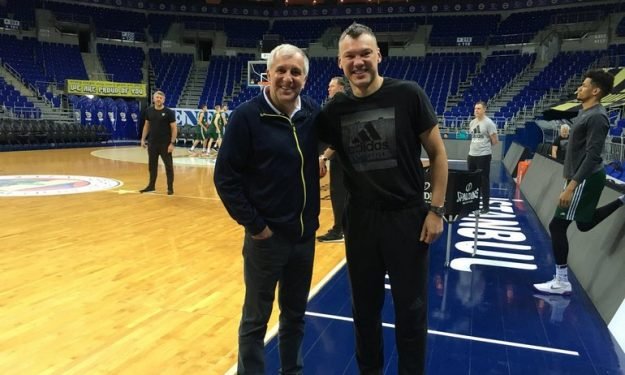 (EN) The next quarter's Quarter Finals are Zalgiris and Fenerbahçe. The apprentice again tries to beat the master, but Master Obra sends the apprentice empty-handed again. In the five-game series, his master is beaten 3-1.
(TR) Bir dahaki sene Çeyrek Final takımlar Zalgiris ve Fenerbahçe. Çırak yine ustayı alt etmek için çabalıyor ama Usta Obra, çırağı yeniden eli boş gönderiyor. Beş maçlık seride usatasına 3-1 yeniliyor.
(EN) In short, he was beaten much by his master. But he never gave up. His character, perseverance, desire and ambition led him to do better. But he always came across his master. Now, there is no Obra who has a 1-year break from basketball, and I am sure that I will see the final four this year.
(TR) Kısacası ustasından çok dayak yedi. Ama hiç pes etmedi. Onun karakteri,azmi,isteği,hırsı onu hep daha iyisini yapmaya götürdü. Ama karşısına hep ustası çıktı. Şimdi artık basketbola 1 yıl ara veren Obra'da yok karşısında ondan bu sene final four göreceğime eminim.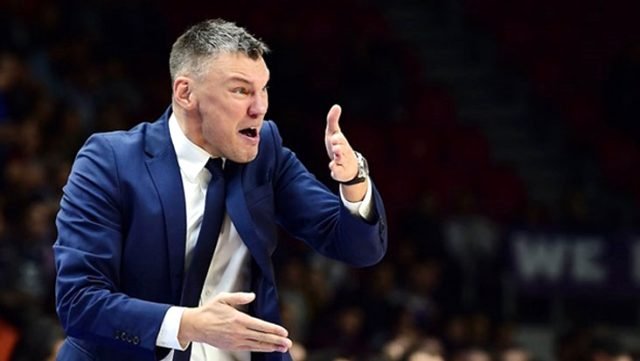 (EN) So let's come to the reason why we Fenerbahçeli upset us. He played basketball in Fenerbahçe for 5 months in 2010. Then he left and started to meet Fenerbahçe as a Coach. His team and himself were a whole. He was always close to defeating Fenerbahçe, but he could not. If Fenerbahçe people go to Obra one day, we would like to see Jasikevicius on the team. He was with us during his acting period and became an opponent of Obra after his education. Already, Fenerbahce fans cheered for Jasikevicius in the matches. He had earned our respect.
(TR) Peki biz Fenerbahçelileri neden üzdüğüne gelelim. Kendisi 2010 yılında Fenerbahçede 5 ay Basketbol oynadı. Daha sonra ayrıldı ve Fenerbahçe'nin karşısına Coach olarak çıkmaya başladı. Takımı ve kendisi bir bütündü. Hep Fenerbahçe'yi yenmeye yakındı ama yenemiyordu. Biz Fenerbahçeliler de bir gün Obra giderse takımda Jasikevicius'u görmek isterdik. Hem oyunculuk döneminde bizimle oldu hem de Obra'nın eğitiminden geçip Obra'ya rakip oldu. Zaten maçlarda Fenerbahçe taraftarı Jasikevicius için de tezahürat yapıyordu. Bizim saygımızı kazanmıştı.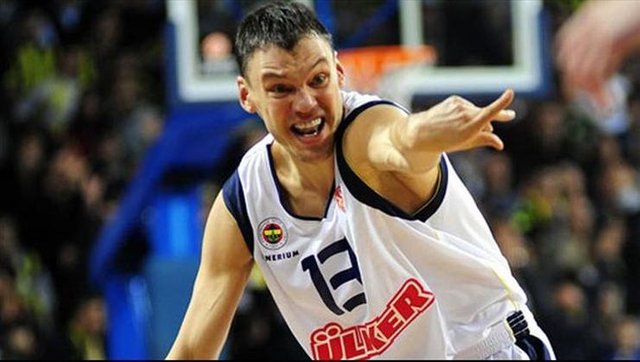 (EN) He was alleged to have met with Fenerbahçe. We were waiting for this. However, he made an agreement with Barcelona. I wish him success. Do not forget that one day he will enter through Fenerbahçe's door again
(TR) Kendisi Fenerbahçe ile görüşme yaptığı iddia edilmişti. Biz de bunu bekliyorduk. Ancak kendisi Barcelona ile anlaştı. Ona başarılar dilerim. Unutmasın ki bir gün Fenerbahçe'nin kapısından içeri tekrar girecek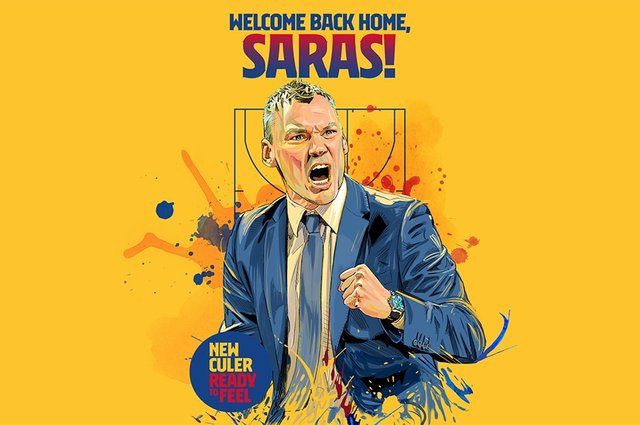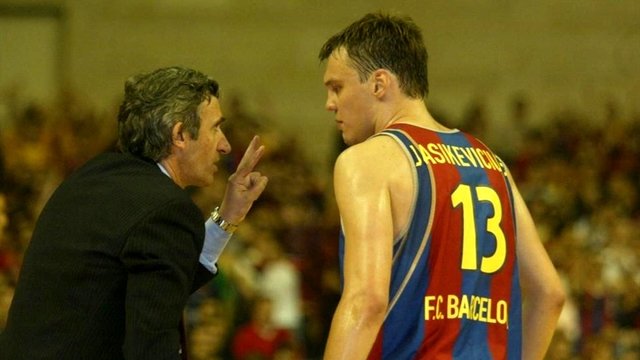 (EN) Jasikevicius previously took place in Barcelona between 2000-2003. Jasikevicius was born in Zalgiris and ended his career in Zalgiris and continued as a Coach. Now, he will start his career as a coach in Barça, where he is the Euroleague champion in his carving career. We will meet in Fenerbahçe one day, Jasikevicius.
(TR) Jasikevicius daha önce 2000-2003 yılları arasında Barcelona'da yer almıştı. Jasikevicius Zalgiris'te doğdu ve Zalgiriste sonlandırdı kariyerini ve Koç olarak devam etti. Şimdi ise oyuculuk kariyerinde Euroleague şampiyonu olduğu Barça'da Koç olarak görev'e başlayacak. Bir gün Fenerbahçe'de görüşeceğiz Jasikevicius.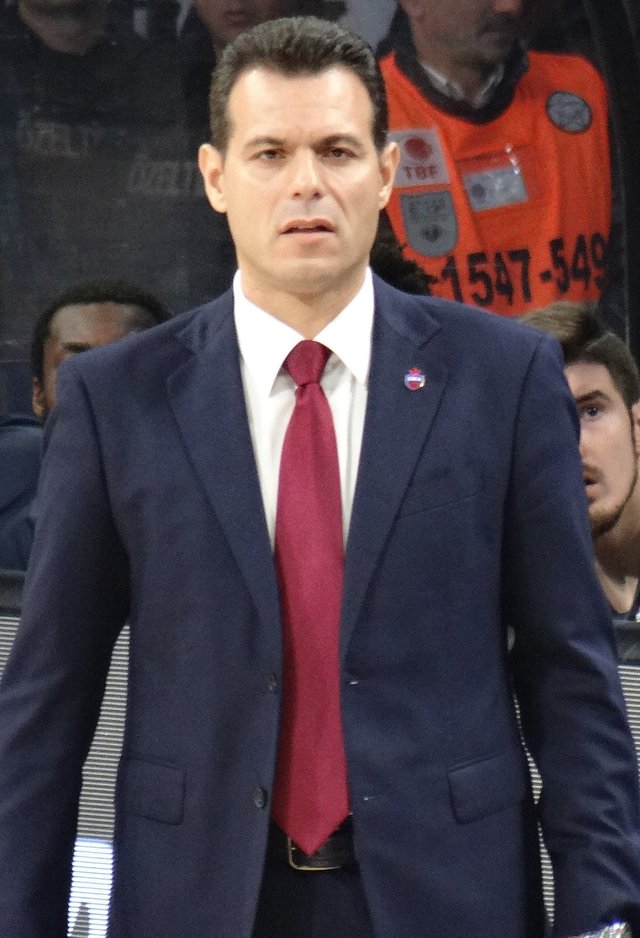 (EN) His biggest opponent in the Euroleague is Dimitris Itudis in the photo they previously played in the same team. In 2009, there are Obradovic, Dimitris and Jasikevicius in this photo of the shoot. In Panathinaikos, where Obra was the Coach, Dimitris was Obra's assistant. Jasikevicius was the student of these two men. And the last Euroleague champion is run by Dimitris Itudis. CSKA Moscow.
(TR) Onun Euroleague'de ki en büyük rakibi daha önce aynı takımda yer aldıkları fotoğraftaki Dimitris İtudis. 2009 yılında çekilern bu fotoğrafta Obradovic,Dimitris ve Jasikevicius var. Obra'nın Coach olduğu Panathinaikos'da Dimitris, Obra'nın yardımcısıydı. Jasikevicius ise öğrencisiydi bu iki adamın. Ve en son Euroleague şampiyonu ise Dimitris İtudis'in çalıştırdğı. CSKA Moskova.

(EN) The two men who trained Obra, not a good story, are Dimitris and Jasikevicius. Jasikevicius, who received training from both Obra and Dimitris. I love such stories. By the way, Dimitris previously won the Euroleague against Fenerbahçe, that is, against Obra in 2016. In fact, this article consists of the Master, Kalfa and Çırak trio. Obra's touched man becomes the perfect basketball coach as much as Obra. The man Obra touches Obra from the Championship in the Final. Thank you, Obra. Thank you, Dimitris. Thank you Jasikevicius. For all the excitement you have made us, for the love of basketball.
(TR) Güzel bir hikaye değilmi ? Obra'nın eğitimini alan iki adam Dimitris ve Jasikevicius. Hem Obra'dan hem de Dimitris'ten eğitim alan Jasikevicius. Ben böyle hikayelere bayılıyorum. He bu arada Dimitris daha önce Fenerbahçe'ye karşı yani Obra'ya karşı 2016'da Euroleague'i kazandı. Aslında bu yazı Usta,Kalfa ve Çırak üçlüsünden oluşuyor. Obra'nın dokunduğu adam Obra kadar mükemmel basketbol koçu oluyor. Obra'nın dokunduğu adam Obra'yı Finalde Şampiyonluktan ediyor. Teşekkürler Obra.Teşekkürler Dimitris. Teşekkürler Jasikevicius. Bize yaşattığınız tüm heyecanlar için,tüm basketbol aşkı için.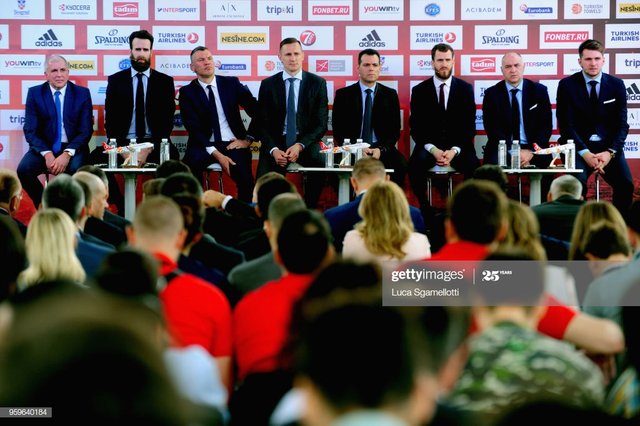 (EN) Photograph from the 2018 Final Four. Matches, Real Madrid-CSKA Moscow and Fenerbahçe-Zalgiris Kaunas.
In order:
Obradovic = Masters
Jasikevicius = Apprentice
İtudis = Foreman
Meanwhile, Master and his students lost the championship to Real Madrid in this final. In the final, Real defeated Fenerbahçe and became the champion. But 1 year later, Dimitris Itudis became the champion after defeating Anadolu Efes, who had avenged this again in the semi-finals, overtaking Real and defeated Master Obra's team in the Final.
Thank you.
(TR) 2018 Final Four'dan fotoğraf. Eşleşmler, Real Madrid-CSKA Moskova ve Fenerbahçe-Zalgiris Kaunas.
Sırayla:
Obradovic=Usta
Jasikevicius=Çırak
İtudis=Kalfa
Bu arada Usta ve öğrencileri bu finalde şampiyonluğu Real Madrid'e kaptırdı. Finalde Real Fenerbahçe'yi yendi ve şampiyon oldu. Ama 1 sene sonra Dimitris İtudis bunun intikamını yarı finalde tekrar eşleştikleri Real'i geçip Finalde Ustası Obra'nın takımını yenen Anadolu Efes'i yenip şampiyon oldu.
Teşekkürler.