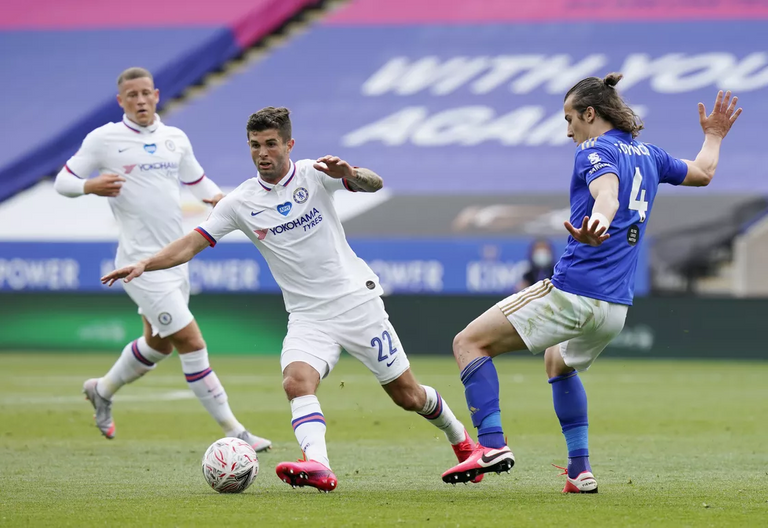 source
Chelsea fans are happy to see their team flying high in the FA cup. Chelsea is in a good place in the Premier League and just won the Quarter Finals against Leicester. Maybe that is the way they decide to play the game now. No fake sound just like a training squad.
You can hear the real thing on the field and the sound is clear.
Just saying Pulisic did try to score but goalkeeper was at the right place.
Barkley did find the net to secure a win.
Do you care for EPL or FA Cup ?
Since these games are between all English clubs, winning is the key going forward. EPL is already taking out of the map. Thank you Liverpool.
So far Chelsea, Manchester United, Arsenal and Manchester City. These are the teams that will compete for the FA CUP.
What is left for EPL is the team placement for next season. Liverpool is so ahead of the pile and they deserve it fair and square.
Away from Manchester City, Leicester could hold third for a ticket to Champions League. Chelsea needs to continue their quest and keep their hope for top four.
This win today proves Chelsea always prevail in the last minute.
Apart from injuries they can lock to win the FA CUP all in.
For the past 6 years the winners of FA CUP are playing to win it again.
It could be a tradition for them to get that far.
I want to say it could be a consolidation prize for the winner.
Another meeting with Manchester United is crucial for Chelsea.
This season, Chelsea luck with Man Utd. is not favorable.
Things change , lampard may find the right recipe to put his team
in the right condition to win.
Apart from all my verbiage the team needs to play their best
to keep winning.
Is your team in any position to win?