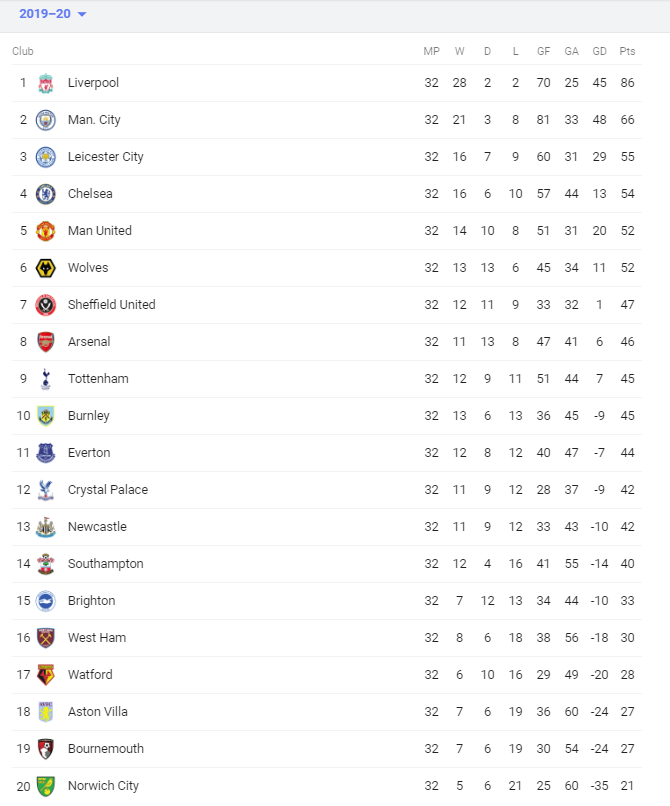 source
No fans, The Premier League is moving along quite well. Everyone is watching over their set so you can pick with noise (fake) or just the players.
So far I am delighted the season is moving and by July that should be it.
Chelsea lost yesterday, so does Leicester.
Manchester Utd. is begging to take the fourth place.
It looks like they may if Chelsea playing relaxed.
Looking at the schedule and standing, Norwich is okay thank you, relegation.
Bournemouth, Aston Villa are playing with fire.
West Ham and Watford not there yet but more wins will secure their path to EPL.
Brighton much better place but they need to play fervently.
This Thursday two beautiful matches.
Sheffield proved worthy of the seventh place by taking care of Tottenham in a classic way.
VAR is the pure excuse when a team lost the game.
We all forgot you need to continue to score in order to win.
Clearly the better team wins. I should say the most prepare team wins.
Just today 8 goals were scored. Not bad for a Thrusday. Liverpool was done since
they won EPL. Classically they will received each game and nice ovation for their success.
Manchester City did them a favor by scoring only 4 goals.
Next match they should bench Salah, Mane, Firmino. Just a give the young guys a chance
to see how next season will be.
Hopefully things should be plausible for Champions League and we will see how they will fair.
I knew way before the match Liverpool will lose. Just a pure instinct from how well they play all season. No need for them to prove anything. They are the Champions.
They will play loose so any team any contender can win against them now.
By mentioning EPL I have my eyes over la Liga as well.
Will Zidane get a trophy just by showing up this year? I want to say he is lucky if he wins
without CR7. We all know Barca is scrambling to get wins.
Anyway I am watching from afar and see if Messi is done.
Maybe not yet but the Messi we know now is not the same Messi.
This is another story.
Let's enjoy this Football while we can.