The Seoul Olympics: The scene is set for a showdown between Canadian, Ben Johnson and American, Carl Lewis, two titans of the track. The heats had been run and won sorting the wheat from the chaff and the two were to line up with the other finalists, [who probably didn't stand a chance] to sprint for gold in the 100m final.
Jamaican-born Johnson was keen to improve on his somewhat disappointing performance at the Los Angeles Olympics in 1984 where he finished third with a comparatively slow 10.22 second elapsed time for the 100m. Carl Lewis finished first in that final with 9.99 and Sam Graddy was second with 10.19 seconds. Johnson would need to bring his game face to Seoul to defeat the ultra-fast Lewis.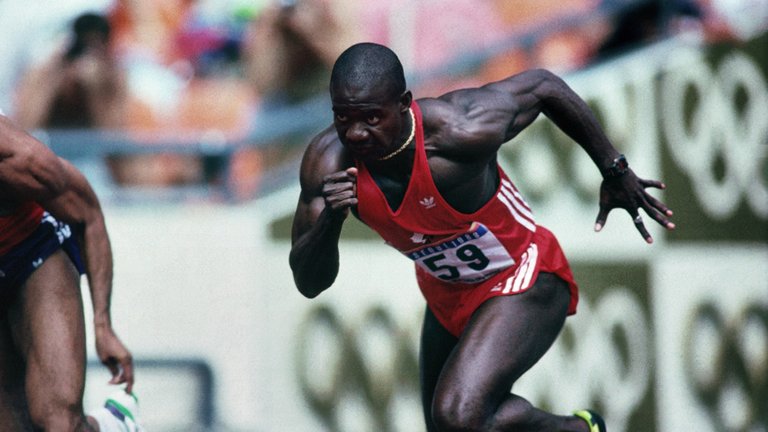 Eighty two sprinters from fifty six countries assembled to make their way through the heats in Seoul however only eight could make it and those eight included the protagonists from the 1984 games, Johnson and Lewis. source
Johnson started from lane six with Lewis in three and on the gun Johnson bolted from the line a fury of pumping legs and arms. Lewis, a strong finisher with amazing closing-speed, was unable to pull back the gap and ran second to Johnson who ran a world record 9.79 seconds beating his own word record, set in Rome, of 9.83. Johnson revelled in his glory and in later interviews cited beating Lewis as his main motivation, not the world record time.
Alas all was not legit in the Ben Johnson camp...You see, in his single-minded pursuit to beat Carl Lewis he had decided that cheating was an excellent option. He tested positive for steroids on September twenty seventh, three days after the final and, despite his rather weak defence of accidental ingestion of steroids, was stripped of his gold medal by the International Olympic Committee (IOC). The gold was handed to Carl Lewis and Ben Johnson would go down in the athletic annals as a drug cheat.
Moral of the story? Don't be an asshole and cheat - You're only cheating yourself.