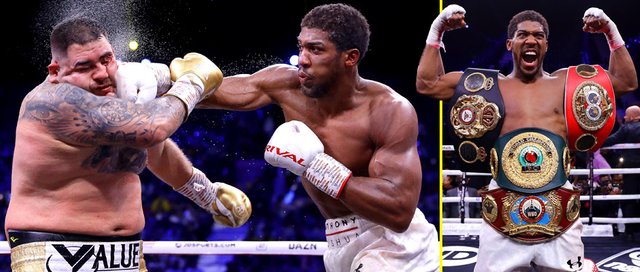 picture copied from https://talksport.com/sport/boxing/489315/anthony-joshua-andy-ruiz-result-wins-points-regain-titles-live/
Wow! The much anticipated rematch between Anthony Joshua and Andy Ruiz Jr has come and gone and once again Anthony Joshua has become a world heavy weight champion stamping his name in the golden history of Boxing.
Many people expected the fight to end in knock out and many expected Andy Ruiz to knock Anthony Joshua out, this conclusion was based on their last fight in June this year.
I rooted for Anthony Joshua to even though Andy Ruiz is not a small nut to crack, i expected a tough and close fight but believe Anthony Joshua will win because i believe he will rather go for points than knockout after studying the first match between them and happy he did and won his world tittle belts back.
Now the fight is over and many are not happy that Anthony Joshua won by point instead of knock out, complaining about his style of approach in this rematch.
To me, he did nothing wrong and everything right. Of what essence of going all out for knockout and lost the match? Why not being calm and accumulating points jabbing away at your opponent and denying him the chance to land a devastating punch on you making you to see stars?
Just like other sports, boxing is not just a game of brute force but strategy. Anthony Joshua came well prepared and with strategy in place and he won the rematch accordingly to the rule of the game.
Up AJ