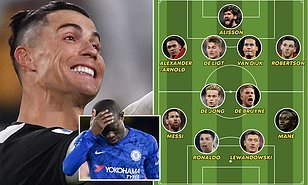 The last minute change by UEFA the european football governing body to the UEFA team of the year to accommodate Christiano Ronaldo has generate mix reaction by football lovers across the world and in Nigeria it is the same. Some Nigerian fan are not happy about this development accusing UEFA of bias in their selection as Christiano Ronaldo vote is way less to see him into the team.
According to dailymail.co.uk and i quote
"Cristiano Ronaldo was voted into the UEFA supporters' team of the year for 2019 But the Portuguese forward got less votes than Messi, Mane and Lewandowski
UEFA used a 4-2-4 formation to keep Ronaldo in and dropped N'Golo Kante
UEFA sensationally changed the formation of their fans' team of the year to accommodate Cristiano Ronaldo, Sportsmail can reveal."
For further reading visit their site https://www.dailymail.co.uk/sport/football/article-7892159/UEFA-squeezed-Cristiano-Ronaldo-team-year-got-votes-rival-forwards.html
According to this some Nigerian fan are not happy and have come out to make known their opinion through comment on nairaland.com . Some of the comment are hilarious, while some see no difference between UEFA and the Nigerian Electoral body responsible for conducting election in Nigeria and one commentator known as armedeo was philosophical about it and motivated, in his word he wrote
" The stage must set for you if you're big enough.
The entire team had to change to accommodate one man..
A man whos trained himself to be the best."
To read Nigerian football lovers comment visit here and read first hand right from the source.
https://www.nairaland.com/5635066/uefa-changed-formation-team-here
---
Note image in this post is downloaded from here
https://www.dailymail.co.uk/sport/football/article-7892159/UEFA-squeezed-Cristiano-Ronaldo-team-year-got-votes-rival-forwards.html