I rode the ebike down to the park earlier today and played nine baskets of disc golf by myself scoring two over par.
Later in the evening I played with my son scoring right at par. I ended up losing to my son who scored two under par.
There were a lot of people in the park but not much wind. I was really concentrating on throwing with more control and less power. It seemed to make a difference on some of my drives and they ended up flying very nicely.
Riding back today I took a different route and saw this maple tree that was really brightly colored. It seems a good fit for the #treetuesday tag as it was started by @old-guy-photos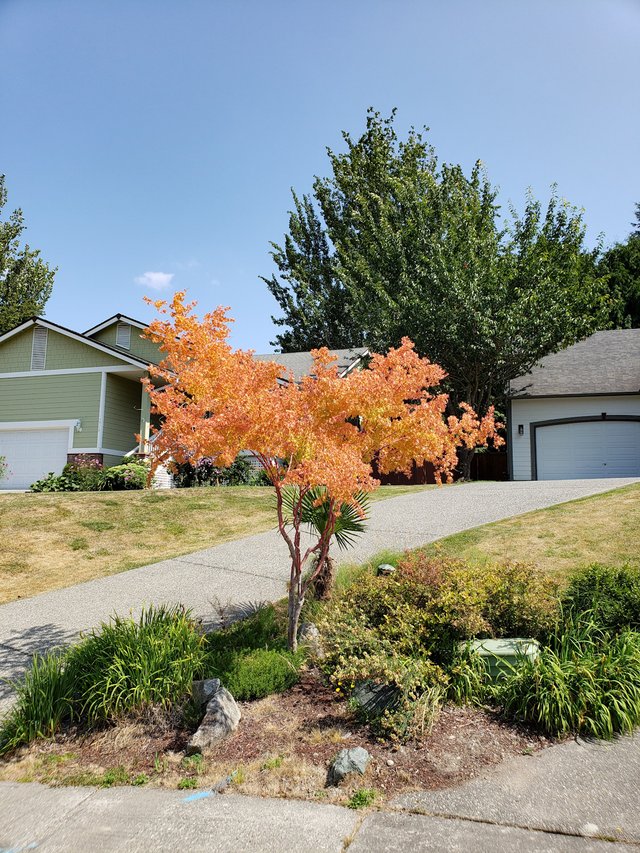 Here's another flowering bush that I saw as I was cycling back from the park. I just had to stop and take a picture of it.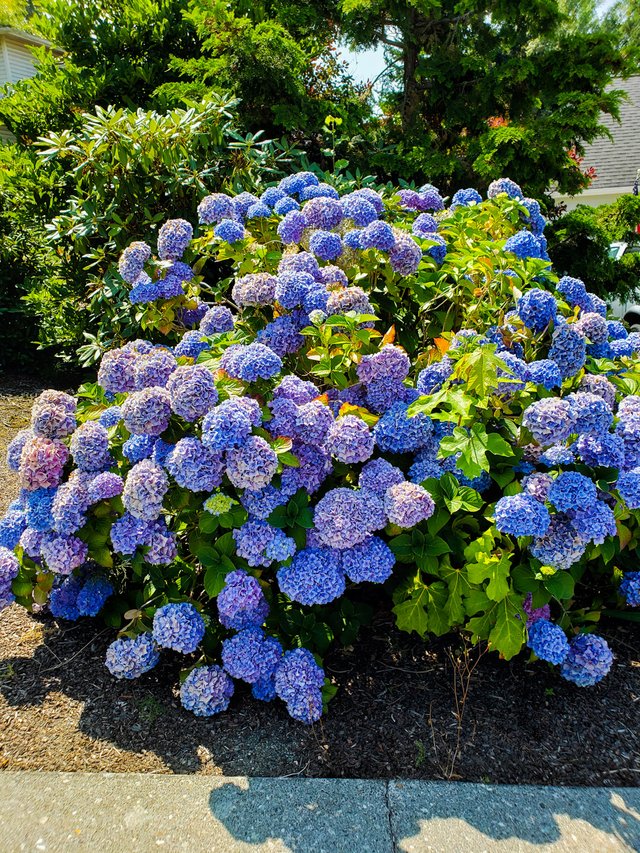 Disc Golf tips - Nose Angle
Getting a feel for the angles that you release both drivers and putters at is pretty important for disc golfing. The nose angle is how up or down the leading edge of the disc is at when it travels through the air.
A putter will fly a little more stable with the nose up. A driver will not fly very far with the nose up and generally stalls out and slows down.
For best results you want to release a driver disc level or slightly nose down. That way the lift of the disc helps propel it threw the air for the longest distance.
The nose angle is different from the release angle though they are related. A flat release will travel very straight because the disc does not have enough height to fade much when it slows down. Too high a release angle will stall and not go so far and I think it is tough to get your wrist bent over enough to keep the nose down.
Usually I try to line up my shot by pointing the disc on the line that I want with the angle that I want the disc to release at. By placing the disc down in your palm correctly and bending your wrist down you can see what angle the nose is optimally pointed at for the release.
There are many good videos showing the grip and hand placement and tips on good driving form. Basically you want to pull the disc back in a straight line and drive it forward across your chest without rounding it around your body.
If you get the nose angle correct on the drives it can really improve the distance and setting your wrist at the right angle just before you start the throw helps me release it right.
Things change a lot when the wind kicks up but that enough for this post.
---
Thanks for reading! I always value your support and comments. The pictures were taken by me with my Galaxy S9+. Text and graphics copyright lightsplasher & litesplasher.

---


10398

Cycling, Daily Activity, Golf, Walking