at first the beneficiaries @null 3%, @steempeak 2%, @patlog 5%, @nextcolony 5%, @ocd 5%
NOW have fun with the post :))
---
Big Updates, I'm down to the ground again... and
The first NC Season 'Nemesis' starts on
November 15, 2019 20:00:00 UTC
| | After 16 Weeks on my first Planet, while I was playing 2-Times a day for (5-10Min) and lately for around a few hours additional, I still don't get what this is all about xD |
| --- | --- |
1 Planet only (still )


=> 2 Weeks of slow Progression


Meta-Skill Level: lvl. 337! exactly the same production speed as on 231
Coal Mine (14) +1120.00 / Day (+46.67 / Hour)
Ore Mine (16) +640.00 / Day (+26.67 / Hour)
Copper Mine (16) +320.00 / Day (+13.33 / Hour)
Uranium Mine (16) +160.00 / Day (+6.67 / Hour)
I'm just teching for ships recently, can't max. production while pressured.
---
Well I thought:
The last patch was very good to me!
but what really happened was: BURN THEM ALL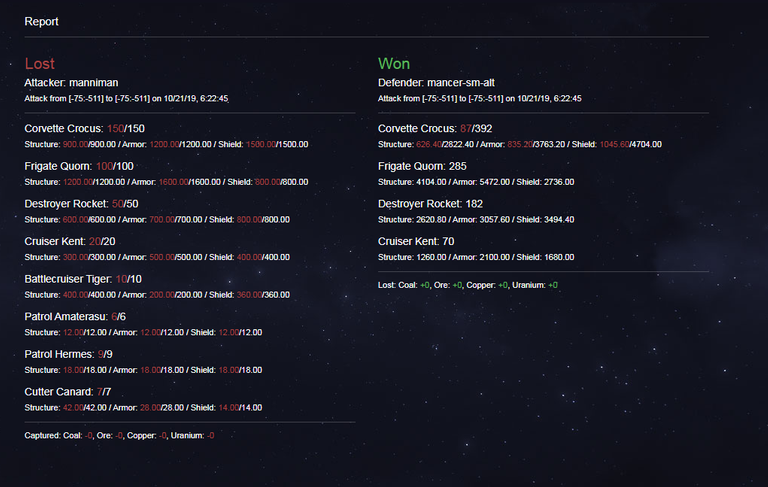 LOOK AT THAT?! Dafuq... ?? || GG Good Fight.
I was able to max ship skills for Scout, Patrol and Cutter, while my Corvette skill is currently (still) at Level 16. I also bought the Blueprints for these 4 Ships. Just to make them and see them getting destroyed for nothing.
Seven weeks ago I thought:
...maybe 2020. MAYBE - more like never.** Even if I'd be able to build ships at the End of the year, they will get destroyed in a timeframe of 2-3 hours. **So I don't think I'll ever have a fleet.
Now I produce ~12 small ships a day which makes it possible for me to defeat myself by wasting all my little ressources on that senseless little shits ships.
On Top of that, all my ~400 bigger ships that I bought 2 weeks ago for 400Steem, they got vaporized for nothing, as you can see in the upper screenshot. Very nice.

So I got spanked once again by @mancer-sm-alt !
and in the same time I actually won a NC Challenge on 3Speak...https://steempeak.com/threespeak/@flauwy/qsxlxeao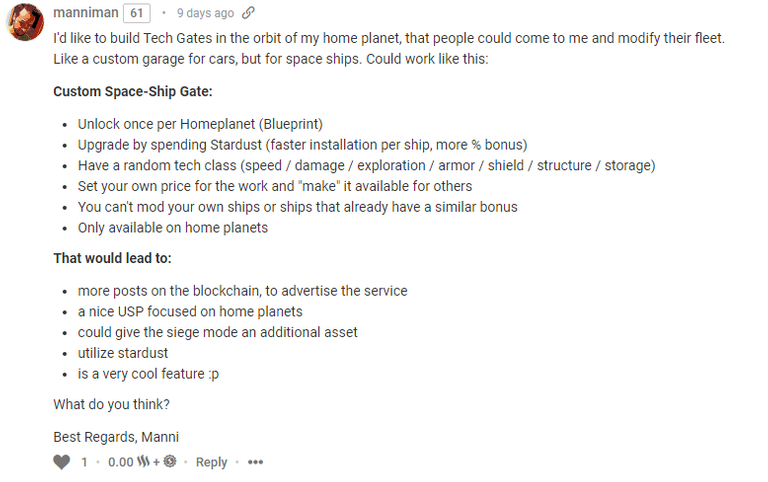 Never ending trouble?
That @mancer-sm-alt really has his own spot on my heart. A personal Arch-Enemy :))
I'll just keep up as good as possible and wait for the best chances to get him good. His precise strike showed me, that he has my base on his mind. Well, good - you really should.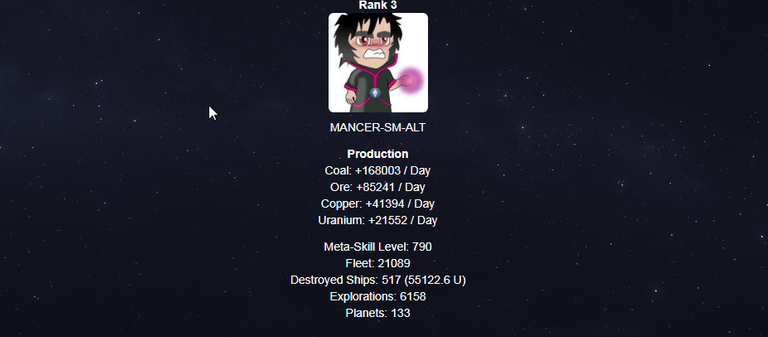 It has just begun again and it stays the same, 20 of me and your done. I'll do what I can to make that happen as soon as possbile. As far as I can see, you'll want to defend a yamato very soon? That will certainly make some space for attacks.
After all, @NextColony feels to me a bit like this picture.
Is this a start or an explosion?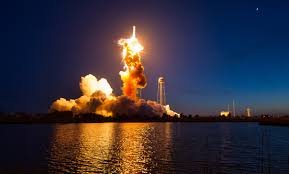 ---
My Last Post on NextColony:
If something interesting happens, I'll update you faster again. For the next 2 Weeks, I think it's gonne be kinda idle:
Owner: manniman
Coordinates: -75/-511
GGL in NC,
see you soon Space-Cowboys and Space-Cowgirls.
Best Regards, Manni
---
Also very interesting to read:
Legendaries: https://steempeak.com/nextcolony/@nextcolony/legendaries-are-dropping-yamato-blueprints
Official Update: https://steempeak.com/@nextcolony
Discuss on Discord: https://discord.gg/UNncnTc