5 Weeks of Nextcolony, Review after 5Hours Gameplay, What is achievable? (Part:4)
| | After 5 Weeks on my first Planet, while I was playing 2-Times a day for (5-10Min), so around 5 hours actual playtime. This is how far I made it. While I really have to say, once a day is atm enough for me. Since I can afford very few Upgrades and then I'm broke again --_-- |
| --- | --- |
1 Planet only

Meta-Skill Level: lvl. 193
Coal Mine (11) +1045.00 / Day (+43.55 / Hour)
Ore Mine (11) +603.00 / Day (+25.13 / Hour)
Copper Mine (11) +282.00 / Day (+11.78 / Hour)
Uranium Mine (11) +140.70 / Day (+5.86 / Hour)
---
How long till I can make ships?
I'm 60% done with the Corvette Tech Tree, but I still need Level20 on that to create my first Ships. My Shipyard is already on level 13, so it needs just one more Level up. But in the end, I might just buy some ships before I get to produce them myself. Generating fuel seems way easier then teching all the way. At this Point I really have to start expanding, even if I'm not quiet there yet.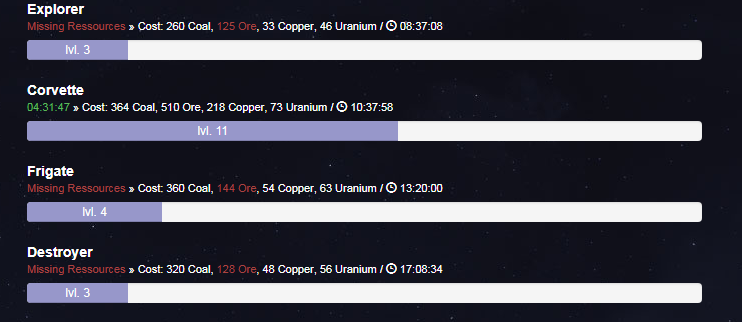 Upgrades really start to take a lot of time ~12-16Hours.
---
Question is where can I get ships? The Fleet Token seems dead?! @flauwy @nextcolony
https://steem-engine.com/?p=market&t=FLEET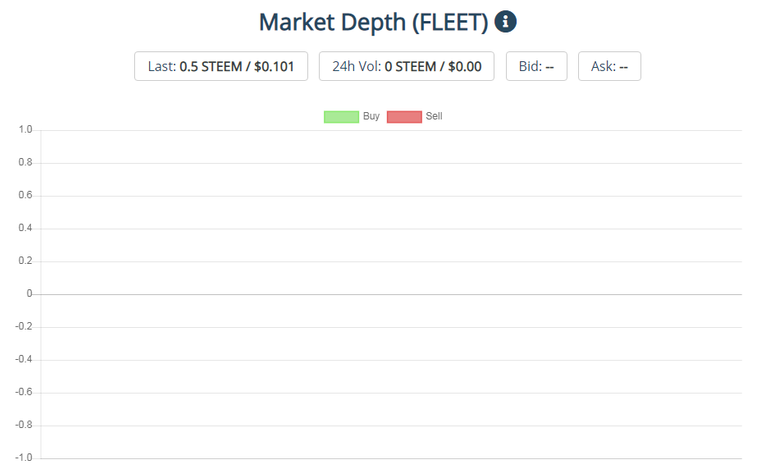 Try to find LIVE in this Chart :p
---
My Tipp at this Point is:
Good things need time, but you really should take these 5Min. at least once every day.
---
My Last Post on NextColony:
15 Days Review: https://steempeak.com/palnet/@manniman/15-days-nextcolony-review-after-3hours-gameplay-what-is-achievable
21 Days Review: https://steempeak.com/palnet/@manniman/21-days-nextcolony-review-after-4hours-gameplay-what-is-achievable
28 Days Review: https://steempeak.com/palnet/@manniman/28-days-nextcolony-review-after-4-5hours-gameplay-what-is-achievable
---
Also very interesting to read:
Running application: https://steempeak.com/delegationapp/@nextcolony/application-for-delegation-nextcolony
Official Update: https://steempeak.com/@nextcolony
Discuss on Discord: https://discord.gg/UNncnTc
---
Best Regards, Manni
---
---