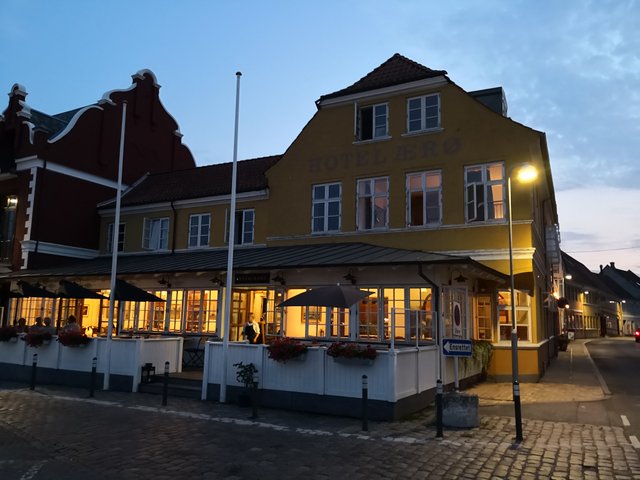 @laputis and I played our organ duets, had some breakfast, packed our things and went to the airport. In the afternoon we flew to Copenhagen and then took a train to Odense and then the bus to Svendborg where our Wednesday night recital will be.
Everything up to Odense went smoothly but there we got stuck for a few hours because the train tracks got repaired and we were redirected to the replacement bus to go to Svendborg. The problem was we didn't know where replacement busses went from. The information at the station was quite confusing. We asked for directions some people and some bus drivers. Finally the buss came and we reached our destination.
Our hotel is quite cosy but doesn't have air conditioning and here it is very hot. So we opened our windows to let the air circulate a bit.
While @laputis took a shower I went to hunt for some food. It was late (around 10 pm) but I managed to find a Thai restaurant nearby. Ordered fried rice and fried noodles with chicken to take out. At the hotel we gladly ate our meals even though they forgot to give us any forks or other instruments. We used little spoons they had at the hotel room.
Then I took a shower and we went to sleep quite exhausted but with full stomachs.



9875

| | | | | | |
| --- | --- | --- | --- | --- | --- |
| | | | | | |
| cm | | cm | | cm | |