Commentcoin is young, new and only a few weeks old.
It is doing well if it comes to the use of it.
More people started using #cc and commenting. We are happy they do since this is the reason why this coin was invented. We have a huge lack of readers and commentors herr. We want you to start commenting and caring about each other's content again! Read, connect, have fun on this platform.
Commentcoin is invented to make Steemit a better and more social platform.
Nothing is as frustrating as not receiving a single comment after hours of work. We believe a writer should be rewarded for his/her hard work, that is why we reward your commentors. The only thing you need to do is owning Commentcoin, write your content, use the #cc tag and post it.
To produce a token costs money.
@commentcoin invested in it. Investing means buying. To keep a certain value and not let it drop, make it completely useless, from Sunday November 17, 2019 on **40 Commentcoin are needed to use the tag 1x.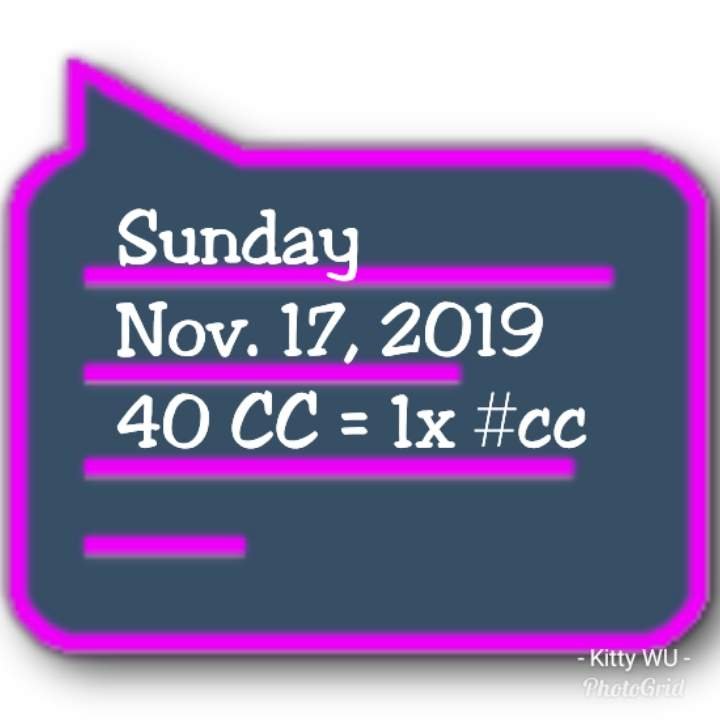 40 Commentcoin = 1x #cc
You need commentcoin in your wallet left too otherwise the bot will not reward your commentators. I suggest to keep at least 10 - 20 behind.
Note: Bots will not be rewarded, neither will answers that look like spam. Leave a good, valuable comment!
Yes, you can still earn Commentcoin by leaving a comment to the author.
It is advisable to buy some Commentcoin at this moment since the price is still low (I just did again).
At this moment 40 Commentcoin will cost you about 1.12 steemp (steemp is the steem you pay with if you buy CC with help of steem-engine).
Those who join my ccc-contest and comment on my posts will be rewarded with Commentcoin.
Each comment is worth 1 Commentcoin. @team-ccc uses the #cc for her contest too and so do members of CCC (the community Curation Circle Creed).
In the nearest future 80 Commentcoin will be needed.
We hope you, the users, are willing to invest in Commentcoin and help keeping its prize high. This is in your interest too. A high prize will do you good and your content.
Some tips:
Make a habit out of commenting.
Follow the tag #cc and read the newest posts. These posts can do your curation income good too.
Answer your comments!
Use the tag for posts you think they deserve more attention.
Help eachother/little fish grow and reward with Commentcoin. You can easily transfer it. There is no need to stake them.
You host a contest? Reward with Commentcoin! Commentcoin/#cc makes it possible for every Steemian to be noticed, to receive a comment, an upvote, make new friends.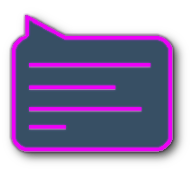 Commentcoin es joven, nuevo y tiene solo unas pocas semanas.
Le está yendo bien si se trata de su uso.
Más personas comenzaron a usar #cc y a comentar. Estamos felices de que lo hagan ya que esta es la razón por la cual se inventó esta moneda. Tenemos una gran falta de lectores y comentaristas. ¡Queremos que comiencen a comentar y preocuparse por el contenido del otro nuevamente! Lea, conéctese, diviértase en esta plataforma.
Commentcoin se inventó para hacer de Steemit una plataforma mejor y más social.
Nada es tan frustrante como no recibir un solo comentario después de horas de trabajo. Creemos que un escritor debe ser recompensado por su arduo trabajo, por eso recompensamos a sus comentaristas. Lo único que debe hacer es ser dueño de Commentcoin, escribir su contenido, usar la etiqueta #cc y publicarlo.
Producir una ficha cuesta dinero.
@commentcoin invirtió en él. Invertir significa comprar. Para mantener un cierto valor y no dejarlo caer, hágalo completamente inútil, desde el domingo 17 de noviembre de 2019 en ** Se necesitan 40 Commentcoin para usar la etiqueta 1x.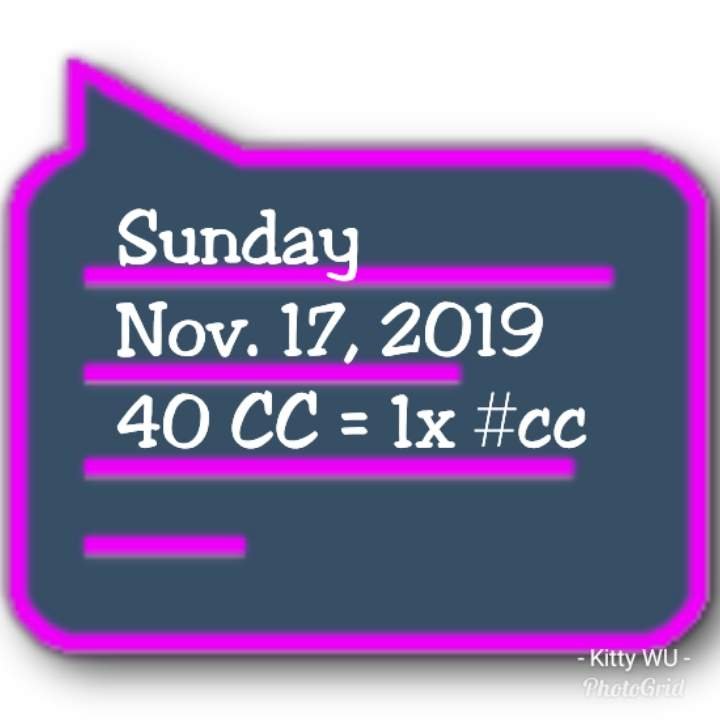 **40 Commentcoin = 1x # cc **
Necesitará comentarcoin en su billetera también, de lo contrario, el bot no recompensará a sus comentaristas. Sugiero mantener al menos 10-20 atrás.
Nota: los bots no serán recompensados, ni tampoco las respuestas que parezcan spam. Deja un buen y valioso comentario!
Sí, aún puede ganar Commentcoin dejando un comentario al autor.
Es aconsejable comprar algo de Commentcoin en este momento ya que el precio aún es bajo (lo acabo de hacer nuevamente).
En este momento 40 Commentcoin le costará alrededor de 1.12 steemp (steemp es el steem con el que paga si compra CC con la ayuda de steem-engine).
Aquellos que se unan a mi concurso ccc y comenten mis publicaciones serán recompensados ​​con Commentcoin.
Cada comentario vale 1 Commentcoin. @ team-ccc también usa el #cc para su concurso y también lo hacen los miembros de CCC (el Credo del Curation Circle de la comunidad).
En el futuro más cercano se necesitarán 80 Commentcoin.
Esperamos que ustedes, los usuarios, estén dispuestos a invertir en Commentcoin y ayuden a mantener su premio alto. Esto también es de su interés. Un premio alto te hará bien a ti y a tu contenido.
Algunos consejos:
Acostúmbrese a comentar.
Sigue la etiqueta #cc y lee ** as publicaciones más recientes**. Estas publicaciones también pueden hacer que su ingreso de curación sea bueno.
Responde tus comentarios!
Usa la etiqueta para las publicaciones que creas que merecen más atención.
Ayúdense unos a otros / peces pequeños a crecer y recompensen con Commentcoin. Puedes transferirlo fácilmente. No hay necesidad de apostarlos.
¿Eres anfitrión de un concurso? ¡Recompensa con Commentcoin! Commentcoin / #cc hace posible que cada Steemian sea notado, reciba un comentario, un voto a favor, haga nuevos amigos.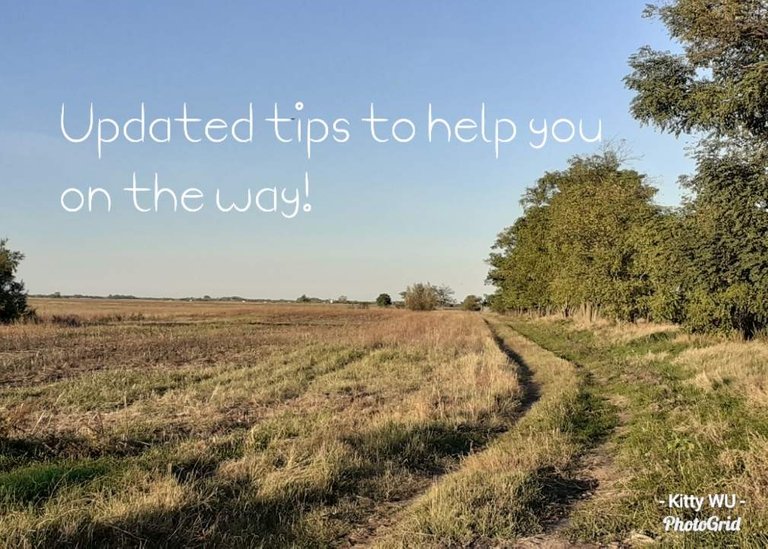 Ready for a new addiction?
Use Partiko and collect Partiko points.
Posting, commenting = points = steem!
Try it. There is nothing to lose
Steem is about earning. You need to earn to power up/stake. Without Steem Power (SP) you are not able to post, comment and upvote. Make yourself visible. Use your SP in the most efficient way.
Tips I wrote to help you.
Tip: Introduce yourself!
Use the tag #introduceyourself if you did not do it yet.
(You might meet nice people or get interesting tips.)
https://steem-bounty.com/services/forever/@wakeupkitty.pal/who-am-i-and-why-this-account-gc4hlwvv
Tip 1: How to grow? Use dpoll.xyz!
(Go for the giveaways. Free SBI, upvotes, pal, monster cards).
https://steem-bounty.com/services/forever/@wakeupkitty.pal/tip-how-to-grow-use-dpoll-xyz
Tip 2: Join the engagement league.
Be visible, upvote your neighbours like they do with you).
https://steem-bounty.com/services/forever/@wakeupkitty.pal/tip-2-join-the-engagement-league
Tip 3: Join #ccc contests if you like to earn!
(Use the tag #ccc for every post with 200+ words)
https://steem-bounty.com/services/forever/@wakeupkitty.pal/tip-3-join-ccc-contests-if-you-like-to-earn
Tip 4: Share your photos (dapp Appics)
https://steem-bounty.com/services/forever/@wakeupkitty.pal/tip-5-share-your-photos
Tip 5: Steem-bounty.com
(Be a bounty hunter, get upvotes and earn forever on your posts!)
https://steem-bounty.com/services/forever/@wakeupkitty.pal/tip-5-steem-bounty-com
Tip 6: Improve your writing skills.
(Read, use Grammarly, practice free writing)
https://steem-bounty.com/services/forever/@wakeupkitty.pal/tip-6-improve-your-writing-skills
Tip 7: Steembasicincome (SBI)
(Help other and earn yourself too)
https://steem-bounty.com/services/forever/@wakeupkitty.pal/tip-7-steembasicincome-sbi
Tip 8: Join Actifit.
https://steem-bounty.com/services/forever/@wakeupkitty.pal/actifit-wakeupkitty-pal-20190804t202954803z
Tip 9: How to get your upvotes? Bot or not?
Do NOT use bidbots!
https://steem-bounty.com/services/forever/@wakeupkitty.pal/tip-9-how-to-get-upvotes-bot-or-not
Tip 10: Use the right tags!
https://steem-bounty.com/services/forever/@wakeupkitty.pal/tip-10-use-the-right-tags-tppza9rc
Tip 11: Giveaway and Thank you.
https://steem-bounty.com/services/forever/@wakeupkitty.pal/actifit-wakeupkitty-pal-20190814t194435899z
Tip 12: Have you voted yet?
https://steem-bounty.com/services/forever/@wakeupkitty.pal/tip-12-have-you-voted-yet
Tip 13:
To vote or not to vote, that is the question. https://steem-bounty.com/services/forever/@wakeupkitty.pal/actifit-wakeupkitty-pal-20190821t173452907z
Tip 14: I want my money! (Bitvavo)
https://steem-bounty.com/services/forever/@wakeupkitty.pal/tip-14-i-want-my-money-bitvavo
Tip 15: What option do you have after HF21?
https://steem-bounty.com/services/forever/@wakeupkitty.pal/tip-15-what-option-do-you-have-after-hf21
Tip 16: Automatically post, upvote and claim rewards.
https://steem-bounty.com/services/forever/@wakeupkitty.pal/tip-16-automatically-post-upvote-and-earn
Tip 17: New Steem - Steemvoter
https://steem-bounty.com/services/forever/@wakeupkitty.pal/tip-17-new-steem-steemvoter
Tip 18: Good content again
https://steem-bounty.com/services/forever/@wakeupkitty.pal/tip-18-good-content-again
Tip 19: Limited and if you have to wait.
https://steem-bounty.com/services/forever/@wakeupkitty.pal/tip-19-limited-and-if-you-have-to-wait
Tip 20: Help a plankton understand Steemit.
https://steem-bounty.com/services/forever/@wakeupkitty/actifit-wakeupkitty-20191009t183523884z
Tip 21: Contests and Photo contests.
https://steem-bounty.com/services/forever/@wakeupkitty.pal/actifit-wakeupkitty-pal-20191010t200840535z
Tip 22: A free upvote or promote for an upvote.
https://steem-bounty.com/services/forever/@wakeupkitty.pal/actifit-wakeupkitty-pal-20191013t190000435z
Tip 23: Monday Contests & Challenges to join.
https://steem-bounty.com/services/forever/@wakeupkitty.pal/actifit-wakeupkitty-pal-20191015t173810635z
Tip 24: Tuesday Contests & Giveaways
https://steem-bounty.com/services/forever/@wakeupkitty.pal/actifit-wakeupkitty-pal-20191016t194927912z
Tip 25: Wednesday Easy Contests & more
https://steem-bounty.com/services/forever/@wakeupkitty.pal/actifit-wakeupkitty-pal-20191017t171349064z
Tip 26: Thursday Contests & Giveaways.
https://steem-bounty.com/services/forever/@wakeupkitty.pal/actifit-wakeupkitty-pal-20191019t093425993z
Tip 27: Friday Good for an Upvote & more!
https://steem-bounty.com/services/forever/@wakeupkitty.pal/actifit-wakeupkitty-pal-20191020t141004465z
Tip 28: Saturday Challenges & Giveaways
https://steem-bounty.com/services/forever/@wakeupkitty.pal/actifit-wakeupkitty-pal-20191022t225155389z
Tip.29: CAT - CATnip - Kitten
https://steem-bounty.com/services/forever/@wakeupkitty.pal/actifit-wakeupkitty-pal-20191023t173702073z
Tip 30: Commentcoin (cc)
https://steem-bounty.com/services/forever/@wakeupkitty.pal/actifit-wakeupkitty-pal-20191026t161306468z?referrer=wakeupkitty
Tip 31: Join Help a Plankton understand Steemit.**
https://steem-bounty.com/services/forever/@wakeupkitty.pal/tip-31-join-the-contest-help-a-plankton-understand-steemit
Tip 32: Tip 32: The benefits & changes of Commentcoin / Los beneficios y cambios de Commentcoin
https://steem-bounty.com/services/forever/@wakeupkitty.pal/actifit-wakeupkitty-pal-20191112t075402347z



3322

Daily Activity, Yard Work