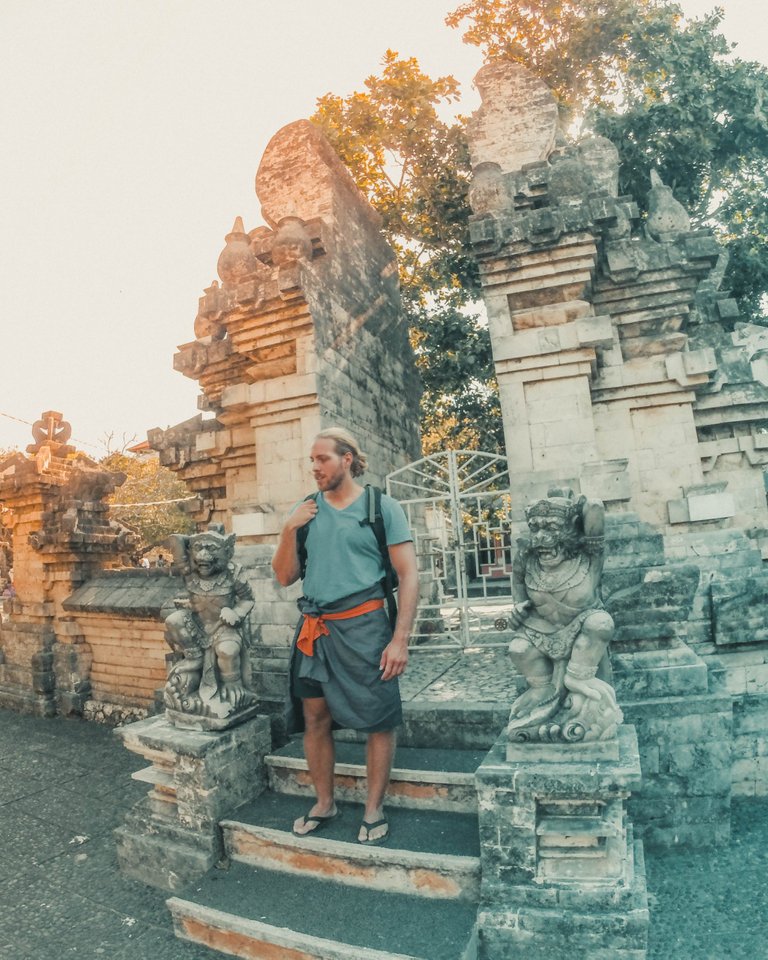 Exploring the Uluwatu Temple, gotta wear this fancy sarung, you know it!
🌏 This is Uluwatu, Bali, Indonesia
🎌 On a trip trough Asia
📬 Follow for more!
💻 perfspots.com
🎥 Youtube.com/perfspots
🚀#perfspots
📷
Perfspots stands for Perfect Spots. My passion is to explore places I've never been before. While running a startup, i travel as much as possible. Here i share the Perfect Spots i enjoyed the most. Spots you can get a great meal, sip a coffee with a breathtaking view or experience an exciting adventure.
Follow and become a Perfspotter!
The Uluwatu Vlog
After the terrible experience of walking in the streets (especially by night) of Uluwatu we decided to rent a scooter to cruise around. I have a international motorcycle license and a couple of years of driving experience. Neverthless things went crazy, watch what happened. On the scooter we explored the Uluwatu temple, Padang Padang Beach and enjoyed a wonderful Sunset in the Single Fin Bar.
---
Indonesia has so much to offer. Explore beautiful layers of rice fields. Visit detail-rich temples or mosques and learn about the Indonesian culture. Drive along stunning landscapes. Hike up a volcano and enjoy the sunrise at the edge of a crater. Grab a board and ride one of those perfectly shaped waves. Eat through Indonesia diverse kitchens. Countless things to do and to see. this is Indonesia.

---
Posted from the Perfspots.com website with SteemPress : http://perfspots.com/uluwatu-temple-uniform/
---
Connect
website: http://perfspots.com
steemit: https://steemit.com/@ivansnz
youtube: https://goo.gl/5GCWhB
instagram: https://www.instagram.com/perfspots/
twitter: https://twitter.com/perfspots
facebook: https://www.facebook.com/perfspots/
more links: http://perfspots.com/links
Recommendations
Where i book hotelrooms: https://goo.gl/9UxEDR
Where i book the cheapest flights: https://goo.gl/HRhxoy
Credit card with best commissions for travels: http://bit.ly/travelcreditcard
Editing software: http://bit.ly/editing_software
Steem Dapps
Find awesome products - https://goo.gl/Qtk8Av
Fund your project here - https://fundition.io/
Collect your cards - https://goo.gl/AyQ99F
Move! and earn - https://goo.gl/QTgFou
Check them out!
Support donation
BTC: 1Jjc1HFppV2SBYjV8BgeWPpykRDtWKR8oG
BCH: qqj3uxrup5tvcg5k2zrxjq20er27fwsneyc68srm63
ETH: 0xf97cA8e658d7a6344addCB398477e1D2301A8Cf1
XLM: GASYB7MFOO63JCNYDPEWHJHGNTNSGCO4FEAFSSS7JZAY6EDBJCEYYDER