Today I went down to the local disc golf course and played around and practiced. I went through the course a couple of times and threw several shots on each basket mostly practicing putting.
I used my mid-range a lot more today since I almost lost it the other day and felt lucky to have it. It really does fly straight when you throw it right and I think it will be good to practice more with it.
I still have a putter that I found that I'm trying to get back to the owner. He was supposed to meet me at the park yesterday to pick it up but never texted back or showed up.
In an odd way it kind of reminds me of all the stuff I left behind when I moved out of my mom's house. It seems to be kind of traditional to leave your stuff with someone for an extended period of time with a, "Now don't throw that out I might need it someday," proclamation, lol.
I'm feeling a bit guilty about that but my mom never complained. I think she still has most of my rock collection. There's several books in the garage that she thinks are my brothers but possibly... well at this point I don't really know who's they are.
Keeping other peoples stuff is kind of interesting.
I am feeling a strange obligation not to take the putter out and play with it, (which I have already done to a limited degree - it's kind of understable.) After a certain number of throws though it kind of starts becoming sort of yours right? :D
So it sits off to the side kind of taunting me. I'm usually pretty good about not playing with other people's stuff but this one has a cool sun weathered custom graphic on it and it is a Gateway Wizard which is one of the putters I wanted. Oh well, I best get over my strange attraction for dirty weathered discs I find out in the wild, lol.
Anyhow, I was also riding my e-bike today and noticed it was handling kind of funny. It felt a bit slow starting with some different noises from the rear tire. I thought maybe I would have to test the warranty out.
It turns out the tires were at less than twenty pounds front and back. I think if it was a regular bike I would have noticed that right away because it becomes really hard to pedal. I pumped up the tires and I think that should solve the issue. (I have never even checked the pressure since I first got the e-bike.)
---
A few weeks ago these sparrows were having fun in the bird bath: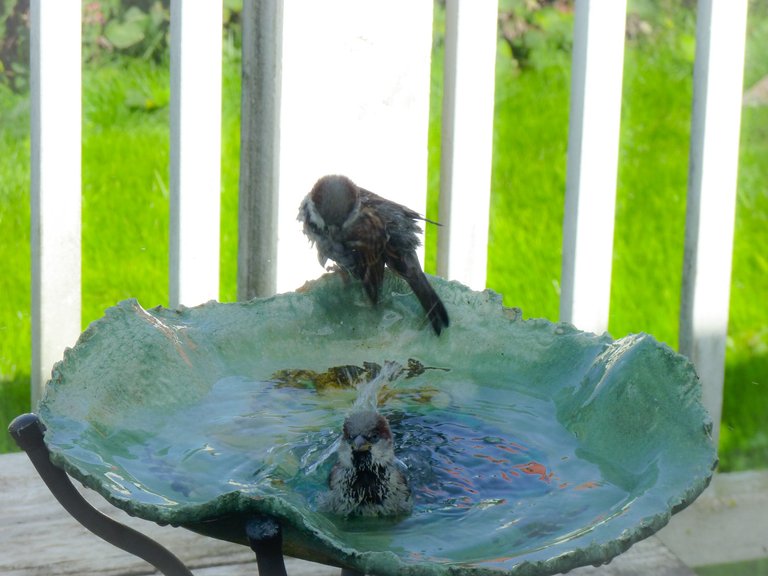 Trying to get a good picture often scares them away. Here's a capture mid flight as one of them left through the railing: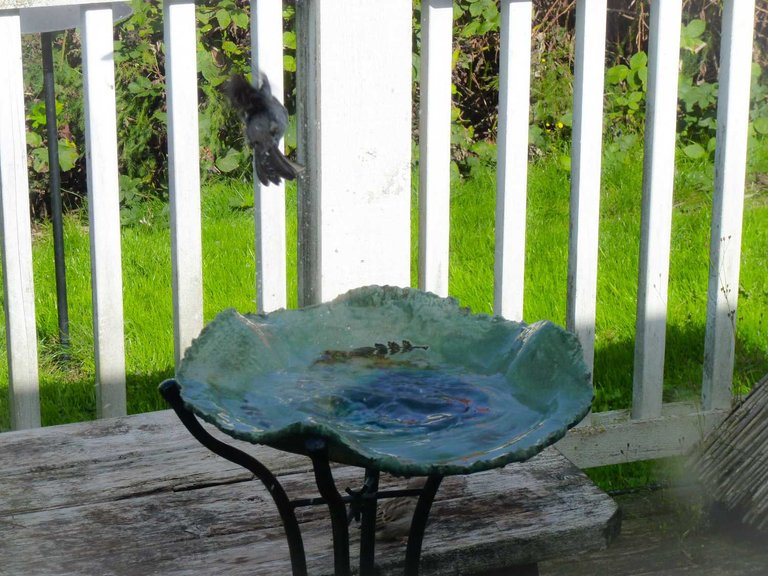 The entire group took refuge in the berry bushes until I left:
Sometimes I can do a better job sneaking up on them with the camera but this time I might have made some extra noise or something.
---
Thanks for reading! I always value your support and comments. The pictures were taken by me with my Panasonic Lumix camera. Text and graphics copyright lightsplasher & litesplasher.

---


10038

Cycling, Daily Activity, Golf, Walking