Hello actifit users!
Welcome back to my activity post.
I hope you all are well and actifiting daily.
Again, after quite some days I am able today to do my actifit post.
Today I had to do some travelling within my local area so I thought to turn on my actifit and to record my activity.
So here it is, I already said that I have some complications going with my life and that forbids me from doing actifit posts daily. But I always try my best to record my steps and then write post whenever I manage some time.
---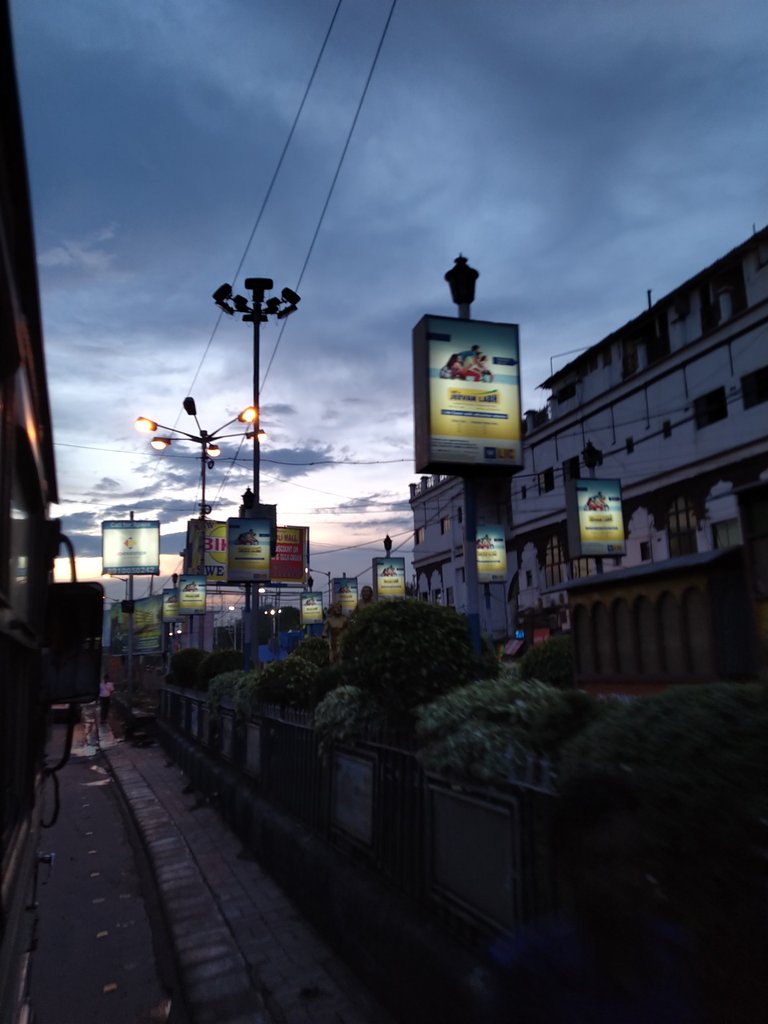 ---
What I did today?
At morning, I went o the grocery shop. It was not so nearby, but I walked down the path.

At noon, I went to my friend's home via my cycle.

At afternoon time, i with couple of my friends went to hang out.

At evening I went to the bazar to buy dome things. Again walked a bit.

After having dinner, I went for a little walk at my terrece as usual.
The above photo was taken by me at city nearby a busy railway station.
Hope you guys have liked my little post.
If you are an sm player, don't forget to join my daily sm card giveaways.
Ok friends, see you in my next post.
<br><img src="https://cdn.steemitimages.com/DQmXv9QWiAYiLCSr3sKxVzUJVrgin3ZZWM2CExEo3fd5GUS/sep3.png"><br><table>   <tr>        <img src="https://cdn.steemitimages.com/DQmRgAoqi4vUVymaro8hXdRraNX6LHkXhMRBZxEo5vVWXDN/ACTIVITYCOUNT.png"> </tr>   <tr>        <div class="text-center"><b>10177</b></div> </tr></table><table>    <tr>        <img src="https://cdn.steemitimages.com/DQmZ6ZT8VaEpaDzB16qZzK8omffbWUpEpe4BkJkMXmN3xrF/ACTIVITYTYPE.png">  </tr>   <tr>        <div class="text-center"><pre><b>Cycling, Daily Activity, Walking</b></div></pre></div> </tr></table><table>    <tr>        <img src="https://cdn.steemitimages.com/DQmdnh1nApZieHZ3s1fEhCALDjnzytFwo78zbAY5CLUMpoG/TRACKM.png">        <td><div class="text-center"><div class="phishy"><h6>Height</h6></div>          <h6>170.68 cm</h6></div></td>       <td><img src="https://cdn.steemitimages.com/DQmfSsFiXem7AxWG1NCiYYPAjtT4Y7LR8FsXpfsZQe7XqPC/h1.png"></td>       <td><div class="text-center"><div class="phishy"><h6>Weight</h6></div>          <h6>59 kg</h6></div></td>       <td><img src="https://cdn.steemitimages.com/DQmVqJVEWUwicFRtkEz2WYq2mDH61mQLDsrzN1yBrKLrpyZ/w1a.png"></td>      <td><div class="text-center"><div class="phishy"><h6>Body Fat</h6></div>            <h6> %</h6></div></td>      <td><img src="https://cdn.steemitimages.com/DQmPJ2Vvi3mBQXKHoy5CTG7fyLFWMG8JaAZ8y1XZFeDkRUC/bd1.png"></td>  </tr>   <tr>        <td><div class="text-center"><div class="phishy"><h6>Waist</h6></div></div>         <div class="text-center"><h6>30 cm</h6></div></td>      <td><img src="https://cdn.steemitimages.com/DQmZ2Lfwg77FLaf3YpU1VPLsJvnBt1F8DG8y6t6xUAKnsYq/w1.png"></td>       <td><div class="text-center"><div class="phishy"><h6>Thighs</h6></div></div>            <div class="text-center"><h6> cm</h6></div></td>        <td><img src="https://cdn.steemitimages.com/DQmbbAAFy6hwwBWqtSmcSwosTyNZi9rcd6GNeugQRY9MF1h/t1.png"></td>       <td><div class="text-center"><div class="phishy"><h6>Chest</h6></div></div>         <div class="text-center"><h6> cm</h6></div></td>        <td><img src="https://cdn.steemitimages.com/DQmbaoNBT5Unnjqh8JgP6TPj4mFKFnyKkLgP6eDYnnkiLkB/c1.png"></td>   </tr></table><div class="text-center"><img src="https://cdn.steemitimages.com/DQmNp6YwAm2qwquALZw8PdcovDorwaBSFuxQ38TrYziGT6b/A-20.png"><a href="https://bit.ly/actifit-app"><img src="https://cdn.steemitimages.com/DQmQqfpSmcQtfrHAtzfBtVccXwUL9vKNgZJ2j93m8WNjizw/l5.png"></a><a href="https://bit.ly/actifit-ios"><img src="https://cdn.steemitimages.com/DQmbWy8KzKT1UvCvznUTaFPw6wBUcyLtBT5XL9wdbB7Hfmn/l6.png"></a></div>