BRO Poker's Monthly Freeroll Lineup & BROcards™
Daily Freerolls
1 STEEM AM No-Limit Holdem
2 STEEM Dos Uno NLH
1 STEEM BROwingman Exclusive NLH
2 STEEM c0ff33a & derangedvisions Daily Deuces NLH
1000 SPORTS BROwingman Exclusive NLH
1 STEEM Four-Banger NLH
1 STEEM PM NLH
Weekly Freerolls
10 STEEM NLO Hi/Lo every Tuesday
10 STEEM HORSE every Thursday
25 STEEM Friday Night BROmaha
2500 SPORTS inthenow's NLH every Saturday
5000 SPORTS Fitcoin NLH every Sunday
10 STEEM The Alliance NLH every Sunday
Monthly Freerolls
20 STEEM PL Omaha every 4th Saturday
20 STEEM NL Omaha every 2nd Saturday
50 STEEM NLH FollowBTCNews every 2nd Friday
200 STEEM Titans of Poker Series NLH every 1st Saturday
---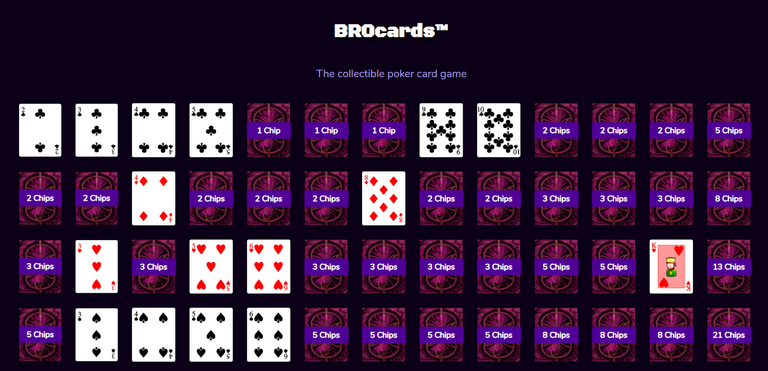 BROcards™ - The collectable poker card game
BROcards™ Are Here!
A few weeks ago we introduced our new game BROcards™ that allow you to receive account upgrades for Free and gain entry into exclusive tournaments simply for finishing in the top 4 of tournaments. Higher payout tournaments yield higher ranking cards.
Example
The morning 1 STEEM AM Freeroll pays out ...
4th Place : 2 of Clubs
3rd Place : 2 of Diamonds
2nd Place : 2 of Hearts
1st Place : 2 of Spades
The Monthly 200 STEEM Freeroll pays out ...
4th Place : Ace of Clubs
3rd Place : Ace of Diamonds
2nd Place : Ace of Hearts
1st Place : Ace of Spades
Trade-In for Upgrades
Players can also choose to donate for cards they need to complete a suit. Once suits are completed they can be traded-in with the click of a button ...
BROwar™

It's almost certain that most players will end up with duplicates of one or more cards and when that happens you can head over to our Sit & Go Tables to battle it out in a game of BROwar™ with other players.
The winner of the game will receive the next ranked card up in the same card suit for Free and receive the entry fee back as well! The loser loses their duplicate card and their entry fee. The entry fee is far less than the cost of donating for the card you would win.
See You At The Tables!
So what are you waiting for? Head on over to BROsinoPoker.com and play for FREE with Zero Risks all day long with a great Community of Poker Players, many you already know from Scorum!
Want to host your own Scorum token (or any token) poker game or League? Head over to BRO.Poker and sign up to get your very own Custom Poker League going!
---
---