New Layout
In the past few weeks we've been working on a new site layout at BROsinoPoker.com and some automated features for the poker client and they're coming along nicely. Players should have more room for more or larger tables if they choose and you can now get some account upgrades without waiting.
What was added?
Automated Tickets.
Automated Chat.
Stats for Ring/Tournament games.
Ability to easily copypasta BROmojis into chat.
The ability to hide/show the advertisements at the top of the site.
The ability to hide/show the menu system at the top of the site.
Some other minor tweaks and fixes.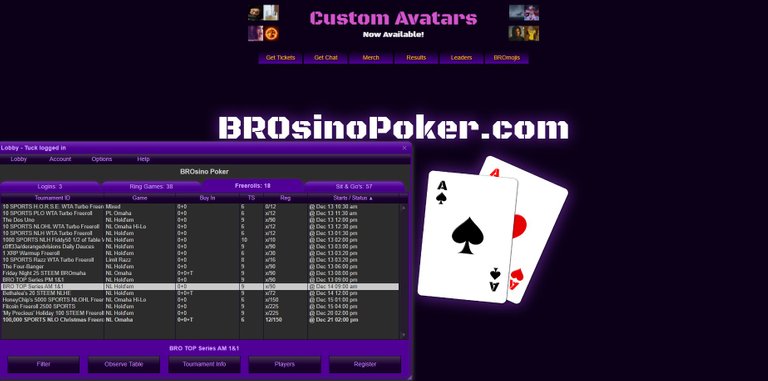 A lot more room to play poker!
---
Automation
This was the biggest addition to the site. You no longer have to wait for Convenience Tickets to be added to your account and you can even choose to take them for FREE or donate if you would like to support the project.
The only Ticket not available without a donation is the BRO Tops Monthly which you can earn by winning a Satellite game.
One of our most requested account upgrades has always been Chat at the tables and you can now get access to this instantly and for FREE if you wish! Previously we required a donation for this account upgrade, but we listened to the Community and decided that it's something that should be available without a donation.
If you still wish to donate to support the project you still have that option in the dropdown menu.
---
What's Coming?
@GuiltyParties is hard at work on updating the old Poker Tools badge and stats system created by @internetguy. Thanks to his kindness we hope to have this back online as soon as possible!
If you weren't aware, InternetGuy used to hang out with Mötley Crüe in their early days and you can read all about it and check out some cool pictures he took in their early club scene days in his new book below!
---
See you at the tables!
---
Not Gambling Sites
BRO Sports & Gaming Network's suite of sites are not gambling sites and are always FREE to play on to win STEEM, SPORTS and other Tribe tokens and cryptocurrencies. Our websites operate like a faucet with fun multiplayer and single player games that you can play for FREE daily. Deposits are not allowed, but you can still win your favorite tokens!