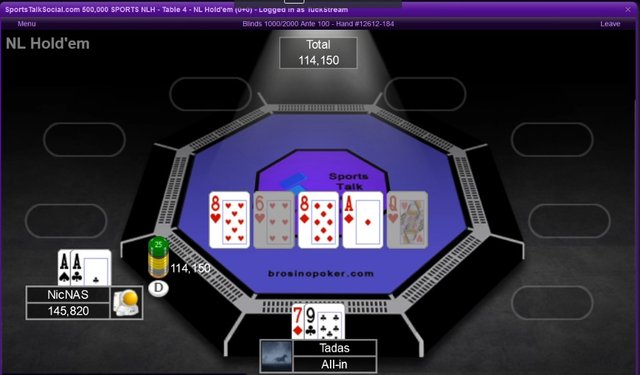 Great Game!
We had 33 total participants and 1 lucky winner in the 500K Sports Talk Social No-Limit Holdem Freeroll today. It was a well played game by all and thanks to there being more than 25 players we had a high payout total with 19 players receiving SPORTS.
In the end though @nicnas came out on top as he battled it out head to head with @homesteadlt (aka Tadas) in a 2 hour and 17 minute tourney. You can watch the final hand below.
Or watch every hand from the tournament...
Complete Results
Place33=geekgirl (0)
Place32=wahidtchiko (0)
Place31=Fitcoin (0)
Place30=Papeti (0) Removed
Place29=Leonardo (0) Removed
Place28=futuremind (0) Removed
Place27=liquid-mike (0) Removed
Place26=celsius100 (0)
Place25=Mikey (0)
Place24=btb (0)
Place23=drLobes (0)
Place22=blueeyes8960 (0)
Place21=ericwilson (0)
Place20=Philippe (0)
Place19=Costanza (2500)
Place18=patrick (2500)
Place17=sultnpapper (2500)
Place16=yazp (2500)
Place15=notpenderis (2500)
Place14=bethalea (2500)
Place13=coinbelly (2500)
Place12=Tuck (2500)
Place11=KingDonkCom (2500)
Place10=DarthGexe (2500)
Place9=Donald (5000)
Place8=Snook (10000)
Place7=Kaycee (15000)
Place6=Jeff (22500)
Place5=Hive (32500)
Place4=stimp1024 (50000)
Place3=inthenow (75000)
Place2=Tadas (100000)
Place1=NicNAS (165000)
Thanks!
A big thank you to everyone who came out to play, even some old-timers showed up and it was good to see you all again. We especially want to thank @sportspartners for donating 450,000 to the prize pool and making this one special!
See you at the tables next time!