Spełnił się dziś koszmar każdego użytkownika aplikacji Actifit, aplikacja się zawiesiła przed bieganiem, a ja tego nie zauważyłem. Zorientowałem się dopiero kiedy wróciłem pod halę i skończyłem biegać. Można by powiedzieć ponad 8 kilometrów biegu "psu w dupę", ale przecież nie chodzi w tym wszystkim w zliczaniu kroków na aplikacji Actifit, dużo ważniejsze jest że mogłem się poruszać i aktywnie spędzić swoją przerwę w pracy.
ENG Today the nightmare of every user of Actifit application was fulfilled, the application was suspended before running, and I didn't notice it. I realized only when I came back to the gym while I finished running. You could say over 8 kilometers of running "in the trash", but it's not about counting the steps on the application Actifit, much more important is that I could move and actively spend my break at work.
Tak jak wczoraj zapowiedziałem, dziś również w czasie przerwy na lunch wyszedłem pobiegać. Pogoda była dużo lepsza niż wczoraj, dodatkowo na trasie mijałem wielu biegaczy, bo dziś rozgrywany był w czasie lunchu kolejny etap przygotowań do półmaratonu w ramach "Winter Run Series", polega to na tym, że co miesiąc wyznaczana jest trasa po bazie, na której rywalizują uczestnicy przygotowań, za każdym razem dystans jest wydłużany o 2 kilometry, dziś rywalizowano na dystansie 11 kilometrów. Na tyle nie mogłem sobie pozwolić, a na dodatek dowiedziałem się o tym dopiero po fakcie.
ENG As I said yesterday, today I went for run during the lunch break. The weather was much better than yesterday, additionally I was passing many runners on the route, because today during lunch the next stage of preparations for the half-marathon within the "Winter Run Series" was held, The series consists of every month run on the route on the base on which the participants compete, each time the distance is extended by 2 kilometres, today it was third run and they competed on distance of 11 kilometres. I couldn't afford it because of time limitation, and what's more, I learned about it only after the fact.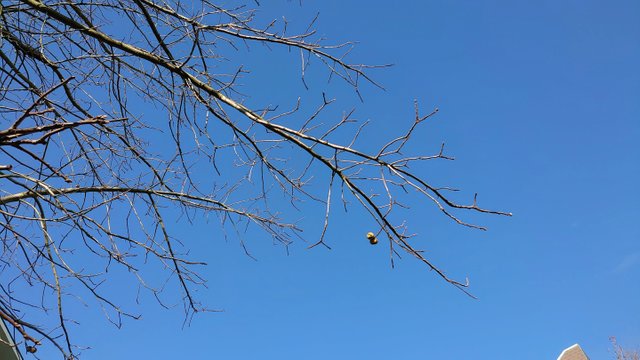 Podobnie jak wczoraj biegłem bez żadnego celu, w zasadzie cel był jeden przebiec ponad osiem kilometrów, bez kontrolowania tętna, biec na około 80% swoich możliwości. Okazało się, że udało mi się uzyskać jeszcze lepsze średnie tempo niż wczoraj, chociaż po wczorajszym czułem zmęczenie w nogach.
ENG As yesterday I ran without any goal, basically the goal was one run over eight kilometers, without controlling the heart rate, run at about 80% of its capacity. It turned out that I managed to get an even better average pace than yesterday, although after yesterday I felt tired in my legs.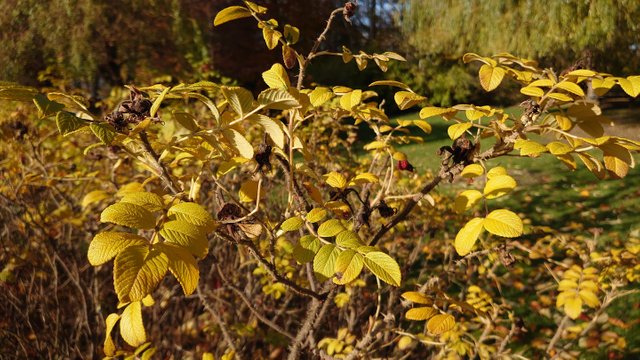 My 2019 stats: total distance 5787,26 km (+ 13,39 km)
Sport
Distance
Difference
Walking
2488,98 km
(+ 4,95 km)
Cycling
2344,40 km
Running
902,20 km
(+ 8,44 km)
Rowing
30,72 km
Elliptical
20,96 km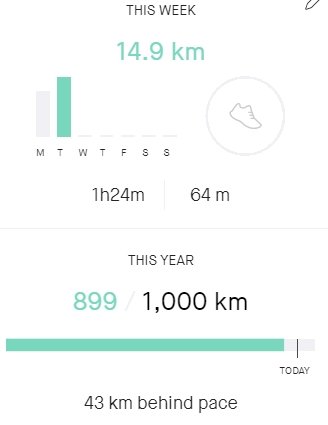 ---



➡ Download @actifit mobile App - From Google Play or From AppStore
➡ Start your activity. Reach a minimum of 5,000 activity count.
➡ Post via App to the Steem blockchain, and get rewarded!


| Current Actifit User Rank: | 55.00 (+1.08) |
| --- | --- |
| | |
| Current AFIT Balance: | 73502,541 |
| Current AFITX Balance: | 10,831 |
| | |
Don't stop me now! Keep going!


5975

Jogging, Running, Walking