Week 9 is complete and Liverpool lost their 100% record at last. Goals came from fairly unlikely sources and managers must be wondering what they got wrong. Still, week 10 is on it's way with a chance to redeem, and maybe Man United will grab a win before the month is out too.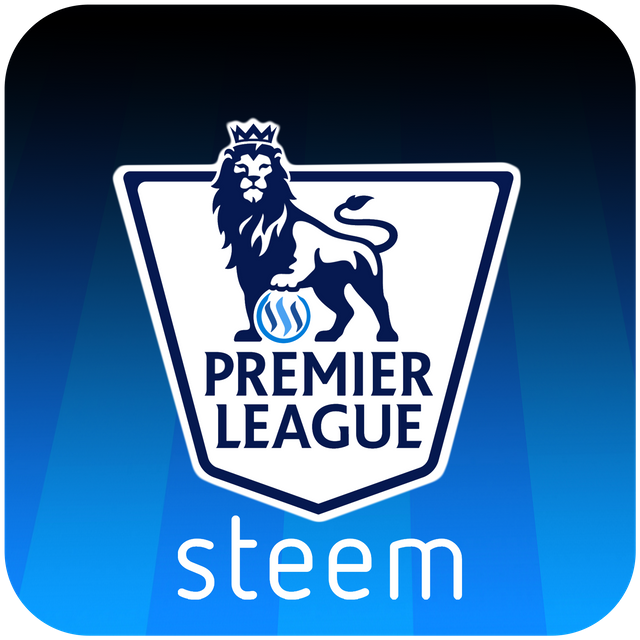 ---
Week 9 Results
Saturday 19th October

Everton 2 - 0 West Ham
Aston Villa 2 - 1 Brighton
Bournemouth 0 - 0 Norwich
Chelsea 1 - 0 Newcastle
Leicester 2 - 1 Burnley
Spurs 1 - 1 Watford
Wolves 1 - 1 Southampton
Crystal Palace 0 - 2 Man City

Sunday 20th October

Man Utd - 1 - 1 Liverpool

Monday 21st October

Sheffield Utd 1 - 0 Arsenal

Key Results
Five in a row now in all competition for Chelsea as they beat a resilient Newcastle United at home. Alonso got the goal as well as a clean sheet as Newcastle struggled to get men forward as Chelsea pushed on.
Despite not fielding a recoginsed defender, Manchester City comfortably beat Crystal Palace by two goals to nil, and it could have been a lot more. Gabriel Jesus and David Silva both hit the back of the net as Palace's wingers were continually forced to defend as Sterling and Bernardo Silva pushed on at every opportunity.
Everton, with no points from the last four Premier League games broke that run verses West Ham and won the game in the midfield as the partnership of Gomes and Davies battled away regaining possession much more frequently than their opposing numbers. Sigurdsson got the goal of the game late on with a fine strike from range.
Tottenham saved a defeat at home to Watford with a goal from Dele Alli, who is yet to really start firing this season. Watford had multiple chances to seal the game following Doucoure's goal but failed to capitalise and the game ended a score draw.
The big game of the weekend at Old Trafford also ended 1-1 as Liverpool scored late to cancel out Marcus Rashford's first half goal. Manchester United possibly had the lions share of the decisions and VAR went in their favour, confirming that their was no foul on Origi during the build up to their goal. Adam Lallana, returning to fitness after missing much of last season, came on a second half substitute and kept Liverpool's unbeaten start to the season in place.
---
Week 10 Fixtures
Friday 25th October

Southampton V Leicester

Saturday 26th October

Man City V Aston Villa
Brighton V Everton
Watford V Bournemouth
West Ham V Sheffield Utd
Burnley V Chelsea

Sunday 27th October

Newcastle V Wolves
Arsenal V Crystal Palace
Liverpool V Spurs
Norwich V Man Utd

Key Fixtures
The champions Manchester City are at home to Aston Villa and both teams collected three points last weekend. Villa face a tough test and City, fresh from a big win in Europe this week will be looking to capitalise further on points 'dropped' last week by Liverpool at Old Trafford.
Chelsea take their recent good form to Burnley and must be thinking they can extend this further as The Clarets seek to remain in the top flight this year. Frank Lampard has the Chelsea blues playing confidently, led by the excellent young talents of Abraham and Mount.
Arsenal who have been tough opponents so far this season, and especially at home, host Crystal Palace who have not performed well against the top sides thus far. Aubameyang, Arsenals flying forward, picked up player of the month for September and continues to be a danger to any side.
The big game of the weekend is at Anfield as Liverpool, who lost their 100% record last week, host Tottenham. Spurs are a difficult team to time right but at their best can give any side a challenge. The Reds will draw confidence on the European Cup final result and the likely return of talisman Mo Salah.
Manchester United, still without a league win in the month of October, travel cross country to Norwich who served up a defeat to the other Manchester side earlier this season. The Canaries fear no team at home and must be looking forward to a full house against a United side far from its best.
---
The Steem Fantasy League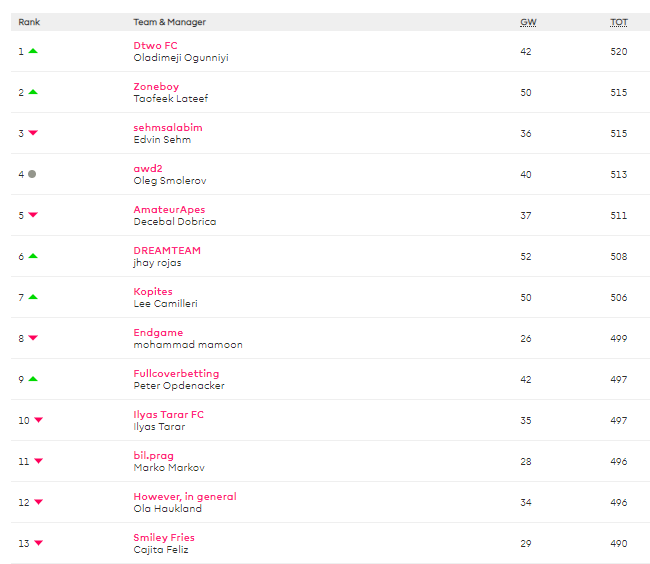 Seventh place moves up to first this week as Dtwo FC top the league under the guidance of Oladimeji Ogunnini. The average points scored throughout the Fantasy League last week was only 37 as managers again struggled to find points from their teams.
Top Players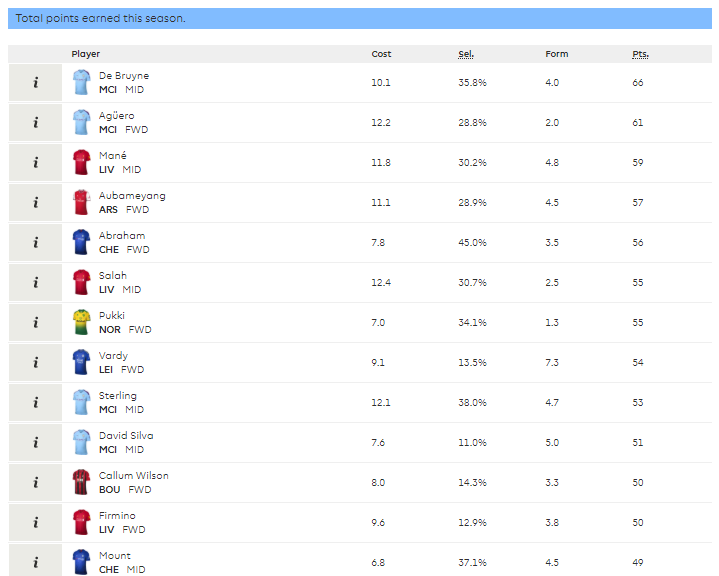 As expected, Manchester City and Liverpool players dominate the top 10 - 6 in total.
---
Transfers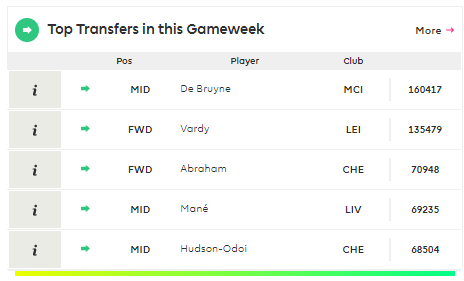 KDB was again amongst the top players drafted into fantasy league teams this week but failed to deliver points-wise. Those siding with Vardy though were rewarded with a goal as Leicester beat Burnley at home.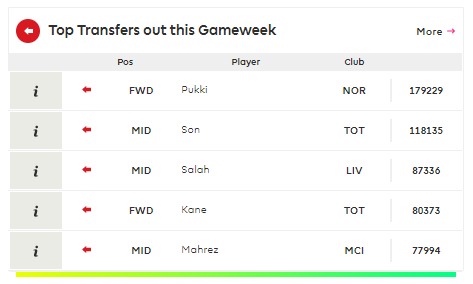 Managers did well transferring out the players in the list above last week as none of the five managed a goal despite being a mix of forwards and attacking midfielders.
---
Best of luck with your selections this week!
---
This preview was written by @abh12345, follow him for more Football, Sports (@abh12345.sports), and other Steem content!
Rewards from this post go to the prize fund (50%), writer (30%), and author (20%).
---


---