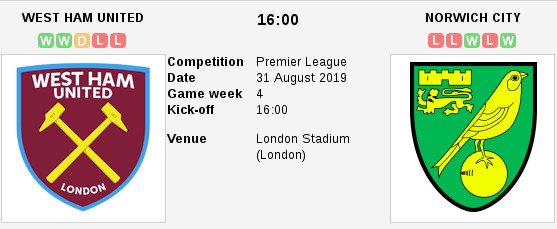 The most interesting league in the world is bringing us exciting game between West Ham and Norwich City this Saturday. Game will start at 16 o'clock at London stadium home of West Ham. Reasons why I think this game is going to be very exciting is fact that both clubs will play attacking to score one goal more than opponent. West Ham is again in winning ways.
After humiliating start and losing 0:5 against Manchester City when they looked like bunch of bullocks they draw 1:1 against Brighton and won Watford 3:1 away. During mid week they won Newport County in League Cup. Fact that can please supporters is that new signing Haller started to score goals. He scored two in Watford win. Game could end up in other way if Watford player did not missed empty net from few meters which shows they are still vulnerable backwards. Ageinst newcomers in Premier League like Norwich they will play attacking and want 3 points for sure.
Norwich City on other hand showed solid performance against Liverpool despite lost of 4:1. They showed they can create chances and that they can even press Liverpool in some period of game. They won Newcastle 3:1, but that game could go other way too if Newcastle did not miss 2 big chances at 0:0. Their striker Finnish Pukki looks like hungry for goals. Against Chelsea they lost 2:3 at home, but it was not easy win for Chelsea. Manager of Norwich D. Farke insists on high pressing and tries to play like Liverpool. His squad looks solid in attack and capable of scoring goals against anyone, but backwards things are not so good. They usually suffer from falling of concentration and concede goals because of that. I believe they will try to play their game and will not park the bus in front of goal.
This guarantees us exciting attacking game with plenty of chances and I believe with goals scored on each side. We'll see who will score more at the end. But isn't that what is football all about ? To score one more goal than other side. I value high this approach. I am sure Pukki, Haller, Herr Farke and Pelegrini will not disappoint us on Saturday. I am looking forward to this game.