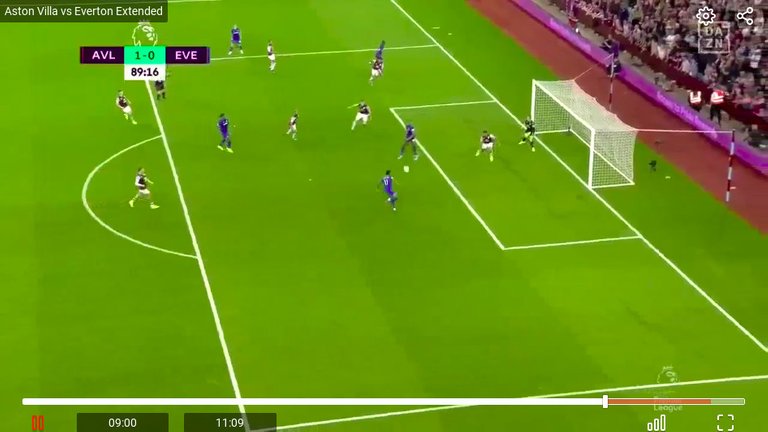 In first game of week 3 in England Premier League Aston Villa won Everton at home with 2:0. When you look at result you might think it was easy win for Villa, but it was far away from that. Everton was better side most of the game, held ball, dictate tempo, create chances, but could not convert any to goal. Villa scored first goal after quick and smart free kick by Grealish and nice assistance and great finish by Moraes. It was superb shot in far away corner where Pickford couldn't do anything. Villa scored second in 95th minute after counter attack when El Ghazi sends ball bellow Pickford from close range for 2:0.
Between those two goals Everton had 3 big chances and one great shot which hit post. First Calwert Lewin failed to score from 6m. He shot strong, but right on Villa player and goalkeeper who were on goal line. Very bad effort. In second half Mina did nice header but ball went close but wide of goal near post. Iwobi had great shot from 14-15m which hit post, but ball deflected to Villa player after and he cleared the chance. In 90th minute Walcott got ball alone as ghost on 5m, he had half of goal empty in front of him, but he shot well above bar. What a miss!
I really don't know what kind of chance Everton players need to score a goal, but this tonight looked like they are completely unable to score. On this level of competition failing to score is always punished by other side. If they want to be better placed than last year they must convert chances like this into goals.
Aston Villa played on counter attacks and scored two goals from such attacks. They had one more chance too, when final shot has been blocked in last moment by Everton defender. They are very happy with those 3 points for sure.