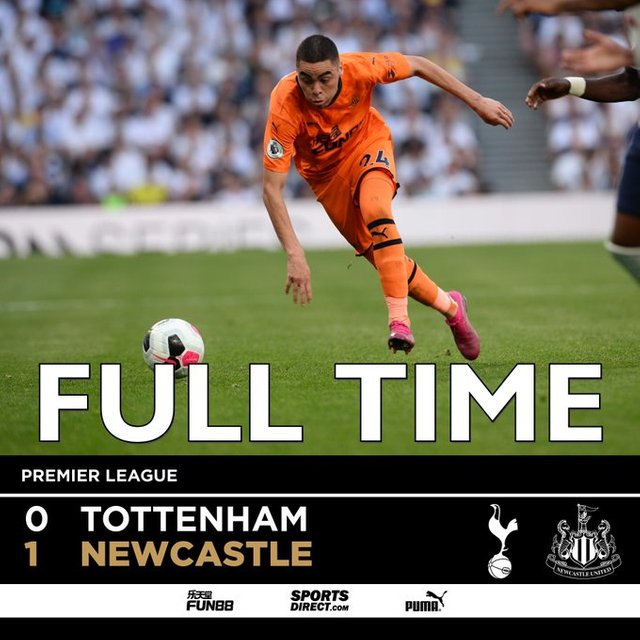 In last week of England Premier League Tottenham Hotspur lost against Newcastle United at home with result of 0:1. Something which should be easy game for Spurs, game about which Spurs fans thought about good goal margin of winning turned out to complete nightmare. I noticed that Spurs had great problems with clubs which defend with 10 man last season. This did not change these days as they beat Aston Villa near the end of the game after some lucky ball deflection toward Kane. I thought Spurs learned lesson after that, but this disturbing game against Newcastle shows they did not.
Slow not interested start with alibi passing to nearby teammate without taking responsibility and going forward were obvious from the beginning. Newcastle defenders had plenty of time to setup their defense and cover space easily. Movement of Spurs players were not good enough. Lucas and Kane were cut off from midfielders. Newcastle made few good counter attacks. After one of these Lloris tips ball above bar, but after second score changed to 0:1.
Poor cowardly move by Sissoko who let cross go through him like he is afraid of ball, poor positioning of Sanchez, poor head clearing attempt by same player leave Joelington all alone in front of Lloris with plenty of time to shot. Desperate tackle by Rose who was also away from only attacking player in Newcastle was not good enough to block his shot. Ball ended inside net for 0:1. We've heard a lot of talk from Poch saying that "Sanchez is better than Vertonghen this season". I can only strongly disagree with that. I think Vertonghen with one eye is better player than Sanchez! He is football daddy and developer of football for this Colombian player.
After this it is obvious what Spurs need to be better. It is compass for Sanchez so he can know where is he on pitch and where are attackers he should watch. Without compass he is lost! He also need one little radar so he can evaluate latitude or ball because it is shame that ball goes over him 3 times in one game. Without radar he can't hit the ball with his head to make clearance. He is that good! Last thing Spurs need is body armor for Madrid policeman regulating traffic - Sissoko. He is to afraid that ball might hit his chest and this fear makes him turn around and let ball go through him and that is no to good. One military body armor would be good for that player so he can try to block crosses! LoL
Sanchez made one foul for red card in my opinion near the end of the game when he brought down Newcastle player as last man in defense, but referee was merciless toward Spurs and did not show him red card, so we will probably watch this "Work in progress" against Arsenal too. That will be hard to watch!
Spurs attackers were not much better than defenders because Lucas missed two chances and one in second half was hard to miss because he was in front of empty net. What he did was fire up ball above bar! H. Kane who did not move enough during the game had one chance too, but when he need to put ball in the goal, he missed in completely from 6-7m! What a miss! Son had one volley but straight to Newcastle goal keeper. That was all Spurs did in attack. To poor for club who had 80% possession of ball.
Why they create so few chances ? Because they don't know how to play against 10 man defense. Good play against that kind of clubs is fast passing of ball from flank to flank to stretch defense to make gaps there where attackers can penetrate. Shots from distance because goal keeper can't see the ball good because to many players in front is another way. Spurs did not do anything from that. Ball traveled 2 seconds on 5m passes which is really poor and just not good enough. They tried to do better near the end of the game but it was to late then. Why they didn't play like that from beginning ? Why they wait last 15-20 minutes to start to play ? I would ask Poch but he would say "If we won 3:0 you would not ask!" LoL.
Losing against such struggling club like Newcastle was really poor from Spurs and I can only imagine what is waiting for them against Arsenal next week. I see numbers like 4 or 5 in that game. I hope I am wrong, but with Sanchez, Rose and Sissoko everything is possible.