Boa noite amigos
Hoje revirando as coisas do fundo do baú , encontrei minha coleção de selos.
Eu comecei a juntar vários selos ainda na adolescência sobre vários temas e depois só por selos de esportes , os quais conservo até hoje.
E dentro do tema de esportes me deparei com esse selo comemorativo do milésimo gol do Edson Arantes do Nascimento , o Rei Pelé.
O interessante é que os Correios o lançaram com a camisa da Seleção Brasileira de Futebol , no entanto , o milésimo gol foi marcado de pênalti com a camisa do Santos Futebol Clube contra o Vasco da Gama no Estádio do Maracanã , no Rio de Janeiro.
Tirando esse erro , foi uma homenagem mais que merecida para o maior jogador de futebol de todos os tempos , o Atleta do Século , o nosso Rei Pelé.
Jogador de futebol com exímia habilidade em driblar , bater faltas e fazer os mais belos gols que nós e o mundo jamais esquecerão.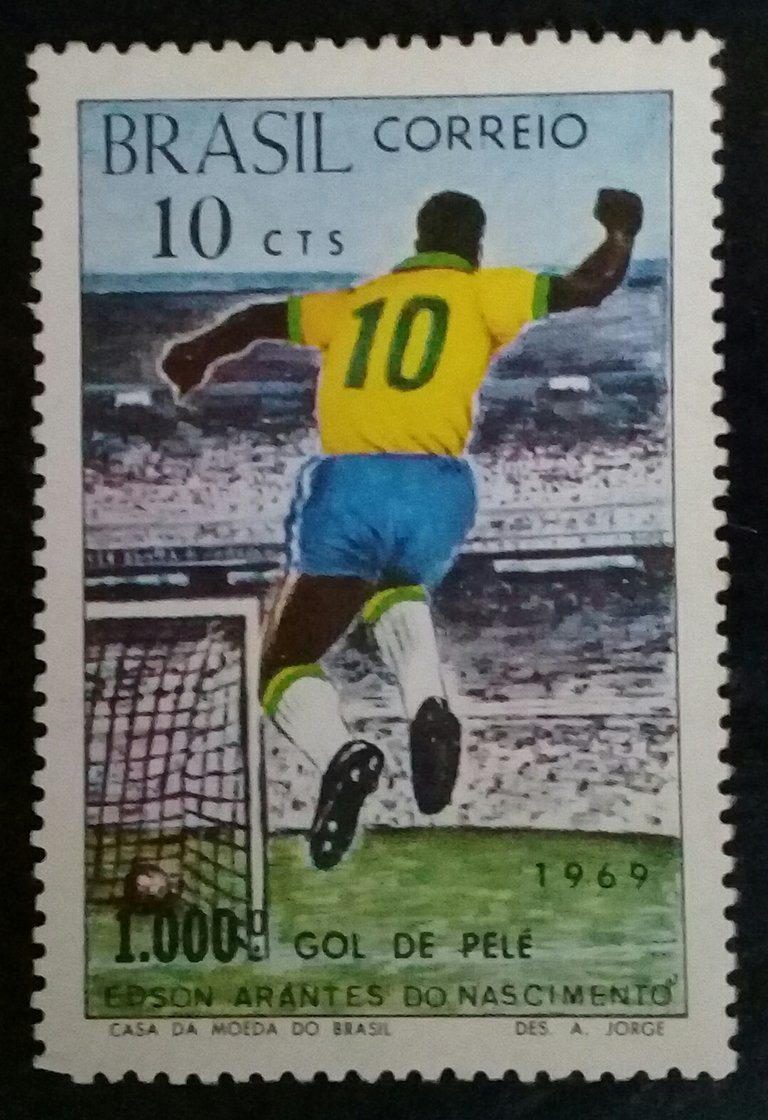 Good night friends
Today turning things around from the bottom of the chest, I found my stamp collection.
I started to collect several stamps as a teenager on various topics and then only sports stamps, which I keep today.
And within the sports theme I came across this commemorative seal of the thousandth goal of Edson Arantes do Nascimento, King Pelé.
The interesting thing is that Correios launched it with the shirt of the Brazilian Football Team, however, the thousandth goal was scored by a penalty with the Santos Football Club shirt against Vasco da Gama at Maracanã Stadium, in Rio de Janeiro.
Apart from this mistake, it was a much deserved tribute to the greatest football player of all time, the Athlete of the Century, our King Pelé.
Football player with excellent skill in dribbling, hitting fouls and scoring the most beautiful goals that we and the world will ever forget.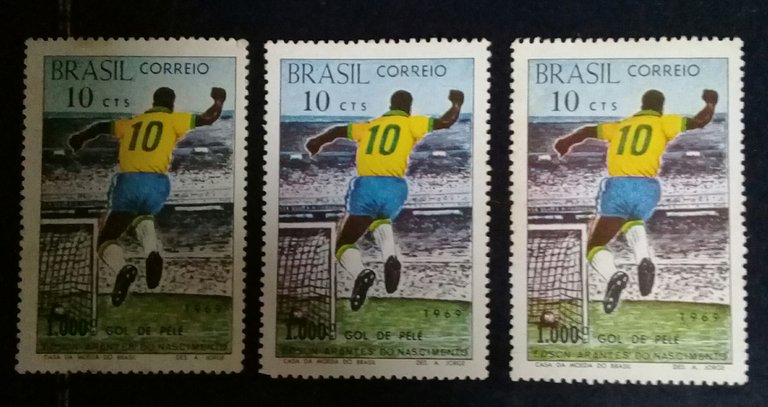 Fotos tiradas com Samsung Galaxy de selos de minha coleção particular
Photos taken with Samsung Galaxy of stamps from my private collection