Rabona is now a month old.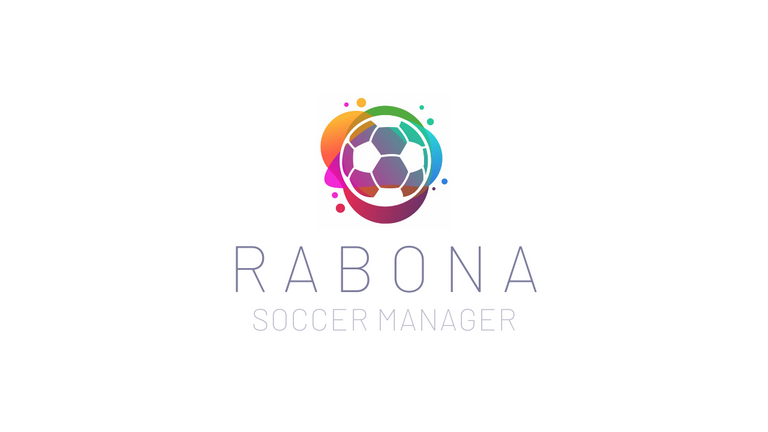 Developed by @Rondras and @oliverschmid this game is a soccer manager game.
Today the fourth season of the game has come to an end.
As the game reaches its first month this will be my second post regarding the game.
New changes
New nationalities: Countries like Sweden, Uruguay, Turkey, South Korea, Czechia and Luxembourg have been added to the game.
Higher wages: During the first two seasons most wages weren't higher than 500. Nowadays you will find players asking for more than 1000 and 2000 RBN per match. This mostly applies to free agents though.
New advertising contracts: For season 5 you will find new and better advertising contracts. Don't forget that your first contracts might have ended.
New icons on the mainpage: The new icons include news and training
Financial details: You can now see the financial details of every match in the financials section
Global News: Now when you click on the news Icon you will see something new. The section of the global is a small one yet it informs everyone about important events
My seasons
Season 3
Season 3 was a trainwreck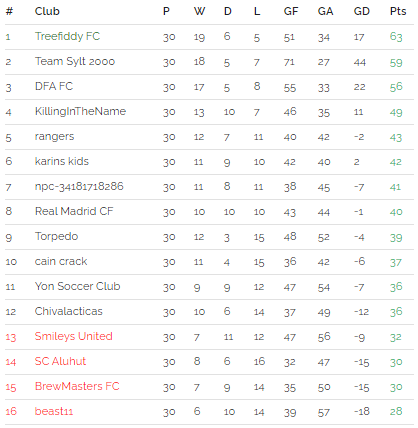 The main reason behind my bad result was a lack of investment in my squad.
As I was saving money for upgrading my stadium I didn't make any upgrades to my squad.
Luckily for me, relegations are not a thing yet, thus I survived.
Highlights of the season:
Goalfest part 1: 4-3 victory against Sylt
Goalfest part 2 - Electric Boogaloo: 5-2 defeat against Sylt
Epic Win: 6-1 Victory against Aluhut
Season 4
Season 4 was a mixed bag.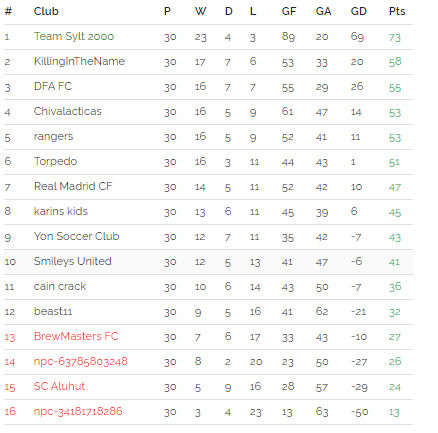 I had an amazing start and was fighting neck and neck for the promotion.

It turns out that this was an illusion though. After the eigth gameweek my team forgot how to win and I lost seven games in a row, including a demoralizing 0-6.

In eight games I only got a draw against the npcs.
This saw my team drop from first to eleventh. Luckily for me my team managed to pull a comeback and I survived on the lower half of the table.
On the second half of the season my team's defense improved drastically as I focused on bringing in better defenders.
Highlights of the season:
Goalfest part 3 - Epic Fail: 0-6 defeat against Sylt
Unfortunately part 3 might be the last part of Goalfest since Sylt got promoted
Tips
Read the FAQ
Don't forget to train your team formations and to train daily
Dont overcharge your fans. I tried doing that and the fans boycotted me
Try to focus on increasing your stadium's size
Look at the formations that your rival frequently uses and try to prepare accordingly
Be wary of upgrading the shop. Having one extra shop will increase your expenses significantly
Try to focus more on the attributes than the OS of the players. Even though the overall strength implies higher stats, a player with higher OS could also have an abysmal TP
Suggestions
The columns titles should be visible when scrolling down on the market.
More filters on the market. Being able to filter out players on the market with low TP for example
Squad presets: Being able to save a second squad preset. Additional preset slots could be bought for a small fraction of RBN, it could be a new money sink.
Adding clean sheets to the dashboard. If we can see who are the top goalscorers, why not doing the same for the keepers?
Conclussion
I'm really happy about the game so far. Really hyped about this season!
I'm really looking forward to what brings the future of RBN.
The new updates are making sure that more RBN is being taken away from the game, which is pretty important in order to have a sustainable in-game economy
Want to join Rabona
Next season should be starting soon. Even if you don't make it in time you would be in line for the next season.
If you want to start playing click Here to join the game under my referall link.
Previous post
Rabona:thoughts and impressions
See you in the stadium!