Navigating from one tribe to the other or using steem-engine reward page to claiming token is not an easy task especially from steem-engine you have to go through steemconnect all the time and sometime one might have 10 tokens to claim.
Going through my spanish-tribe wallet i found out that i can see my steem, sbd, steempower, all my steem-engine token and snax token, a perfect replica of steempeak wallet interface. But i notice some of the steem-engine token where highlighted so i clicked on sportstalk token SPORTS it i got a response www.spanish-tribe says success claim!!! and it was no longer highlighted but never understood what was happening i went to steem-engine just to claim other token only to found out that it was claimed already and so other highlighted token i clicked on. It was a very big relief for me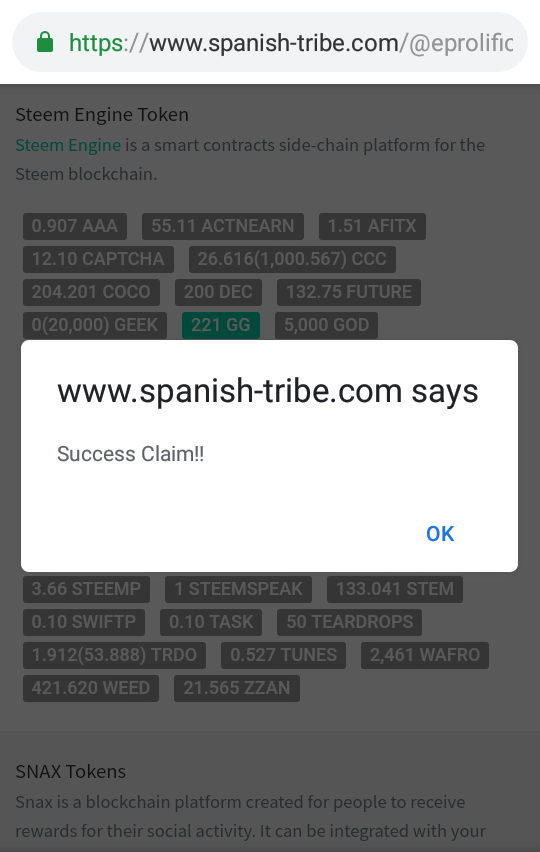 With this wonderful update, i claimed pending LEO, MOT, PAL, ZZAN, MARLIANS, CCC...
What a wonderful update more added features.
My Review
Seamless claiming of token operation in a single place
Time saving
Go to market directly from any tribe walllet page
Go to steemit wallet directly from any tribe wallet.
Spanish Version
Navegar de una tribu a otra o usar la página de recompensa de steemengine para reclamar un token no es una tarea fácil, especialmente desde steem-engine hay que pasar por steemconnect todo el tiempo y a veces uno puede tener 10 fichas para reclamar.
Revisando mi billetera de la tribu española descubrí que puedo ver mi steem, sbd, steempower, todo mi fichas de steem-engine y fichas de snax, una réplica perfecta de la interfaz de la billetera steempeak.
Pero noto que algunos de los token de steem estaban resaltados, así que hice clic en el fichas de sportstalk SPORTS y obtuve una respuesta. www.spanish-tribe says success claim!!! y ya no estaba resaltada pero nunca entendí lo que estaba pasando fui a steem-engine sólo para reclamar otro token sólo para descubrir que ya estaba reclamado y así que otro token resaltado en el que hice clic. Fue un gran alivio para mí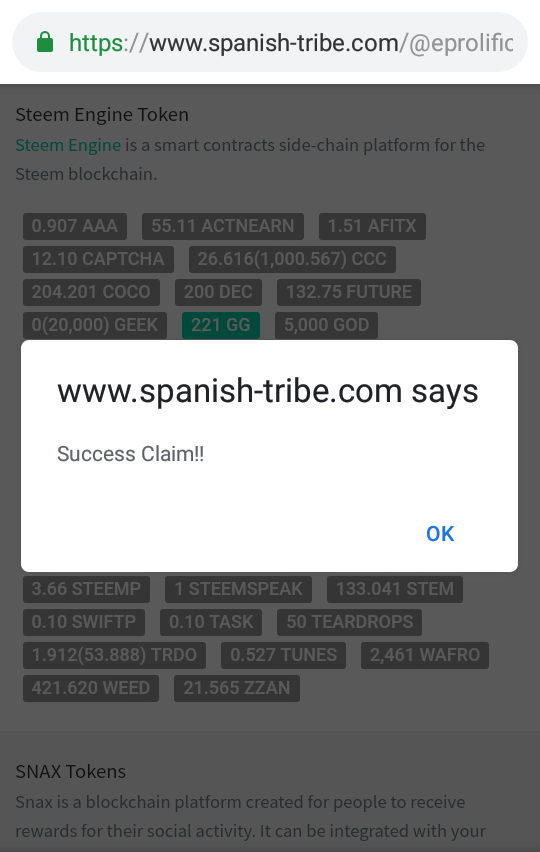 Con esto he reclamado pendientes LEO, MOT, PAL, ZZAN, MARLIANS, CCC...
Qué maravillosa actualización más características añadidas.
Mi Reseña
Reclamación sin fisuras de steem-engine fichas en un solo lugar.
Ahorro de tiempo
Ir al mercado directamente desde cualquier página de walllet de una tribu
Ir a la billetera de Steemit directamente desde la billetera de cualquier tribu.