After having breakfast at the restaurant of Kawaguchiko Station Inn, we took a walk around the hotel and the surrounding area. We walked to the right side area of the hotel. After passing parking area, we found Fudou Houtou Restaurant. We had lunch here in previously.
We passed by the restaurant. About tens of steps later we found a store that provides outdoor clothes and equipments as well as sport wear called SORA no SHITA.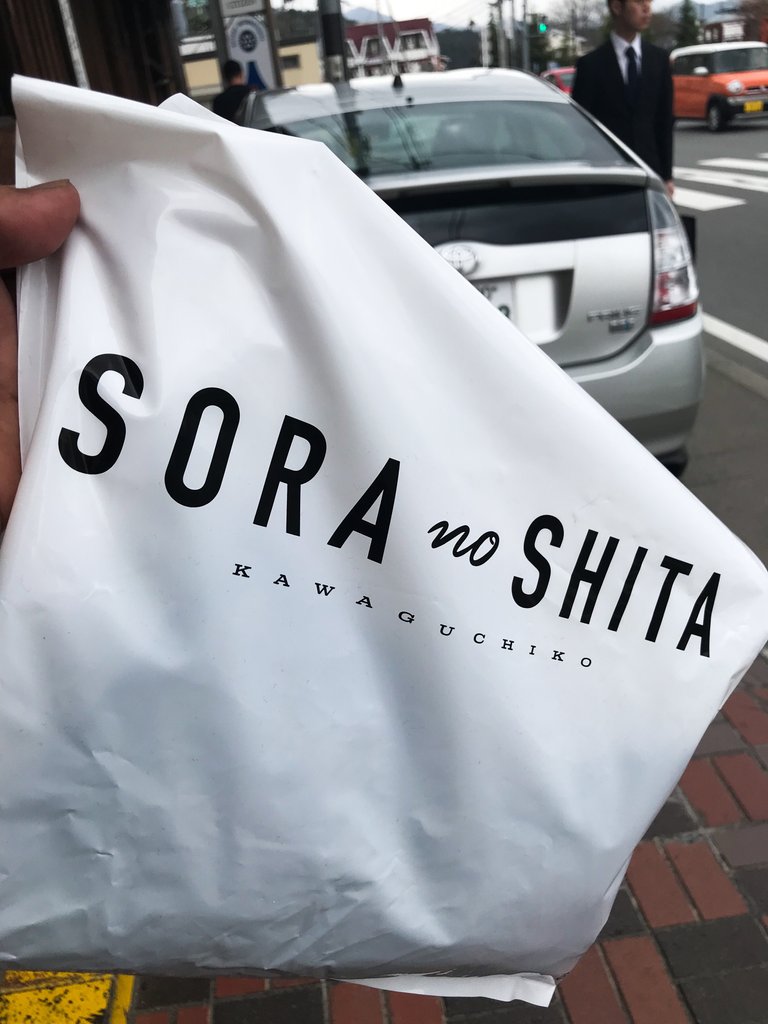 We entered the store to see if there was anything that quiet worth to buy.
About SORA no SHITA Kawaguchiko
SORAno SHITA is located in a great location. It's right in front of Kawaguchiko Station. This store provides visitors with outdoor equipment for activity in Mount Fuji, such as trekking and camping equipments. The equipments can be hired or bought. In addition, this store also sells variety of T-shirt. Most of them are branded one.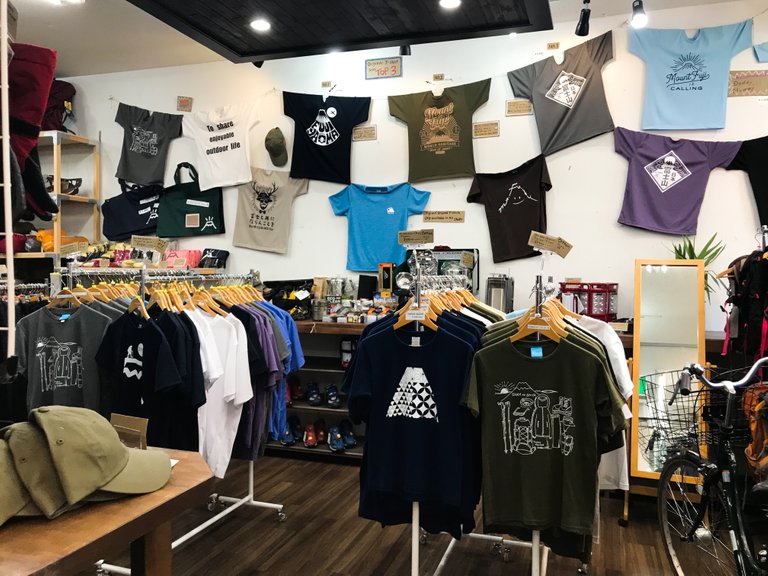 SORA no SHITA also provides bicycle rental and luggage storage services. Their friendly staffs are ready to answer every visitor's questions about activities in Mount Fuji. They speak English very well.
Buying a T-Shirt
Honestly, we did not plan to climb Mount Fuji because we had limited time before heading for Osaka. We just enjoyed the beauty of Lake Kawaguchi with Mount Fuji as a backdrop.
After looking at various types of clothing, trekking and climbing equipments, I decided to buy an original T-shirt.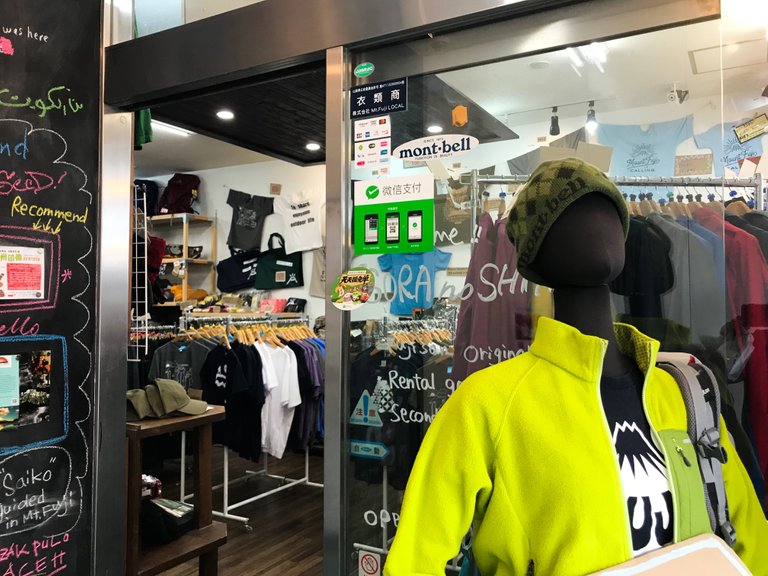 The T-shirt is black, with the words Mt. Fuji 3776 on its front side. The writing is bright yellow in contrast to the basic black color. I really liked the fabric and the motif of the T-shirt.
After paying for the T-shirt and the staff putting it into a white plastic bag, then we left the store to continue our walking around the hotel right side area.
Once I was at exit door of store, I saw a black board in the storefront. Many visitors wrote their testimonials on the board with chalk.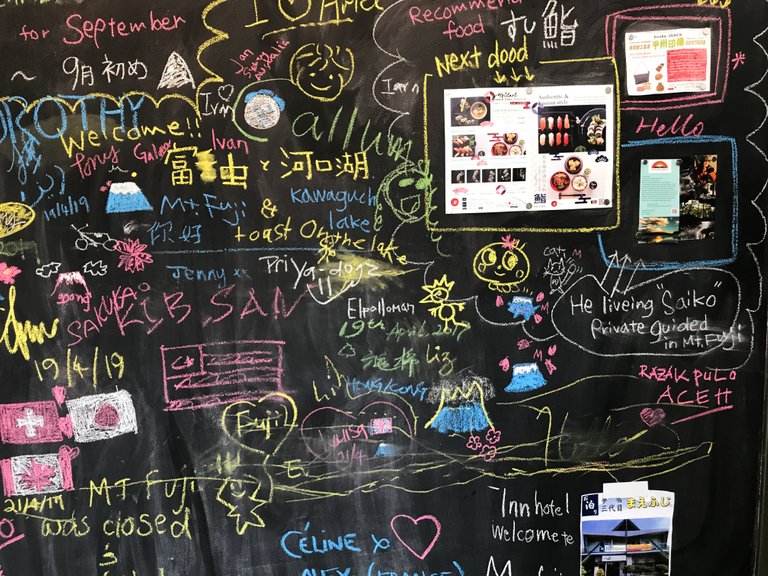 So, I did the same thing. I wrote my name "Razak Pulo, Aceh". We continue walking after that.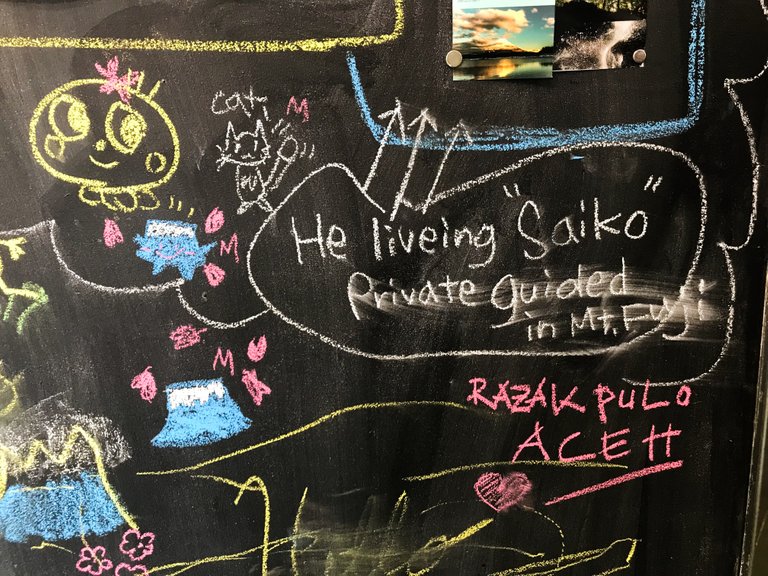 Once I was in Kyoto, I wore the "Mt. Fuji 3776" T-shirt. It fitted my body, and it's very comfortable to wear. I Loved it.
Now I have brought home the T-shirt to Aceh. I wear it sometime when I am missing Kawaguchiko. It's was a nice and great memory.
My Thought
If you want to climb Mt. Fuji, SORA no SHITA provides everything you need. In my opinion, you don't need to find other stores to buy or to rent trekking or camping equipments. SORA no SHITA is located right in front of Kawaguchi Station, so it's very easy to spot. You only do 1 minute walk from the station to SORA no SHITA.
I suggest you just to rent the ourdoor suits and equipments, not to buy them because they are very expensive.
You may also buy one or two original branded t-shirt in the store. I bought it one and it's very comfortable to wear. For more detailed information, please visit their official website SORA no SHITA Have a nice trip!
Warm regard,
@razack-pulo