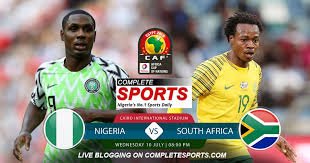 source
One of the feelings in watching such match is that it makes me very anxious because if any team loses, that's the end from the competition and it happened to be that my country Nigeria was the one involved. This competition is the African Cup of Nations where African countries come together to fight it out for the trophy.
Yesterday's game was between Nigeria vs South Africa and it was a game cracker as the two teams battled it on the pitch. By the way, it was this same South Africa that defeated the host country (Egypt) in the round of 16 so it was going to be a very tough game.
The game started on a bright note as Nigeria started creating some chances for themselves but still couldn't take advantage but finally Ahmed Musa combining with Alex Iwobi created a sweet chance for Samuel Chukwuze who ensured the ball was at the back of the net in the 27th minute of the game. Nigeria was on the lead 1-0. The first half came to an end shortly after the goal. By the second half, the game became more intensed as the South African team came our fully to sort for a goal which they finally got and the goal came through in the 71st minute by one Zungu which was obviously a offside but the referee gave it as a goal instead even after looking it up from the VAR.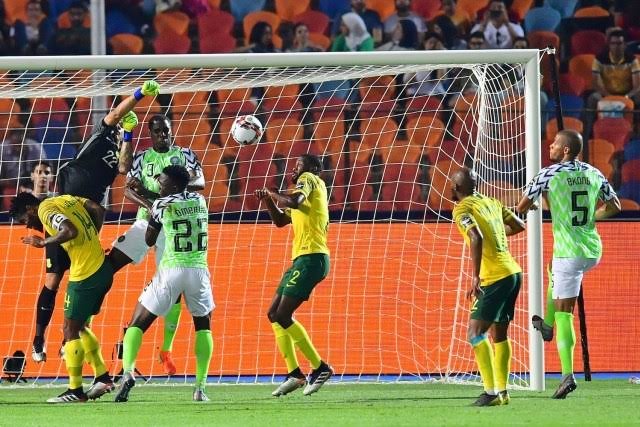 source
The equalizer awakened the Super Eagles of Nigeria more and finally it paid off again as the second goal from Nigeria through one Troost-Ekong in the 87th minute as the South African goalie tried to punch away the ball but missed. It was a massive jubilation because it looked as if the game was going into extra time.
The Super Eagles of Nigeria won the game by the 2-1 margin and sent the Bafana Bafana of South Africa out of the competition.