There aren't many officials around today that hold the respect that Nigel Owens does on a rugby field. More often than not his calls up to the television match official or (TMO) will be spot on and not need overturning. He has a rugby brain and reads the game very well. He took no rubbish from the players and any disrespect would be punished.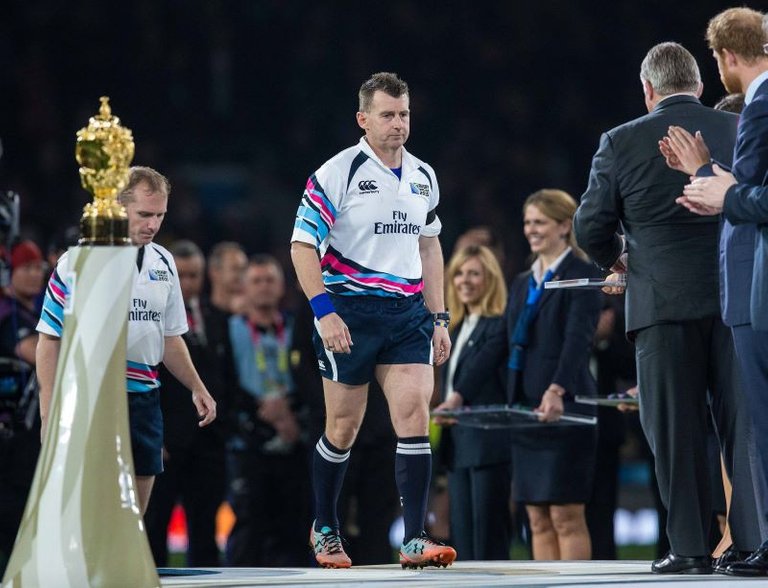 source
2015 World Cup Final coming to receive his match medal. Wayne barnes is behind him and there is no ways he would have been allowed to blow this game. New Zealand would have refused.
Nigel Owens refereed International rugby for over 16 years and has been like part of the furniture as he has been around forever. He decided to announce his retirement after the England vs New Zealand game as he had a calf injury which would rule him out of the final this year.
Nigel is a likable character and is well known for his quotes. The one I enjoyed is when the Scottish Full Back Stuart Hogg threw himself to the ground feigning injury after he had been pushed by another player. Nigel responded with a stern warning saying that this is not football and if you do that again I will send you off. Another one was a forward pass and he told the player who threw it that he was straighter than that pass. Nigel was gay and came out in 2006 or 2007 and it made no difference. Everybody got on with him and just liked him.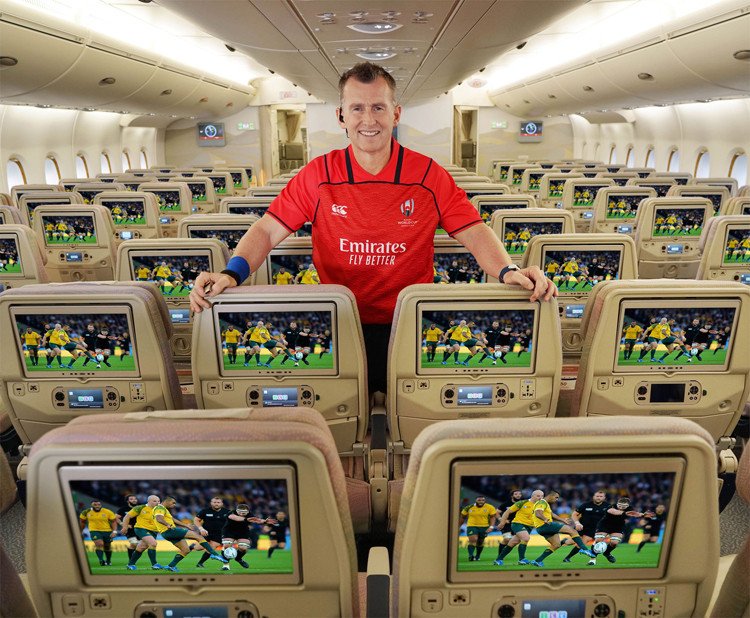 source
Top referees are very well paid and the elite seem to spend their life traveling to all corners of the globe.
Nigel has been very popular with all the teams he has taken charge of over the years as he is fair and plays by the book. That is all players want and they know where they stand with him all the time. Nigel has refereed the most Internationals by any rugby referee which is 76. You have to be doing something right to be still wanted around after 16 years of blowing the whistle.I would like to see him come in as a TMO referee now as his knowledge cannot be lost.
Wayne Barnes the English referee announced his retirement as well, but it was more of a low key affair. He is not very popular and is not liked in some parts of the world. What he did to New Zealand in 2007 is something that should have ended his career.In front of a packed stadium in Cardiff he allowed a forward pass to not be penalised allowing the French to cruise into the semi finals knocking New Zealand out. It was so bad he received death threats afterwards. The pass on the angle must have been nearly 1 meter forward and that isn't an exaggeration either. I think even the VAR referees in England may have had to reconsider his decision.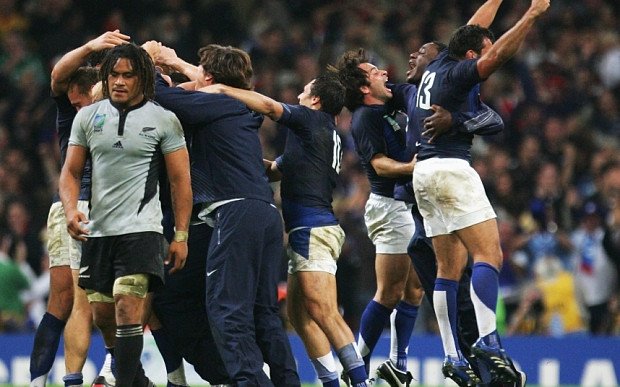 source
The game where the All Blacks were robbed by a stinker of a decision. Funny at the time if you weren't an All Black supporter as they used to get away with so much.
Wayne Barnes was the villain with the whistle that no one trusted and even though he improved over the years it is good to see him go. There wre many occasions that his decisions didn't make sense and even the other match officials helping him couldn't make him see reason. He admitted in an interview that one mistake has haunted him throughout his career, but there are plenty of other instances as it seems his ego got ahead of him. I just wished more ex players took up the whistle and just don't know why they don't. Idiots like Barnes have no place on a rugby field and just wished they would be blocked earlier on in their careers.