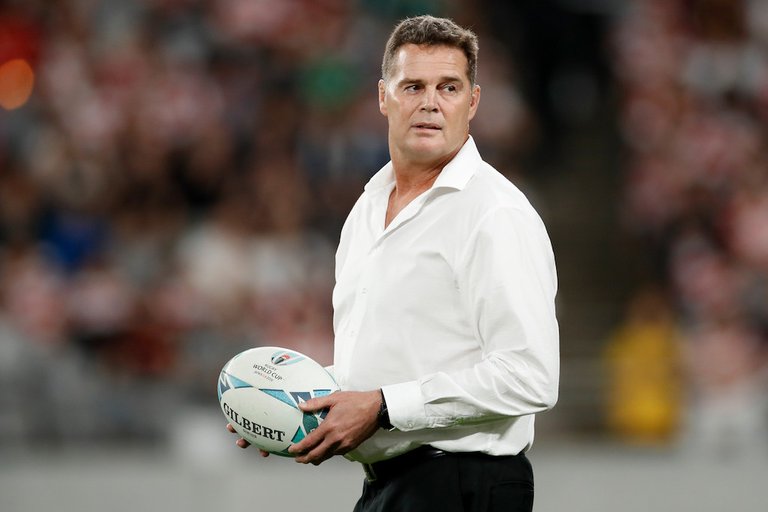 source
I told you he was good and is the best coach in the world currently. He is young for an international coach with ideas that others just don't have.
South Africa won the World Cup and that is job done as far as Rassie Erasmus is concerned as he has confirmed he is stepping down as head coach. He will still be Director of South African rugby making sure they stay on track. When he took over the reigns of the team they were a complete shambles and within 10 months has taken them to the pinnacle.
This is what good coaches can do once they are given full license to do what is required. I find it a shame, but do understand and he will still be around behind the scenes and if needed will put his track suit on again. He has his assistants who he knows only too well as they have traveled the world with him wherever he has gone as part of his staff.
He mentioned that when he spoke to the team 20 weeks ago he said it was a 20 week job as today is week 19 and the last week would be press interviews and showing the trophy on parades around South Africa. He has a young family and 20 weeks is a long time to be away from your bed. I do have concerns who might take over and hope he reconsiders for another 4 year term.


source
England's brains trust Eddie Jones and John Mitchell.
Great coaches don't just grow on tress and there are not many around. Eddie Jones is one and England need to hold on to him for dear life and make sure he is there in 4 years time. he has taken a good group of players and improved them immensely so that they are competing at the highest level. We have seen what England were like in the past and a strong England makes watching rugby more interesting. John Mitchell is another one who is behind the scenes and is Eddies right hand man and who I tip to take over England at some point. John was discarded much like Eddie was after bowing out with New Zealand in the 2003 semi final and Eddie in the final to England.
Australia were stupid to get rid of Eddie when they did as he is one of the top coaches in the world and would have done a lot more with the team than what they have achieved. Both Australia and New Zealand will have new coaches when we see them next and possibly South Africa as well now. If Eddie does decide to step down the England big wigs will either take John Mitchell or come sniffing at Rassies door with a fat cheque that will be hard to turn down. There are only a few candidates that are capable of these jobs so it will be interesting to see who comes in.