The road to sporting glory isn't always smooth; Sometimes there's road blocks, detours, rocky or rough terrain and a person is forced to overcome these obstacles if one is to achieve ultimate sporting glory. Success can be a slippery slope of course, as I found out.
I'd been training for a charity fun run, it was only over only 12 kilometres, however considering I usually only run when I'm being chased, 12 kilometres is a fair distance to run.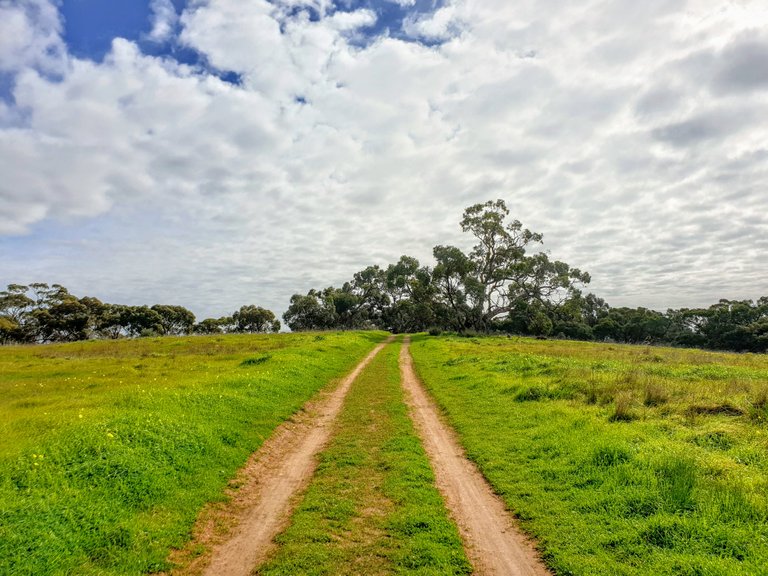 I started training around 3 months out from the event and had worked up to 6 kilometres which I was running in about 25 minutes, about 4 kilometres an hour - Not fast, but not too slow either. My plan was to run the 12 kilometres in under 60 minutes so 5 kilometres and hour with no stops. I had trained mainly at sporting grounds near my home and was getting a little bored with it so decided to head over to a reserve and run on some trails. Here's a picture of one of the tracks I was running on, a national parks vehicle track - This image taken a little after the event when I was there walking.
So, there I am, minding my own business running along, pretending T-Rex is chasing me, when, slip, down I went on my butt, in the mud. It hurt too. I landed right on my left ass-bone (I'm not sure of the medical terminology) and pain jarred up my back and into my neck...
Of course the first thing I did was look around to see if anyone had seen it. Yep, sure enough, a couple of kids over the way sitting on their bikes laughing it up. Great. [Sarcasm].
I managed to pick myself up and began to assess the damage.
Track pants muddy from top to bottom.
Shirt muddy half way up my back on my left side.
Left arm muddy.
Hands muddy.
Ego muddy, well, not muddy per se but certainly somewhat dented and bruised...Like my ass bone.
I slinked limped away and on towards my car wondering if I had a blanket to sit on so my car didn't get muddy. I didn't. Great. [Sarcasm].
A few days later I was running again, pain free, after a trip to the chiropractor. I kept it up too, at the sporting fields near my house, not the infamous national park, the site of the great sporting slip up of my brief running career. Come event day I ran like I was being chased by T-Rex and a Velociraptor, my speed-motivation, and managed to finish the 12 kilometres in under 60 minutes 72 minutes...Not the 60 I had wanted. Well that sucked! ([You expected a happy ending didn't you?]
Actually it didn't suck too badly. I mean it was a big deal for me as I'd not run like that for a long time. I was proud of my effort and it felt good to complete my goal, to break that ribbon at the end of the course...And not come last.
Running the last kilometre with the assembled crowd cheering me on and that moment I crossed the finish line felt good. Really good. It made all the effort and pain I'd gone through worth while and even the memory of the great sporting slip up seemed to pale into insignificance! I wish those lads sitting on their bikes were around so I could win some pride back with a triumphant "I did it!" but they weren't; And so I revelled inwardly about my achievement...And vowed to never run again, then limped off to my car feeling every aching joint and muscle in my battered body.