A few days ago I wrote a post about a shooting event I run several times a year and after a long day setting up today (Saturday) it's competition day tomorrow. To learn more about the event read this post here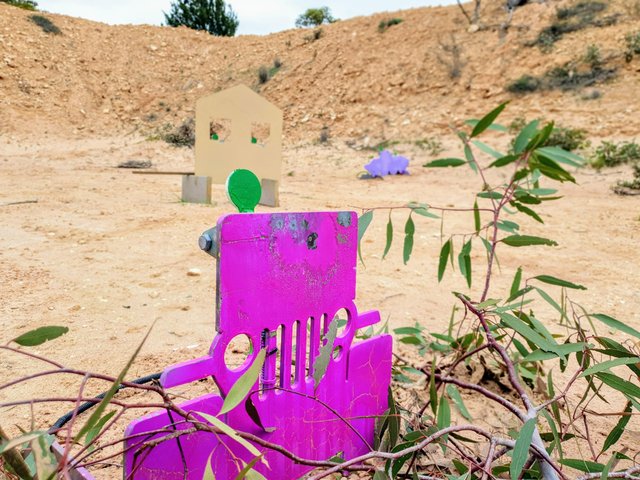 Competitors started rolling in on Saturday afternoon and after setting up their camp sites at the range we all headed into Tailem bend for a meal and a couple of beers at the pub. We didn't linger long as we were all keen to get back to the range and the massive bonfire that was waiting for us which you can see below.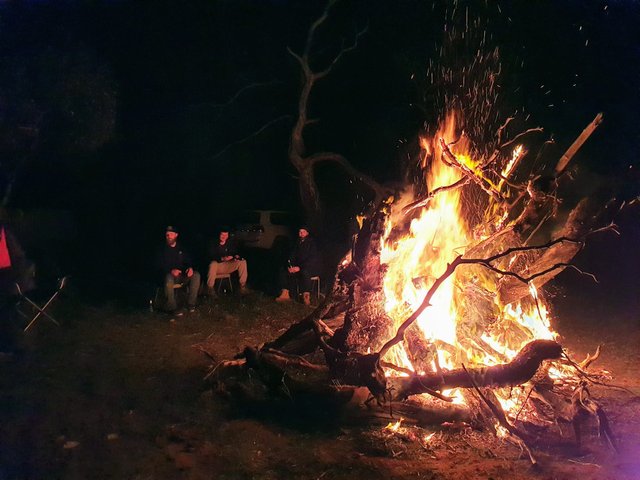 There was only around 15 of us at the bonfire but come 7am Sunday they'll be rolling in to swell our numbers to around 100 people, support staff and competitors. Fortunately there'll be loads of coffee and bacon and egg sandwiches for breakfast.
The set up went quite smoothly today and you'll see some images in this post of some of the targets the shooters will be seeing in the event today. We make them all, including the electronic timing systems that run the timed stages.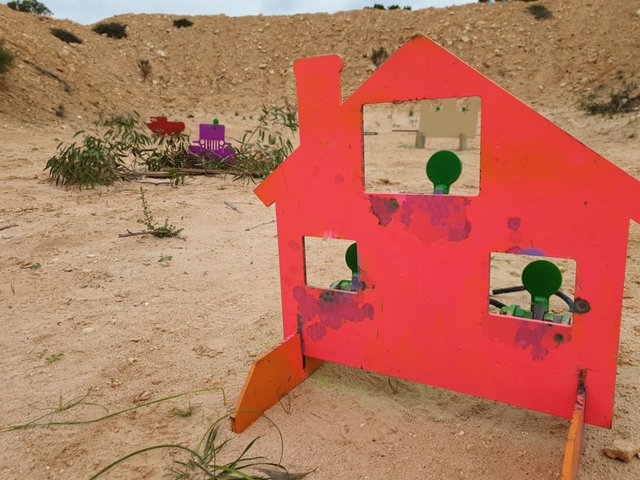 As the rifles are all .22LR calibre's the distance the competitors shoot isn't very far, about out to a maximum of 100m usually, however the targets are very small to make the challenge greater. You can see a few here above. The targets requiring a hit are the green circles, only about 2.5cm in diameter. About an inch. We add difficulty by timing the stages and making the shooting positions uncomfortable and difficult to shoot from.
Below you can see one of the frames, we call the bondage rack that we use for this purpose, although there are many other ways to apply pressure to the shooters as well.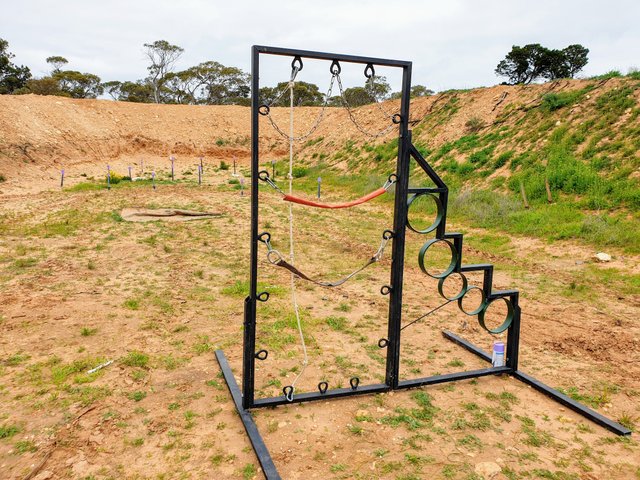 We have a run and gun stage that includes 23 targets including a stop-plate. This plate, when struck, stops the clock and the score is determined by dividing the number of hits by the elapsed time. It's called comstock scoring as per the previous blog. Obviously accuracy, strategy and speed all come into play.
This stage starts at port arms behind a barrel. The shooter must engage three round steel plates at the back of the range (110m away) through the barrel then move about 30 metres to a wall and engage through a window [we call them apertures] then move another 30 metres to a barrel and shoot over it at the remaining targets, some of which are hidden from view at the other positions, then hitting the stop plate from there. The stop plate is painted a different colour to the targets which are purple. All targets fall when struck. You can see one below.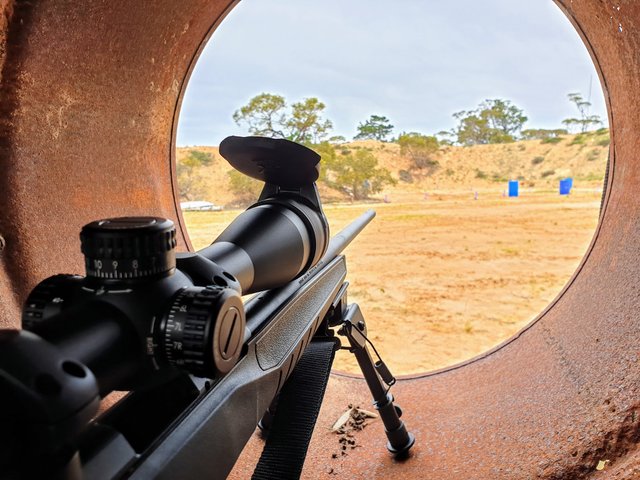 The view through the barrel.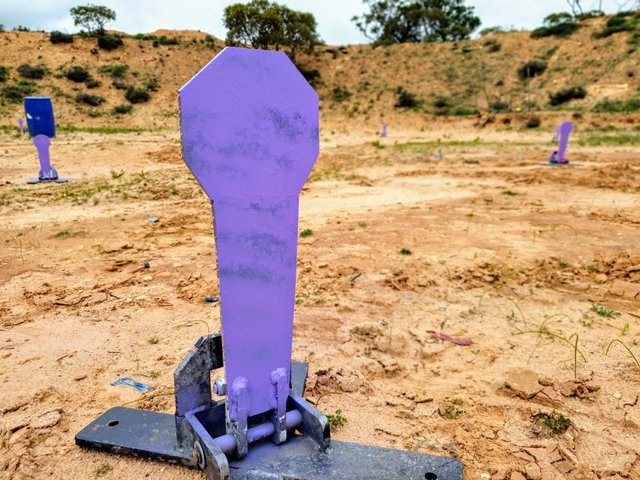 A popper - falling target
We also have a know your limits [KYL] rack as below. This rack has eight steel targets hanging from it which get gradually smaller with the smallest (thinest) being 1 centimetre in width (0.39 of an inch). You can see that in the left of image below. The stage starts and the shooter must first engage and hit a target to the right of the rack about 5 metres away. Once that small 5 centimetre target is hit they can shoot at the largest target on the rack. Once hit they go back to the 5 centimetre target and when hit can go back to the rack shooting at the next smallest target and so on.
It's called know your limits though and as the difficulty increases the smaller the targets get so does the risk. Miss a target on the KYL rack and you zero your rack-points and the stage ends. The points gained by hitting the 5 centimetre target remain. This stage is a great way to gain a heap of points over the other competitors, but can also ruin your day if you get a zero...So, you have to know your limits. There is a 90 second time limit on this one - Not a long time considering there's 16 rounds required to complete the stage, aiming, racking the gun moving between the targets etc. It's about 5.6 seconds per shot over 90 seconds with all the movement and aiming as well.
I test-shot this one today and got maximum points - No misses...But I had no pressure from other competitors watching etc. We always shoot them to work out if the stage is viable which is why I was shooting it in the first place. There was nothing riding on it...Come competition day things are different.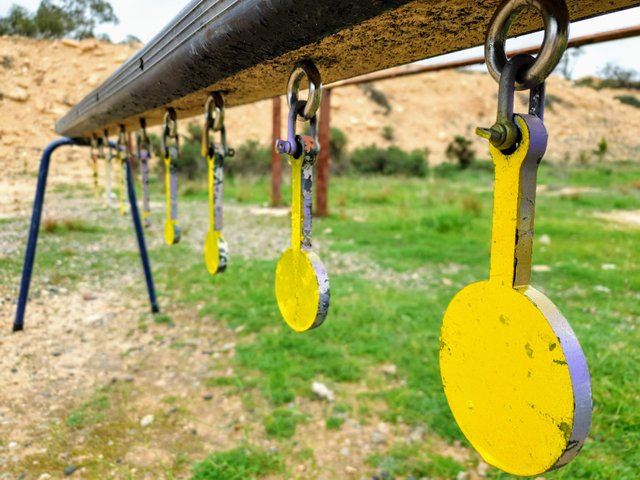 Below are some targets from another stage with the rest arrayed in the distance. This one is shot off a very difficult shooting position called a tank trap which is a three sided tripod-thing. They were used to prevent enemy tanks rolling up onto the beaches of Normandy on D-Day but those ones were massive and made from rail way tracks cut down. I have added and image (second below) so you know what I mean because my explanation probably sucks.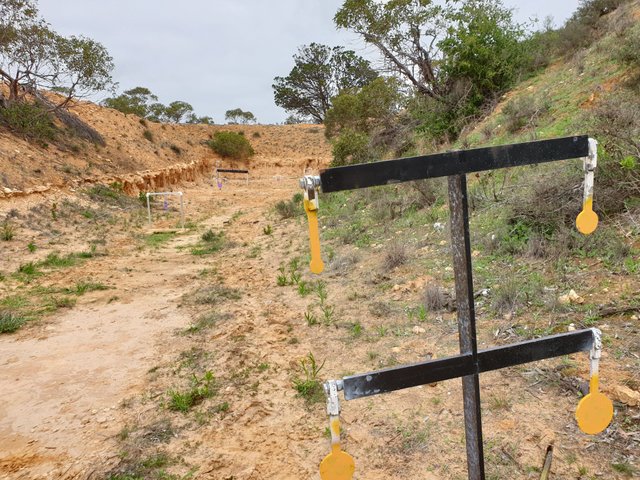 This image shows my practice tank trap which I made and painted blue because why not? I am about to start a practice stage in this image shooting out to 600 metres ahead of me in practice for a competition I was about to shoot in a few weeks. So that's a tank trap.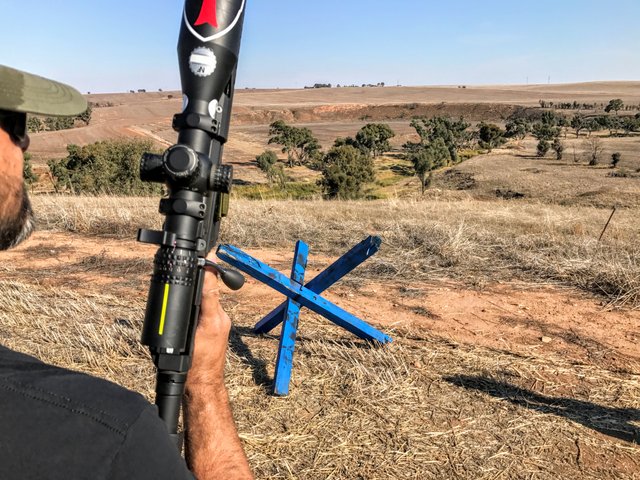 Anyway, I thought I'd smash out this little post tonight from my hotel room as I won't get time to do so tomorrow. I hope some of this made sense and if not...Well, feel free to ask questions. Right now it's time for bed as I have a big day tomorrow at the event then packing up and heading home right after.
I hope you're having a good weekend.
---
Design and create your ideal life, don't live it by default and aim small, miss small.
Discord: @galenkp#9209 🇦🇺