Sport shooting is an enjoyable activity for me and I spend a lot of time doing it, training and preparing for events and travelling to and from them, which often takes me far from home. It's funny, the time spent training and preparing far outweighs the time actually competing however it's all intrinsically linked and so I, and people like me, spend hours and hours in the training and preparation phase.
Because I shoot a lot I make my own ammunition. It's much cheaper on a per-round basis to do so and for rifle shooting means I have very precise ammunition which is much more consistent and accurate than the factory offerings; This is essential for long range work. With my hand guns I also reload my ammunition, (make my own) although it's for a cost reduction and not accuracy as the distance we shoot at is not as great.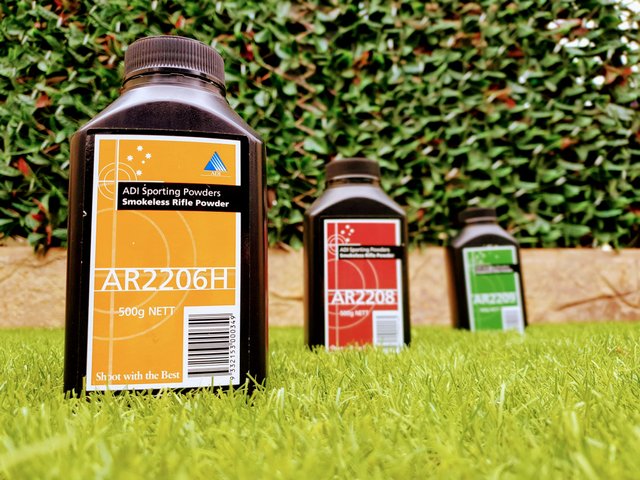 There's several elements to reloading ammunition and they're all essential however I write today about the gun powder.
You'll see three different rifle powders in the image here, AR2206H, AR2208 and AR2209 down the back; All rifle powders, but all completely different. These are not interchangeable as different rifle calibers and projectiles require different powder. Each powder has different characteristics. Let's just leave it at that otherwise this blog will get out of control. What you don't see here is handgun powder, the AP70 powder I use to load my 9mm rounds. That's because I have none. Żaden. Ei mitään. Nemo. Yok. Nici unul...None. That's because it's been discontinued.
I wrote a blog about it a while back actually, see it here, which spoke about the discontinuation of the powder I use (AP70) and the introduction of the replacement powder APS650. The issue being that there is no APS650 available at this point either and so...No ammunition being made. Considering I shoot around 300 or so rounds a weekend mostly...Well, it's eating into my zombie apocalypse stores of ammunition.
Making my own 9mm rounds brings the cost down to around 35% of the cost of factory rounds so it's worth the effort. Of course buying the reloading equipment can be quite costly, $2,000-$4,000 depending on the quality of equipment purchased, however when the volume is considered it makes much more sense. So, I've been annoyed there's no AP70 around and no replacement.
On Saturday however, whilst I was out off-roading with a mate, the gun store owner where I shop called me with the fortuitous news that he had managed to locate me a 2 kilogram container of AP70 which I immediately told him I would have. It's $165 and will be enough powder to make around 18 months worth of rounds...Maybe a little more even! Oh happy days.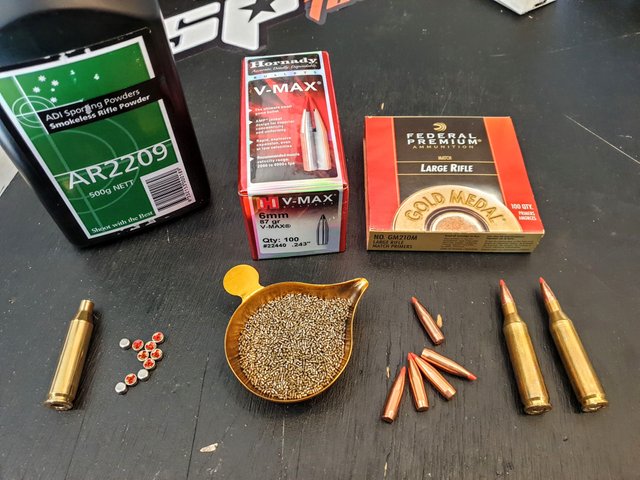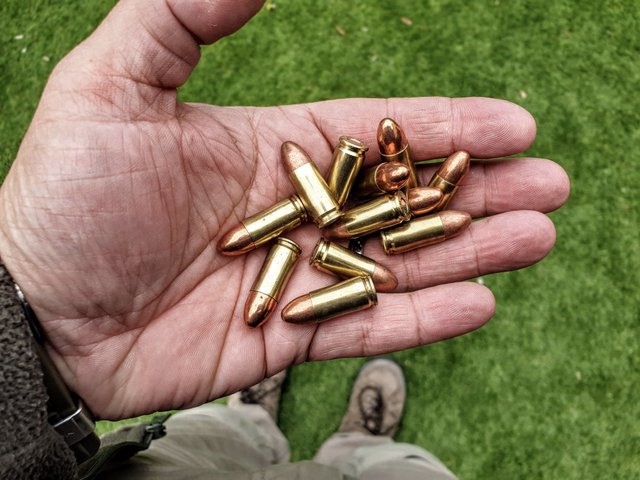 Image shows the components required to make ammunition (showing ri components) on the left and some 9mm rounds on the right.
This means I will not have to change over to the unavailable APS650 just yet and considering it's impossible to find, meaning there'y be a rush on it when it comes though...Well, I'm sitting pretty!
This may not sound like a big deal to many as most here don't shoot, least of all sport shoot like I do. But just imagine if you played golf each weekend, or tennis...That you competed in a tournament each week or so and needed to practice...Now imagine there were no tennis or golf balls available. Sure, you can still practice a swing perhaps, but it's not quite the same is it? Imagine being a swimmer and there was no water in the pool. That's the equivalent of me not having powder to make ammunition.
So, 9mm ammunition production will kick into gear this week. I have to replace a few rounds I stole from my zombie apocalypse stockpile and then I'll make a couple thousand rounds for the next few months of shooting. I'm pleased to have found some powder, probably the last around, and that my sport will continue uninterrupted.
---
Design and create your ideal life, don't live it by default
Discord: @galenkp#9209 🇦🇺