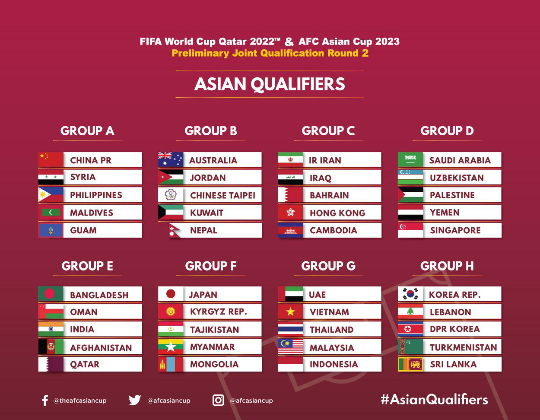 [Source] (Check out
@theafcdotcom
's Tweet:
1151433254261723136?s=09) twitter metadata:dGhlYWZjZG90Y29tfHxodHRwczovL3R3aXR0ZXIuY29tL3RoZWFmY2RvdGNvbS9zdGF0dXMvMTE1MTQzMzI1NDI2MTcyMzEzNj9zPTA5KXw= ~~~
The 2022 FIFA World Cup is scheduled to be the 22nd edition of the FIFA World Cup, the quadrennial international men's association football championship contested by the national teams of the member associations of FIFA. It is scheduled to take place in Qatar in 2022.
The road to Qatar of Asian teams was released yesterday in Kuala Lumpur. Asian qualifiers were divided to form 8 groups from Group A to Group H.