I'm sitting in my office right now. I have on a suit and tie, am surrounded by files, paperwork, my computer, a couple of phones and the buzz of people working filters into my office from the open-plan section where the bulk of the team work. It's annoying, the noise I mean, [and being at work I guess] however I rarely close my office door as it sends the wrong message to the team.
I should be thinking about work, but I'm not; I'm thinking about long-range shooting.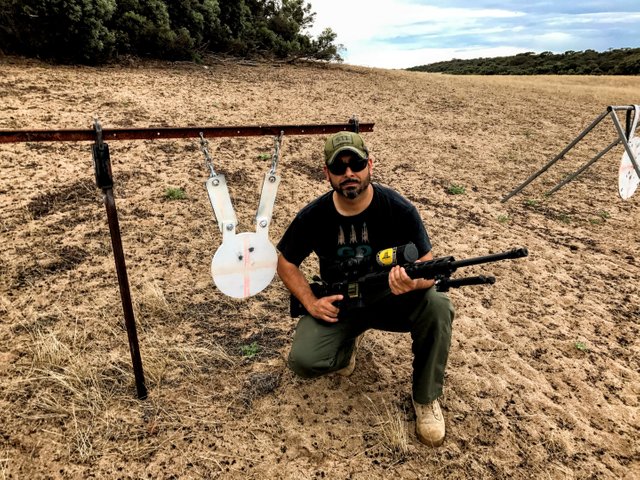 It's been a while since I last went long-range shooting; I usually compete here and interstate several times a year however due to lack of time I haven't been able to - This means there's been little reason for me to go out and practice and so I haven't. I have been focussing more on my handgun sports and so rifle shooting has taken a backseat role - A situation I want to rectify soon.
Make no mistake, I have been shooting a lot, both handguns and rifles, however not at the distances I call long-range. I cull feral animals on a farm at no more than 400m (437 yards) which I do not consider long-range. It's certainly far enough when culling of course and I don't shoot at greater distance as I need to ensure the humane-dispatch of the feral animal I am culling - Head shots.
Long range to me is 500m+ and out to about 1600m, (so 546 yards to 1750 yards). I know many people can shoot at greater distance but for me and my equipment 1600m (1 mile) is about the limit at which I'd take a shot. I don't shoot to miss and at past that range my hit-probability declines from 85% to around 55% due to the calibre of rifle's I shoot and my own skill. I shoot .308, 6.5mm creedmoor and .243 (6mm) rifles at long range and whilst they are very capable I shoot for accuracy and the further the range the less probable a hit is. No point shooting knowing one will miss I guess.
The image above shows a typical target at that range; It's a thick steel plate about the size of a large dinner plate. This one was set at about 1325m (1449 yards) from my shooting position and you can see the two hits I made on it - The first two I sent. That's the sort of accuracy I'm looking for.
To the right of me in the image you can see another target of about twice the size as the one I'm kneeling next to. We used that to verify our data prior to shooting at the smaller one. In a real-world situation (war for instance), or a competition, one wouldn't get the luxury to do that though - One simply has to rely on the ballistics data and the environmental factors determined to dial in the right elevation and windage and simply make the shot bringing many different elements together to do so.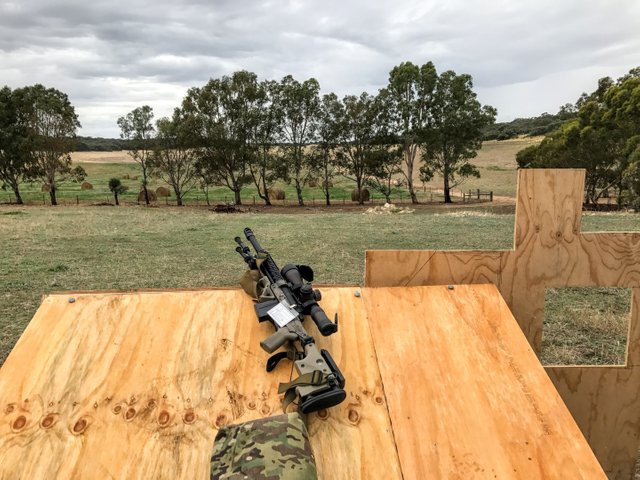 On this occasion we were shooting in stressed conditions, elevated heart rates, and off barricades to simulate various positions and increasing the degree of difficulty.
This image shows a couple we made out of marine-ply - The one the rifle sits on is designed to simulate an angled roof which we would lay on to shoot and the other a window, balcony or ledge etc. When we shoot in competitions we never know what the event-organiser will throw at us and so we work hard to practice many different scenarios and to become proficient at shooting in odd positions. The 1325m shot I made was from a prone position and not off a barricade although I ran 50m, carrying my rifle, to the position, set up and took the shots as quickly as possible, all timed - Breathing hard like that make shots at range difficult - Exactly what we are training to overcome for competition purposes.
I miss the repetitive nature of practicing long-range shooting. It's not all trigger-pulling though...We practice calling the environmental factors like wind - Gathering information from grass blowing, trees swaying, dust kicking up which helps determine what windage call is required for the shot. We also practice getting our FFS (field firing solution) as quickly as possible and in various ways - This is often done by in-putting heaps of data into a ballistics calculator but we also train to calculate it manually working towards making those complicated mathematical equations as easy as possible to calculate in our heads, and fast. All fun, but not always easy.
I'm not sure when I'll be out doing this next, maybe in a few weeks or so depending on how hot the weather gets. I am always GTG at the drop of a hat though (good to go) as I keep my equipment in a ready-to-use condition at all times - One never knows when a window of opportunity may arise and one needs to get geared-up quickly.
I love this sport - It's challenging, very technical (ballistics, physics, mathematics, chemistry etc. - I make my own ammunition too.) It's interesting and pushes the limits of mind and body at times. Are the skills I deploy transferrable? Of course...But who really cares. I mean are the skills of kicking a ball transferrable? Of course, but again, who cares. It's just sport; It's done for enjoyment, the challenge and satisfaction of achievement.
Below you'll find a couple of posts I did that relate to some of the concepts I've mentioned here...They are more technical in nature. Take a look if you're inclined.
General info
Ballistics calculations
Anyway, that's where I'd rather be and what I'd rather be doing right now - But I'm stuck in my office.
Just tag #whereonwednesday in your post, on a Wednesday, to join in if you would like. It's not a challenge or anything dumb like that, neither do you get anything for it. It's just a chance to post your thoughts and maybe a picture or two.
---
Design and create your ideal life, don't live it by default
Discord: @galenkp#9209 🇦🇺