The Metropolitan Stadium of Techo is a soccer stadium located in Bogotá, where La Equidad, a team of the First Division of Colombian football that plays since the 2007 Finalization Tournament, play in addition to the Tigres Fútbol Club, Bogotá FC and Fortaleza CEIF teams , of the Second Division of Colombian football.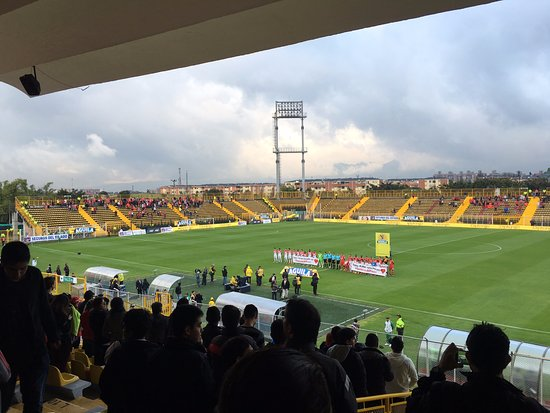 fuente
The stadium is located where the former Roof Racecourse in Bogotá used to be.
It is adjacent to the Mundo Aventura Amusement Park, the Plaza de Las Américas Shopping Center, the Colombia Multiplex Americas Cinema. It can be easily accessed through Avenida Primero de Mayo, Avenida Boyacá and Avenida de las Américas, from the Americas - Boyacá de TransMilenio Station, formerly called Mundo Aventura.
The sector was part of the domains of Cacique Techotivá, which began to be colonized in 1608. In later years the sector began to be known as Roof, which began to become popular in the twentieth century.
The stadium is located to the southwest of the city. It was inaugurated in 1954 in the Roof sector, which was part of the urban complex renamed as Kennedy City. The western gallery was designed by Colombian engineer Guillermo González Zuleta and was declared a national monument.
The stage was very popular in the city until the 70s, when it was replaced by the Los Andes Racecourse, opened in 1978, north of Bogotá.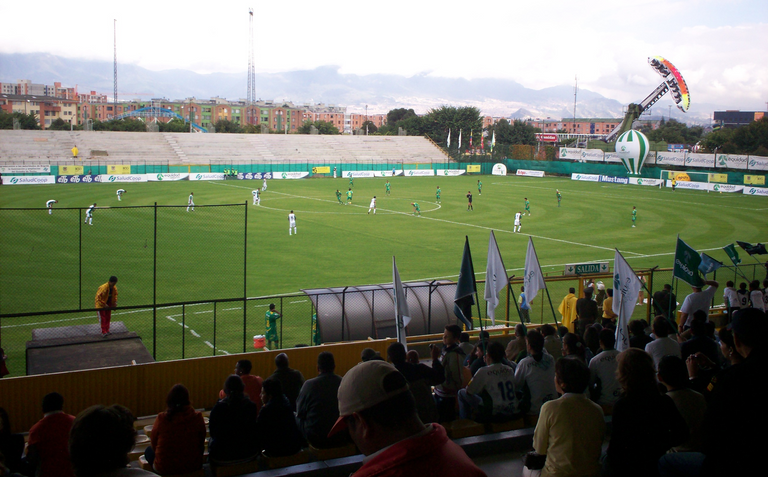 fuente
Later it was converted into a football stadium, and from 1991 to 1995 it hosted the Bogotana Academy in the First B Championship. In 1994 it hosted the U-23 Americas Cup, of which the Colombian National Team was crowned champion , beating Uruguay in the final.
In this stadium the final of the Colombia Cup 2008 between La Equidad and Once Caldas was played.
In this stadium, the Eleven Caldas and Atlético Nacional teams were faced for the 2010 Final Tournament by date seven.
On the last date of the 2013 Completion Tournament, the Patriots Boyacá and Once Caldas teams faced a quota against the home runs.
At the beginning of 2015 it was the headquarters of the group A matches of the home runs of promotion in which the teams Cúcuta Deportivo, Deportes Quindío, Atlético Bucaramanga and Real Cartagena were.
In 2015-II, in addition to La Equidad (which is his usual scenario), the Tolima, Boyacá Chicó and Patriotas Boyacá sports teams also played in this sports arena for some time.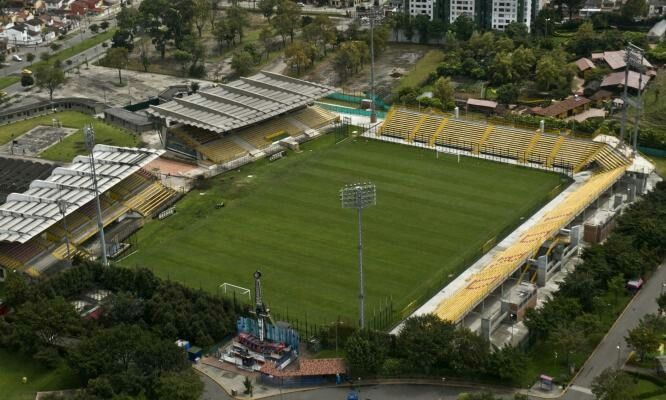 fuente
It hosted some home games at the First 2015 B of America in Cali, in 2015, due to new adjustments by Pascual Guerrero for the Youth World Athletics America, the venue was at Buga and the Techoo Metropolitan Stadium in Bogotá. Il the Independent team Santa Fe played several home games and Millionaires two home games.