Hi Jessports fans
While the football season is starting to kick off preseason with many of the club teams having games this week I decided to register my fantasy team for the upcoming season. If you are a follower of the English Premier League you'll know all about it and if not you can join up here.
How it works
You have 100 points to spend on creating your own team with players you think will perform the best this season. You are free to change your team each week and try to maximize your points.
Here is my team for the starting season
It wasn't easy to spend that 100 points and get a balanced team but I think I did an Okay job my team will rely heaily on gaol scoring more than defending for points as you can tell, with most of my points going to attack-minded players.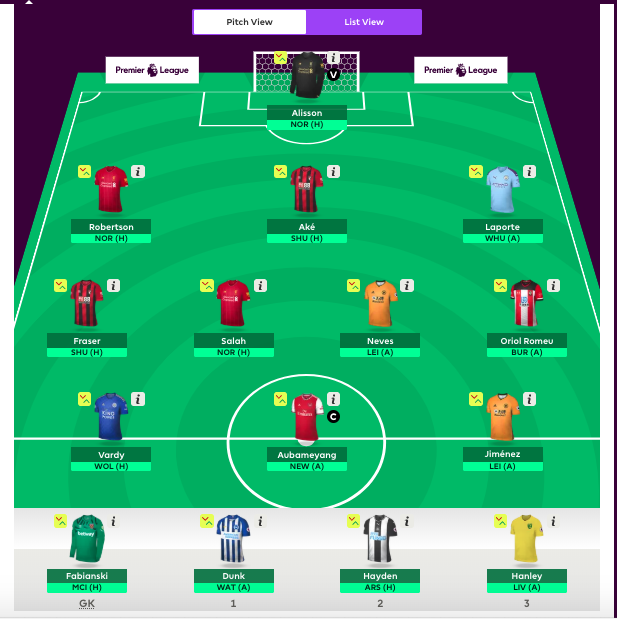 My Starting line up will be a 3 4 3 formation since im looking to maximise on attackers earning me points.
---
RCB - Robertson (Liverpool)
CB - Laporte (Manchester City)
LCB - Ake (Bournemouth)
---
RM - Salah (Liverpool)
CM - Neves (Wolves)
CM - Romeu (Southampton)
LM - Fraser (Bournemouth)
---
RS - Vardy (Leicester)
ST - Jimenez (Wolves)
LS - Aubamayang (Arsenal)
Join in the fun
If you managed to create a team you can join my league using the code below.
Simply click on the league tab
Join league
Join a private league
and enter the code below
---
Code to join this league: 26qb2d
---
and you should be added to my league.
Let me know if you've joined by leaving a comment with your team's name or a screenshot of your team. I thought it would be a good spot of fun and banter every week, keen to see how many steemian football fans there are out there.
Have your say
What do you think of my team picks? Who do you rate? Who do you hate?
Let's connect
If you liked this post sprinkle it with an upvote or resteem and if you don't already, consider following me @chekohler


---
Buy & sell STEEM
Donate LikeCoin For Free
Get A STEEM account
A