There is a lot of talk about hurricane Dorian hitting the USA right now and that kind of jogged my memory. I went to 2 Universities, but one of them was East Carolina University which is near the East Coast of North Carolina. Understand this: When you live in North Carolina, hurricanes are just kind of part of life - you get used to it. One particular year, and a particularly bad hurricane (Floyd) we saw our town decimated by flooding (I'm talking Marshal Law declared, no electricity or water available in the entire city, thousands of houses destroyed, forced evacuation of 50,000 people flooding.)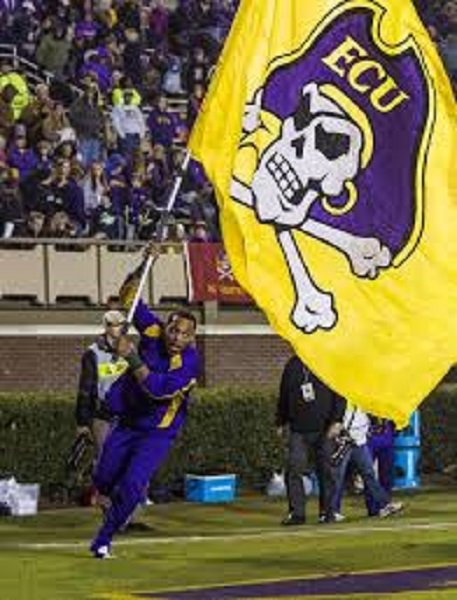 I was attending the university at the time and my apartment, which was normally in sight of the river, ended up completely underwater along with any of the belongings I couldn't get out of it in time. It was a pretty horrible time but being a poor college student we pretty much just drank a bunch of beer until the military forced us out of the city. You tend to take things in stride at that age.
Anyway, when it came time for ECU to play the Miami Hurricanes at home, we couldn't even host them in our own stadium because Greenville, NC was still under Marshall Law, and the stadium (along with a great amount of the entire city) was damaged by flooding. Therefore, we were offered by NC State (our rival) to play in their stadium.
This game was held 85 miles away from our own stadium and East Carolina fans had been through a lot at this point. The irony of the situation was that many of us (like me) had recently lost everything they own to a Hurricane, and as I am sure you are aware, the name of the Miami team is the Miami Hurricanes.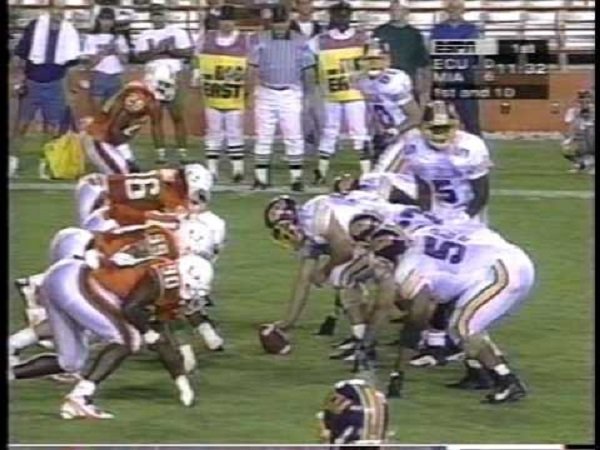 source
While ECU was known as the "best college football team in North Carolina" at the time, that really isn't saying a lot; since the state isn't exactly known for their fantastic football programs. It is more of a basketball state. ECU was being watched in 1999, but they weren't in the top 40 at the time and Miami was currently the number 9 team in the country. No one expected ECU to accomplish much in this game.
Our spirits were high and we had an incredibly dedicated fan-base, we didn't exactly expect to win this game.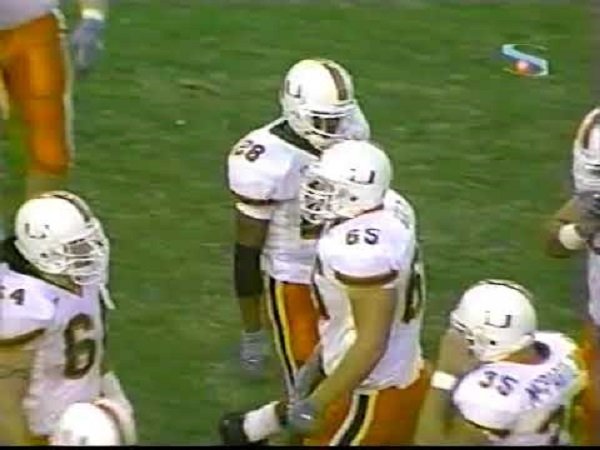 source
The entire first half happened exactly the way you would expect when one the best teams in the country meets a team ranked in the 40's or so - it was an extremely one-sided affair as Miami seemed unstoppable and went to a 20-0 lead. It looked like it was going to be a rout and many of the Pirate fans headed home at half-time.
Boy do I feel bad for anyone that did.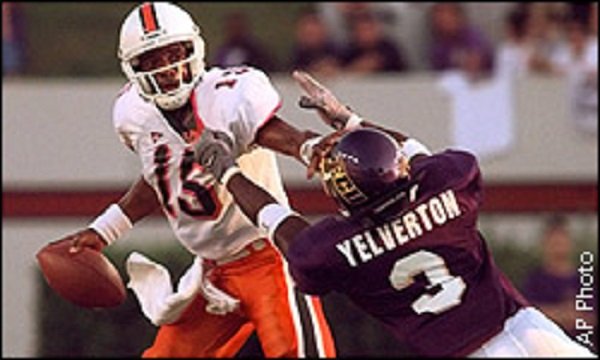 source
The ECU squad that came out in the 2nd half seemed like a totally different team and this began on the very first play of the 2nd half where the Pirates defense intercepted a pass and ran it back for their first points of the game. This momentum must have jacked up the Pirates on the field because they were relentless in their attack for the entire second half.
David Garrard (who was likely the 1st or 2nd best QB to ever play at ECU and ended up going to Jacksonville as a pro) completed 20 of 27 passes for over 200 yards and since he was also a Michael Vick-type player, he was more than capable of running through the defense if Miami over-compensated in the backfield. The Pirates looked so spectacular that it boggled the mind that the team was so ineffective in the entire first half.
ECU scored 27 (almost) unanswered points in the 2nd half, most of it in the 4th quarter and on Miami's final possession the Pirates were 4 points ahead thereby necessitating a touchdown... field goals will do you no good at this point.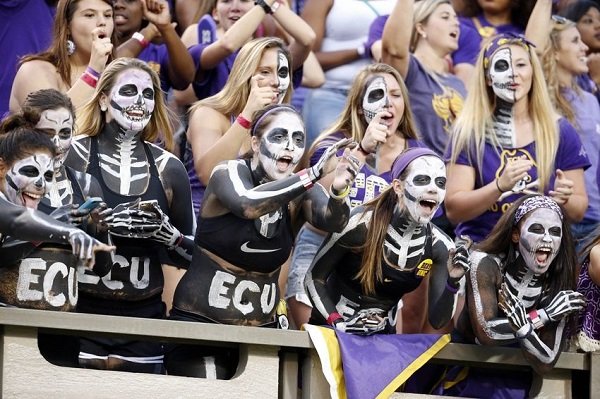 source
ECU is kind of known as having some pretty crazy fans and basically, when we win a game against an opponent like this one, we rush the field and tear down their goalposts if there is enough of us. I know this isn't very nice but that is just something that Pirate fans do. As the final whistle sounded, our fans were already lined up facing down the state troopers and stadium security as we jumped the wall and proceeded to tear the posts down. The officers were told (apparently) to let us pass, lest the situation get ugly because well, there were thousands of us and 40 of them...
It was kind of a dick move and I was one of the people on the filed touching the goalposts as I looked up into the stands to see our own fans booing us. It didn't matter but the fact remains that we were visitors in this stadium and the team who owned it wasn't even playing (NC State.) ECU athletic administration covered the costs to have them replaced later.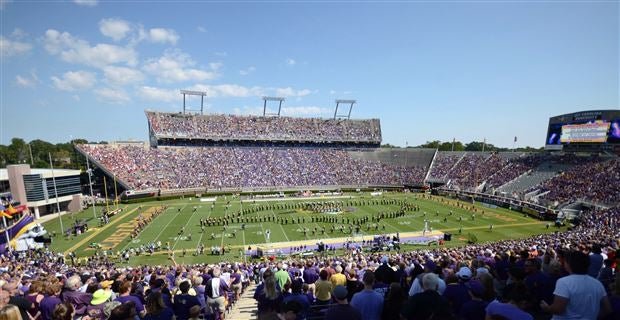 source
In a show of solidarity, our final game of this epic season that saw ECU reach as high as number 11 on the national rankings - we faced NC State in our final home game. After winning that game by 30 points or so, we rushed the field and tore down our own goal posts.
This was by far the most magical football game I have ever attended and I have been to a lot of them. An upset is an amazing thing (when you are the underdog) but beating a much higher ranked team whose name is the very thing that just destroyed your town and all your stuff just 10 days prior. Well, that is poetic justice.
Unfortunately ECU has been relatively crap ever since those years despite having massively expanded their stadium and football program in general. We will always have those glory years.
Top image source - no matter what i did i can't text-wrap and source at the location